A Talgo Avril has reached a key milestone in the very high-speed train's homologation process by exceeding 363 kilometres per hour.
The landmark was achieved by one of the 30 units whose manufacture and maintenance were awarded to Talgo by Renfe for circulation in Spain and France over the next 30 years.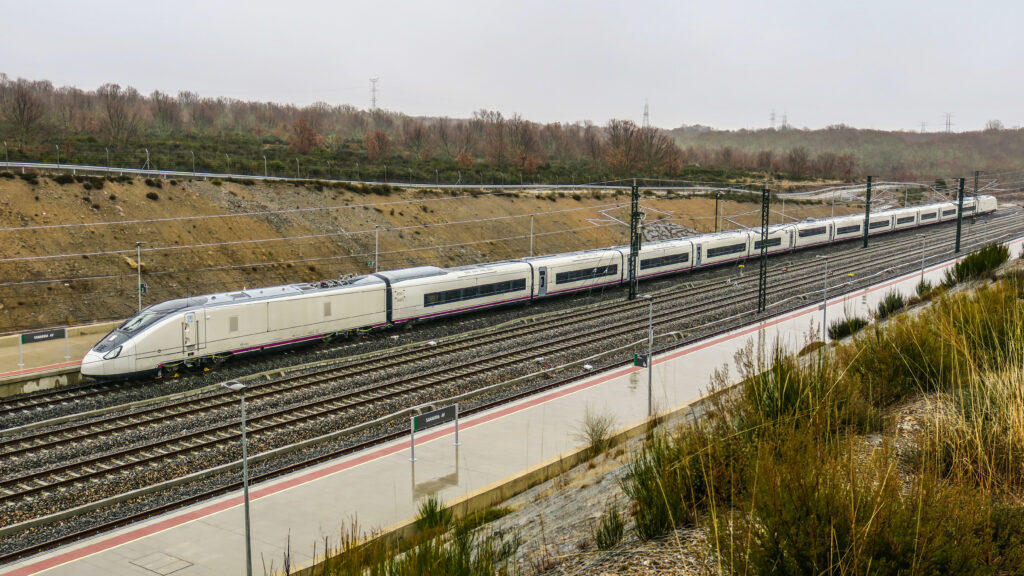 The top speed was reached on a section of the new Madrid-Burgos railway line between the town of Venta de Baños in Palencia and the city of Burgos. This infrastructure is still being tested and closed to passenger traffic and the test took place with a reduced team made up of Talgo driving staff and commissioning technicians on board.
This milestone is only one of the approval stages required for the running of the Talgo Avril, which is being developed and manufactured in Spain. As well as meeting speed requirements of 360 kilometres per hour, it must also travel more than 30,000 kilometres on both European standard gauge lines (high-speed) and Iberian gauge lines (both conventional and high-speed).
The tests will also serve to introduce and validate Talgo's automatic gauge change for very high-speed trains. These tests record the highly satisfactory performance of all train elements, from rolling to traction, including energy collection and signalling systems.
By equipping half of the series with these systems, Talgo Avril is looking to the future. This concept is being considered for some destinations in Spain's northern areas such as Asturias, the Basque Country and Galicia, whose high-performance inland rail network – unlike the rest of Spain – will be kept on Iberian gauge for some time to come.
Along with this test programme, the Avril train is also undergoing a similar approval process in France. The work there is mainly focused on the technical validation of the on-board control systems of ten of the 30 trains that have been adapted to operate in France.