Global Mobility Call Will Be Key in Globally Redefining Sustainable Mobility
This is the largest platform that brings together all sectors involved in developing sustainable mobility, gathering international leaders in mobility from the 14 to 16 June in Madrid with a multi-sector and cross-sectional programme.
Michio Kaku, Uri Levine, Sacks, and Carlos Rati are just a few of the 250 renowned speakers who will come to Spain to offer inspiring thoughts on the master guidelines of what future mobility will look like.
Global Mobility Call was conceived as a major Spain-brand event that will directly impact the industry by generating wealth and employment in the mobility sector, which forecasts it will attract investments worth €54 billion and in excess of a million jobs.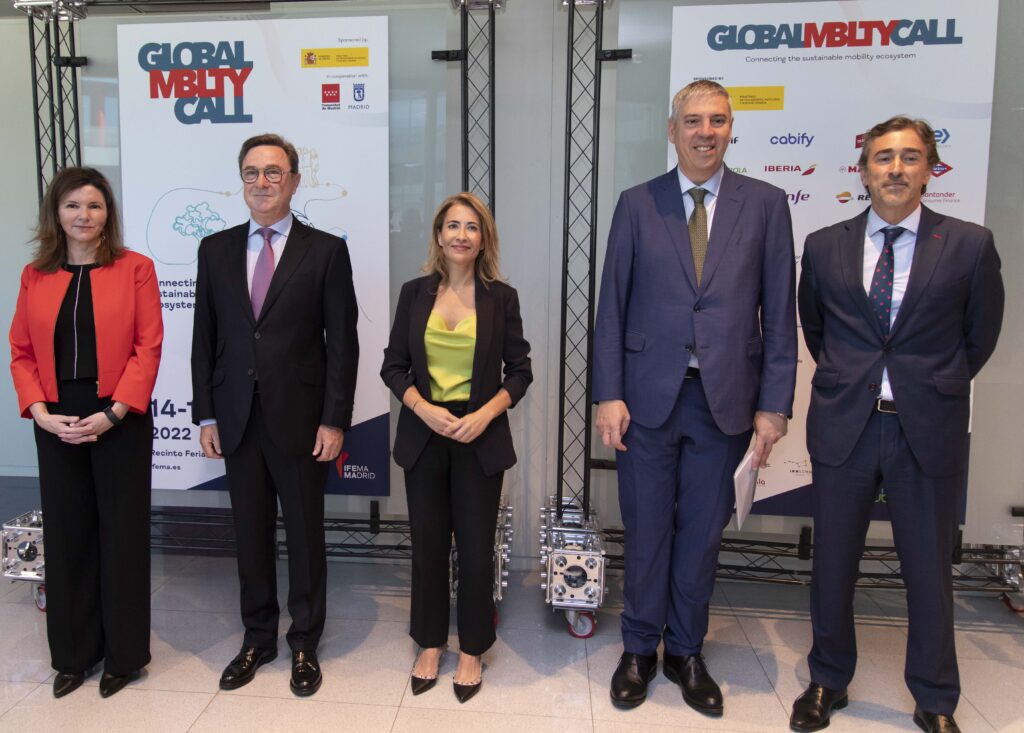 Global Mobility Call, from the 14 to 16 June at IFEMA MADRID, will be key to redefining the sustainable mobility of the future, thanks to its aim to integrate all sectors involved in this transformation process, as well as to showcase content that includes all of the cross-sectional themes contained within this activity.
In the press conference, Raquel Sánchez Jiménez, Spanish minister of Transport, Mobility and Urban Agenda; José Vicente de los Mozos, president of the IFEMA MADRID Executive Committee; David Moneo, director of Global Mobility Call, and Juan José Lillo, co-founder of Smobhub, presented the first edition of this international congress and exhibition, which will bring together the ecosystem of sustainable mobility with the goal to rank Spain as the main worldwide hub for sustainable mobility, and a hub for investment and talent.
"This congress will have significant impact on the industry, generating wealth and employment, according to the forecasts for this sector, which just in Spain expects to attract investments worth €54 billion, and create jobs that could employ over 1 million people."
Global Mobility Call is organised by IFEMA MADRID and Smobhub, and backed by the Ministry of Transportation, Mobility and Urban Agenda, with the collaboration of the ministries of Green Transition and Demographic Challenge; Industry, Commerce and Tourism; the Autonomous Community of Madrid and the Madrid City Council. A total of 26 sponsors, 33 national industry associations and 12 international associations have joined the project, and over 7,000 trade professionals are expected to participate.
Leading sustainable mobility development
"It is the first platform that brings together each and every one of the sectors that are involved in, and that affect, the development of sustainable mobility. A proposal that strengthens its ambition to become Europe's first comprehensive Sustainable Mobility event.
"We have set ourselves the goal to lead, globally, the mobility ecosystem by including in the discussions essential sectors such as transportation, automobiles, infrastructures, engineering, strategic consulting, logistics, finances, energy, insurance, technology... And so on, for those who participate internationally in projects focusing on new mobility for people and goods."
Juan José Lillo recalled that these are 16 sectors and industries that play a decisive role in redefining the mobility of the future, in value chains and in solutions, therefore this integrating perspective will provide a cross-sectional vision of all agents involved in this process for change in mobility of people and goods.
On the issues to be approached, the Smobhub co-founder mentioned: the value of technology and data; transformation of the automotive industry; new energies for a decarbonised mobility; sustainability and good corporate-governance criteria in the companies of the 21st century; multimodality and intermodality in air, sea and land transportation; sustainable development and the economic impact on new mobility; division of territories into urban, inter-urban and rural environments; smart infrastructures; public-private collaboration, as well as themes pertaining to Latin America, rural and accessible mobility; the role of start-ups and youth in the mobility of the future.
The director of Global Mobility Call, David Moneo, pointed out that they have worked to offer a commercial and business platform that will promote projects, both current and future, which will transform mobility over the short- and medium-term, integrate the multi-sector ecosystem, and help public institutions and companies to undertake new projects and ideas, and provide them with the structure that will facilitate public-private collaboration.
"We want to be a valid instrument that will bring together this collaboration between the companies developing sustainable mobility projects and government agencies, who have the resources and the investment capacity to plan and implement them."
For the minister of Transport, Mobility and Urban Agenda, Raquel Sánchez Jiménez, Global Mobility Call is the largest congress on sustainable mobility, that "will rank Spain as a cutting-edge country for sustainable mobility", as a reference point that will attract investments and technological innovation.
"At the Ministry we believe that it is essential to share ideas, experiences and commitments towards a sustainable mobility that will allow us to face the enormous challenge that is climate change. This challenge requires commitment from everyone. Also from the business sector, which must place its knowledge and technology at the service of this goal, as well as from the academic and social sector. I don't think a horizontal governance, dialogue and active involvement by citizens were ever more necessary than now. We are all necessary because we are all main characters."
Global Mobility Call is the largest initiative focusing on sustainable mobility where leading companies and national and international experts will set the master guidelines for a transformation process that proposes a new concept of mobility, where more sustainable and connected transportation methods, smart alternatives for moving around cities, new technologies that facilitate the transition and infrastructures that promote connected and smart transportation, all come to the forefront.
The congress will provide the opportunity to bring to Spain renowned speakers such as Michio Kaku, Uri Levine, Sacks, Carlos Rati, among the 250 international experts and leaders who, from the 14 to 16 June in Madrid, will give us a glimpse of the master guidelines of what transportation will look like, the new travel modalities in cities and mobility in rural areas of the future, exchanging experiences and knowledge, presenting innovative projects and undertaking new businesses.
ifema.es/en/global-mobility-call
This article was originally published by IFEMA Madrid and Smobhub.