TALGO AVRIL Receives Final Certification
Spanish designer and manufacturer of high-speed trains, TALGO, have received the final certificate of conformity for their very high-speed train, the TALGO AVRIL. The certification is the result of two years of comprehensive testing on high-speed Spanish tracks. TALGO have invested in excess of €50 million over eight years to develop an adaptable, faster, lighter and more efficient train.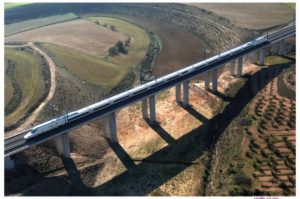 Over the course of testing, 102 technical features and functions were scrutinised as part of the requirements for the technical specification for interoperability of the high-speed trans-European rail system. AVRIL hit a maximum sustained speed of 363km/h over compatibly gauged tracks, and 350km/h through variable gauge tracks. The TALGO AVRIL is now ready to be rolled out for commercial operation.
The TALGO AVRIL features innovative technology, including a system which enables gauge change, enabling it to run on standard European gauge tracks as well as conventional Spanish gauge tracks. It also has wider coaches than conventionally operate in Europe. Because it is manufactured from lighter materials, the TALGO AVRIL has optimal power-to-weight ratio, decreased CO2 emissions, better sliding and lower energy consumption. It is also very environmentally friendly.
Carlos de Palacio, TALGO's President, said:
"Nowadays, technological development must go hand in hand with environmental care to create both economically and energetically sustainable products. With the liberalization of the European market, rail operators will be forced to reduce their operating costs and the ratio of investment cost per passenger. It is due to this, that we wanted to anticipate the future of the rail industry by making AVRIL available throughout our country: a faster, lighter, more efficient and sustainable train that not only saves energy and maintenance costs for operators, but also further preserves the ecological spirit that governs our time and that of our future generations."
The TALGO AVRIL was developed and manufactured wholly in Spain.