European Court of Auditors: Progress is Slow on High-Speed Rail Across the EU
In June, 2018 the European Court of Auditors (ECA) published a report on high-speed rail in the EU which described the 10,000 km network as an 'ineffective patchwork of national lines without proper coordination across borders'. The auditors analysed spending on 50% of lines and visited France, Spain, Italy, Germany, Portugal and Austria. In this article Oskar Herics, the member of the ECA who co-ordinated the study, tells Railway-News why the court was compelled to produce such a negative evaluation.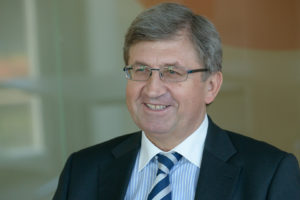 In Europe, Japan and China in particular, but also in other parts of the world, high-speed rail is considered an innovative transport mode, with numerous benefits for passengers. Often, high-speed rail can compete with air travel on speed and is actually much faster, especially when measured from city centre to city centre. It is a comfortable, safe, flexible, and environmentally sustainable means of transport. Moreover, better connecting regions across the EU makes them more competitive and contributes to European integration by bringing people closer together. But is high-speed rail also cost-efficient and effective, and well thought-out and planned?
We examined the situation on the ground (or rather, on the tracks) in six Member States that have received over 80% of all EU funding allocated to high-speed lines since 2000: France, Portugal, Spain, Austria, Germany and Italy. Overall, we assessed 10 high-speed rail lines and four cross-border connections, covering some 5,000 km of high-speed lines, or half of the EU's current network. Seven of these lines were already operational at the time of our audit. We also analysed 30 projects, worth over €6 billion in EU co-financing, including the Brenner Base Tunnel on the planned Munich-Verona high-speed line, connecting Germany to Italy through Austria. We only analysed lines co-financed by the EU; however, most of the funding for these lines obviously still comes from national sources.
Our general conclusion was that a European high-speed rail network does not yet exist in reality. In its current state, it is rather an ineffective patchwork of poorly connected national lines. We also found that there is no realistic long-term plan to connect the different parts of the EU's existing network. In particular, we found that building high-speed lines crossing national borders is not a priority for national governments, and that the European Commission has no power to force them to do so in order to ensure rapid progress towards completing the core network corridors previously agreed by all Member States. To us, this means that the added value the EU co-financing provided is low.
Practical implications of a patchwork high-speed rail network
Meet 'Juan', a fictional character invented for the purpose of this article. He is Spanish, lives in Murcia and likes to travel across the EU. Since the turn of the millennium, his country has been investing heavily in high-speed rail infrastructure, making its network the world's second-largest after China's. With some €11 billion, Spain is also by far the largest recipient of EU contributions for high-speed rail, accounting for almost half of the EU total of €23.7 billion. Now Juan wishes to travel to Trieste, Italy, where his girlfriend Giulia lives. Juan and Giulia met during their Erasmus study exchange programme in Groningen, the Netherlands. But Juan cannot just get on a plane and fly to Trieste: there is no direct connection, so he would need to change planes at different airports, probably both in Spain and Italy. He would probably also have to fly with different airlines, which would also make it difficult for him to keep both travel time and costs down. Our findings indicate that it would also be difficult for Juan to travel by high-speed rail seamlessly in combination with other transport modes. For
example, even though high-speed lines pass near Spain's busiest airports, in Madrid and Barcelona, there are no plans to connect them to the high-speed rail network by high-speed services. So Juan is facing similar issues to many of his fellow Europeans as regards accessibility, interconnectivity and even ticketing. For example, rail ticketing compares poorly with that of the airline industry, and single e-ticketing solutions, such as those allowing passengers to book trips involving more than one operator or crossing borders, are much easier for air travel than for rail. Furthermore, there are virtually no search engines for combined air/high-speed rail travel.
Juan also has many friends abroad who, like him, wish to travel in a fast, safe, and environmentally friendly manner within Europe. Unfortunately, the possibility of doing so seamlessly via high-speed rail is still rather limited in Spain, just as it is across the rest of the EU. So, in practice, Juan will need to take a conventional train to Madrid, change there on to a high-speed train going through Barcelona and onwards to cross the border into France, where he will then have to change on to a conventional train towards Italy, and so on. This is a reality for many citizens, as there is no EU-wide network of high-speed lines. In fact, this 'network' can rather be described as a patchwork of national high-speed rail lines planned and built by the Member States in isolation, resulting in poor connections between them, especially along national borders.
High-speed trains running slower than design speeds
In many cases, we found that trains are running on very high-speed routes at far lower average speeds than these lines are designed to handle: on the lines we examined, they ran on average at less than 50% of the maximum design speed. We warned that this raises questions about sound financial management, as an upgraded conventional line would have been enough to achieve such speeds at a much lower cost. Only two of the 10 lines examined were operating at an average speed of above 200 km/h, and none above 250 km/h. For example, Spain's high-speed network for the most part uses the standard gauge found in the rest of the EU. This is the case on the Barcelona-Madrid and Madrid-Seville lines in particular. However, three of the lines we examined still use the traditional wider gauge. On these lines, the maximum operating speed is limited to 250 km/h and the real average speed is far below the maximum operating speed of 300 km/h for high-speed operations in the country. What's more, the use of different gauges makes interconnectivity impossible.
Cost-benefit analyses should be used to support investment decisions
High-speed rail infrastructure is expensive. The lines we examined cost an average of €25 million per kilometre. In total, aggregate cost overruns for the projects and lines examined were 5.7 billion euros at project level and 25.1 billion euros at line level. Eight of the thirty projects we examined had been delayed for at least one year, and five out of ten lines had experienced delays of more than a decade. A major factor in the cost of building a line is the specific geological conditions where it is built. Besides these external aspects, the cost of a line increases proportionally with its design speed, since infrastructure capable of handling very high-speed operations is more expensive. This implies that setting up a line running at 300 km/h or more, for example, is particularly costly. The decision on whether a full very high-speed line is really necessary therefore needs to be made on a case-by-case basis. Giving due consideration to the alternative solution of upgrading existing conventional lines could save billions of euros. For the planned Venice-Trieste line in Italy, for example, we found that building the high-speed line cost €5.7 billion more than an upgrade would have done and saved only 10 minutes in travel time by comparison. This translates into a cost of €570 million per minute of travel time saved. This is considerably higher than the average cost of €90 million per minute of travel time saved for all the lines we examined during our audit.
We also found significant differences in how the Member States assessed the need to build a high-speed line and how they organised the decision-making process. In particular, we found that decisions to build high-speed lines are often based on political considerations, and that these major public investments were not always founded on a sound cost-benefit analysis. In one case, in France, we found that the cost-benefit analysis had resulted in a negative benefit-to-cost ratio. This was also the case in Spain, where several lines were not considered to be viable from a socio-economic perspective. In Germany, cost-benefit analyses were carried out only after the decision had been taken. We also found that the cost-benefit analyses are generally not updated to take account of changing circumstances. For example, the cost-benefit analysis for the Brenner axis between Munich and Verona – which includes one of the longest railway tunnels currently under construction – has not been updated since 2007 despite already a delay by around eleven years and increased costs by 46 %. In the meantime, however, critical factors such as building costs, anticipated delays and traffic forecasts have changed considerably and further reduced the benefit-to-cost ratio.
Target of tripling the network unlikely to be met by 2030
Although the length of national high-speed rail networks is steadily growing, the EU target of tripling the length of high-speed rail lines from currently some 10,000 km to 30,000 km by 2030 is unlikely to be reached. A key factor is the long time it takes to plan and construct a high-speed rail line: overall, for the lines we examined, it took an average of 16 years for a line to become operational.
But there is also good news: the number of passengers using high-speed rail in Europe is growing steadily, from roughly 15 billion passenger-kilometres in 1990 to more than 124 billion in 2016. This growth, however, is not spread equally among the lines. Ideally, a high-speed line should carry nine million passengers per year to be successful. But for three of the seven completed lines we examined, the number of passengers carried was far lower. This poses a high risk to the sustainability of these lines. In addition, nine of the 14 audited lines and cross-border connections, including the three mentioned above, did not have a sufficiently high number of potential passengers living in their catchment areas to be successful. This carries a risk of having to deal with not less than 2.7 billion euros of ineffective EU co-funding.
Room for further development in high-speed rail
We approached our audit very much from a passenger's point of view. For example, we analysed the different connections, travel times and prices for business and leisure passengers, and we found that high-speed rail can compete with other modes of transport. However, there is room for improvement in many practical aspects, in particular: better-integrated ticketing systems, better accessibility of train stations, more frequent connections and competitive ticket prices. These are all key factors that can help high-speed rail in acquiring a larger market share over time.
Rail transport in general suffers from the failure to fairly apply the user-pays and polluter-pays principles across the various transport modes. In addition, even though the European rail industry is operating as a single market with more than 500 million customers, there are still over 11,000 national rules to be complied with, and no common rules for cross-border rail transport. Furthermore, the liberalisation of the rail sector is progressing only very slowly. As far back as 2010, we recommended lifting all technical and administrative barriers in another special report, but our audit revealed that they still exist in 2018. This being the case, it is difficult to believe that true EU-wide competition can exist in the high-speed rail sector.
In the light of our findings, we made a number of recommendations to the European Commission, including:
carry out realistic long-term planning
agree with Member States which key strategic sections to implement first, based on an assessment of the need for very high-speed lines, as well as close monitoring and enforceable powers
link EU co-financing to earmarked strategic priority projects, effective on-track competition and the achievement of results
simplify cross-border tendering procedures, use "one-stop-shops" for the various formalities, and lift all remaining administrative and regulatory barriers to interoperability
improve seamless high-speed rail operations for passengers through, for example, e-ticketing and simplification of track access charges
Our report generated considerable media and public attention in some Member States. However, publishing our findings, conclusions and recommendations is not the final step in the process. We will now present them to the European Parliament and the Council of Ministers, the EU's legislative and budgetary authorities.
Many of the recommendations we make in our reports are put into practice: this high level of take-up underlines how much our work benefits EU citizens. And finally, going back to Juan, the European Court of Auditors published a report on the Erasmus+ study exchange programme in the EU in early September.