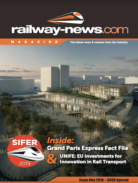 Railway-News publishes a quarterly magazine to accompany the biggest railway shows in the world.
Next issue: 29 April 2019
Our April 2019 issue will feature on Railtex, which takes place in Birmingham, UK, on 14–16 May. In it you'll find our regular features such as our Supplier Index and an article about the show. Also keep your eyes peeled for a detailed look at the Rail Baltica project. Want to be featured in the magazine? Call +44 7432 725001 or email [email protected].
View magazine
Download