Deutsche Bahn's new freight car, the 'm2' ('m-squared'), has successfully completed all approval procedures, making it ready for series production.
The new freight car, developed with leasing company VTG, was first presented in Berlin in September 2020 after an 18-month development period.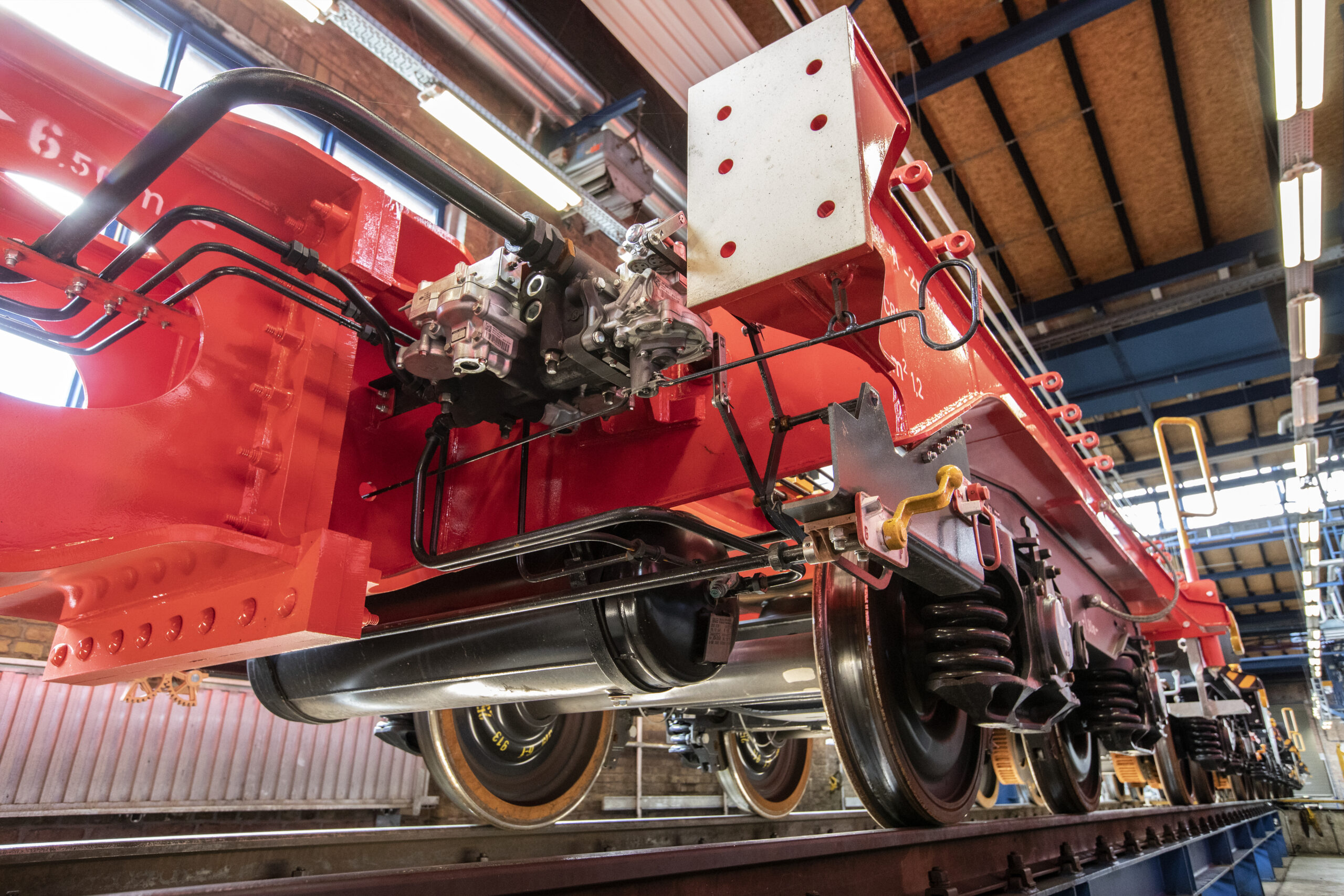 The claim is that this new freight car will make rail freight much more economical and flexible. The design is modular, such that a single freight car can be easily reconfigured, with changes to its length, purpose and structure, depending on the loads it is intended to carry. Up until now approval of a freight car has been tied to the specific type of cargo and could not be changed at a later date.
Conventional freight wagons are given a whole-life purpose when they are registered. However, this restriction no longer applies with the new adaptable m2 freight car. This is because of its modular structure. Detachable containers and attachments may vary, as may the car's length. One example: a car carrying large tree trunks could also transport moisture-sensitive cellulose and paper rolls if required. A car designed to carry brand-new steel coils from steelworks could also be used to transport scrap.
Depending on the particular scenario, the change takes no more than a day and in some cases mere minutes. A while ago the European Union Agency for Railways (ERA) gave the go-ahead for the project, granting DB Cargo approval for the undertaking. DB Cargo has been pushing its development ever since and will bank on this new freight car system for new and replacement purchases. For context, DB Cargo has around 63,000 freight cars in Germany alone.
This multi-purpose, modular wagon was developed in a research partnership between DB Cargo and VTG.
"The approval of a freight car as a complete and flexible system is a real milestone. Above all, our customers benefit from this – and ultimately so too does the climate. Because we can put more goods on the rails faster and use our trains better. The first wagons are being tested by customers – and we are delighted with the overwhelmingly positive response."
[Sven Wellbrock, CEO Europe & Chief Safety Officer, VTG AG, said:" text="The m² modular system precisely addresses the individual needs of the shipping industry. Together with digitalisation, modularisation in rail freight transport opens up new worlds and increases fleet availability for customers. This makes rail significantly more attractive."]
Funded by the federal programme 'Future Rail Freight Transport', DB Cargo is currently successively launching a pre-series of 50 freight cars for different types of goods on the market. DB Cargo is already using the new freight car systems in customer transports.
Depending on the application, the cars can be configured to have a loading length of between 10 and more than 22 metres. The selection of components such as bogies, wheelsets and brakes (block or disc brakes) is also variable. This adapts the cars to customer needs such as weight, mileage and cost.