Passengers were able to experience the new ICE interior design for the first time this week when the first new-look train took its inaugural journey.
With the launch of the updated ICE interior design, passengers can now experience DB's new design language for long-distance travel across their entire journey – from the DB travel centres and lounges to the flagship train.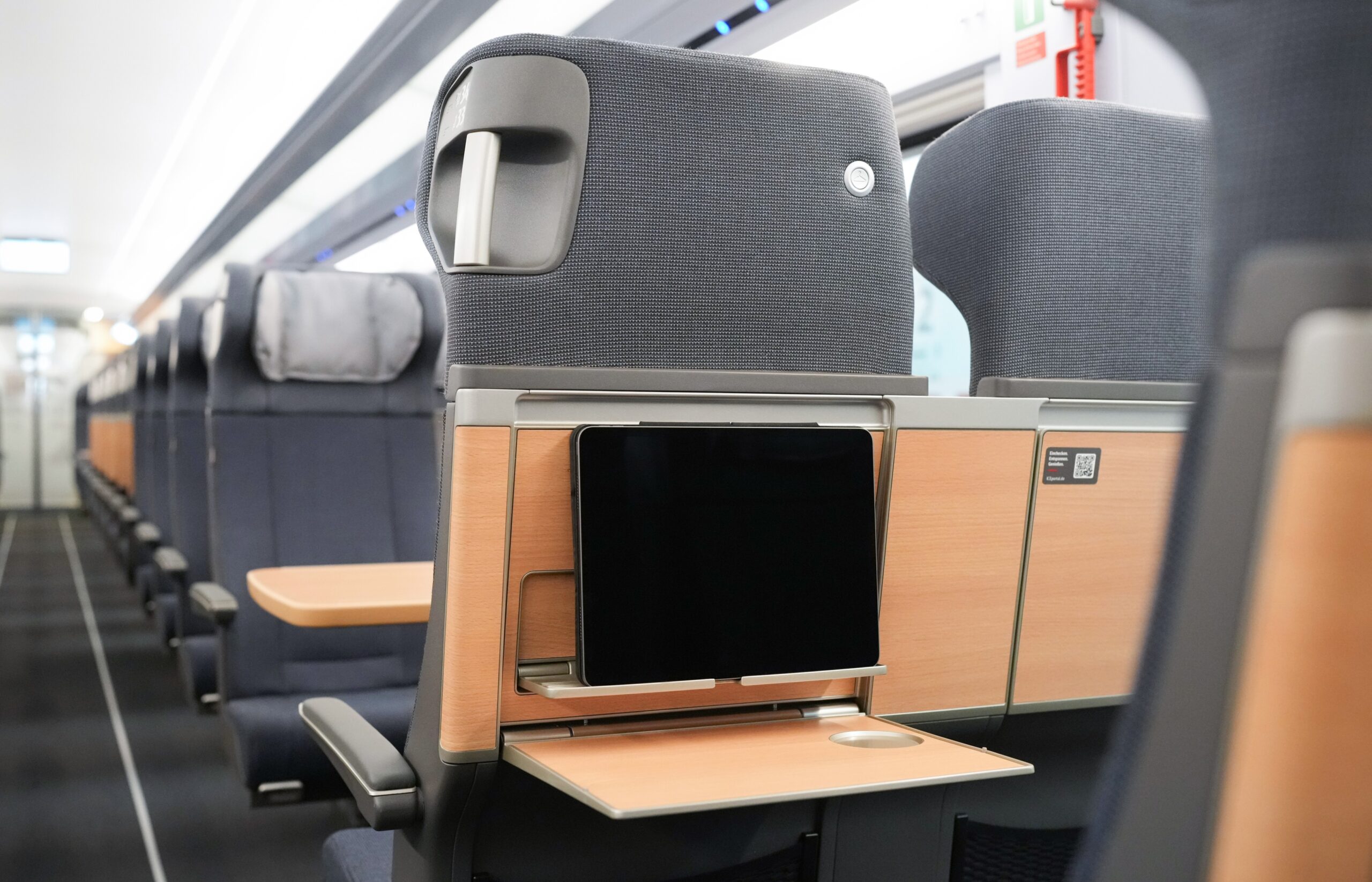 The milestone was celebrated on Monday 23 October by representatives from Deutsche Bahn and Siemens, who saw off the 17th ICE 3neo train from Frankfurt Central Station.
As part of the new look, the seats have been completely redeveloped to offer improved comfort and adjustment options. The upholstery is premium 85% wool, with first class seats in grey and standard class in blue, while the dining area is easy to spot with its burgundy colour.
The design makes use of modern materials like wood décor accents. Meanwhile, new passenger functionality comes in the form of integrated tablet holders and coat hooks in each backrest.
"The ICE is a modern design icon and the flagship of our long-distance passenger fleet. Everyone knows the trains with the distinctive red stripe.
"Now, by introducing a new interior design, we're also taking long-distance travel to a new level of comfort. With specially developed seats, greater privacy and a refined material and colour concept, we're offering our passengers a living room atmosphere and comfort at 300 km/hh."
The train's premier trip to Cologne took place three months ahead of schedule.
"We delivered the first trains of the new ICE 3neo fleet in record time – and are now further stepping up the pace. Starting this November, a complete eight-car ICE 3neo will roll out of our Krefeld plant every 16 days.
"With our delivery of 90 trains, we are supplying a large part of DB's long-distance transport capacity. Our state-of-the-art technology and new design will significantly rejuvenate the ICE fleet."
Delivery of 73 additional trains finished in the new interior design will follow by 2028, but the ICE 3neo is not the only train set to feature this new design.
At the end of 2024, DB will receive the first of 79 ICE L trains with step-free passenger access, which will also feature the new finish.