Germany's Federal Ministry for Digital Affairs and Transport (BMDV) is funding a project that will see Deutsche Bahn, Ericsson, O2 Telefónica and Vantage Towers test technologies to provide 5G mobile phone coverage along the nation's railway.
These companies are working to jointly develop a concept for establishing 5G mobile communications infrastructure along the tracks.
This would enable train passengers to use gigabit transmission rates for phone and data connections, while also paving the way for powerful transmission technologies to help digitalise rail operations.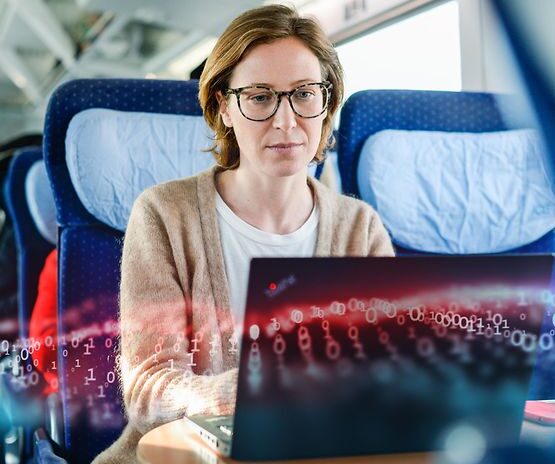 On 13 June, the partners received funding notifications from BMDV to test relevant technologies along the tracks. Under this notice, the "Gigabit Innovation Track" (GINT) project will be supported by approximately 6.4 million EUR in federal funding.
With this funding, the project partners aim to determine how high transmission rates can be achieved and how the necessary infrastructure can be set up in a resource-saving manner. This goal is expected to be realised by the end of 2024.
"In order to increase the attractiveness of the railway, the trains not only have to be punctual and reliable. For the passengers, rail travel should also be as pleasant as possible and even more comfortable. Our aim is for the train to be a rolling office or living room in which mobile work, video streaming and phone calls with the cell phone are technically perfectly possible. This high quality can only be achieved with gigabit coverage. The "Gigabit Innovation Track" funding project is laying a decisive foundation for this."
To test the relevant technological approaches, a test field for this project is being created along a ten-kilometre stretch of track in Mecklenburg-Western Pomerania. 10 different radio masts will be set up and tested on this route, including designs that can be securely screwed into the ground without having to pour concrete foundations.
The project will also test 5G mobile communications on the 3.6 gigahertz frequencies from O2 Telefónica. These frequencies enable fast mobile data transmission but have a shorter range than today's 4G mobile communications. A radio mast consequently only supplies about one kilometre of railway line, so around 20,000 new masts would be needed throughout Germany.
As the railway's Future Rail Mobile Communication System (FRMCS) will also require additional radio masts, the project is developing proposals for co-operation models between the railway, the mobile communications industry and cell tower operators to ensure cell towers can be jointly used to save resources and costs.
"In the project, we are bundling the strengths of the railway and mobile communications industry as well as cell tower operators for the rapid expansion of the 5G networks along our tracks. Our goal: to inspire people in Germany to travel by train with connections of the highest quality. Passengers on our trains should be able to work online with their mobile devices at any time, stream films or talk to their loved ones in first-class quality."