Despite the ongoing knock-on effects of the pandemic as well as Russia's war with Ukraine and rising inflation, Deutsche Bahn said it was back in the black for 2022.
Its operational results (EBIT adjusted) for 2022 are up by around EUR 2.8 billion to almost EUR 1.3 billion over the Covid year of 2021. In 2020 and 2021 Deutsche Bahn made losses in the billions because of the coronavirus pandemic.
The company's overall turnover for 2022 reached EUR 56.3 billion, a new record and an increase of 19.1 percent on the previous year.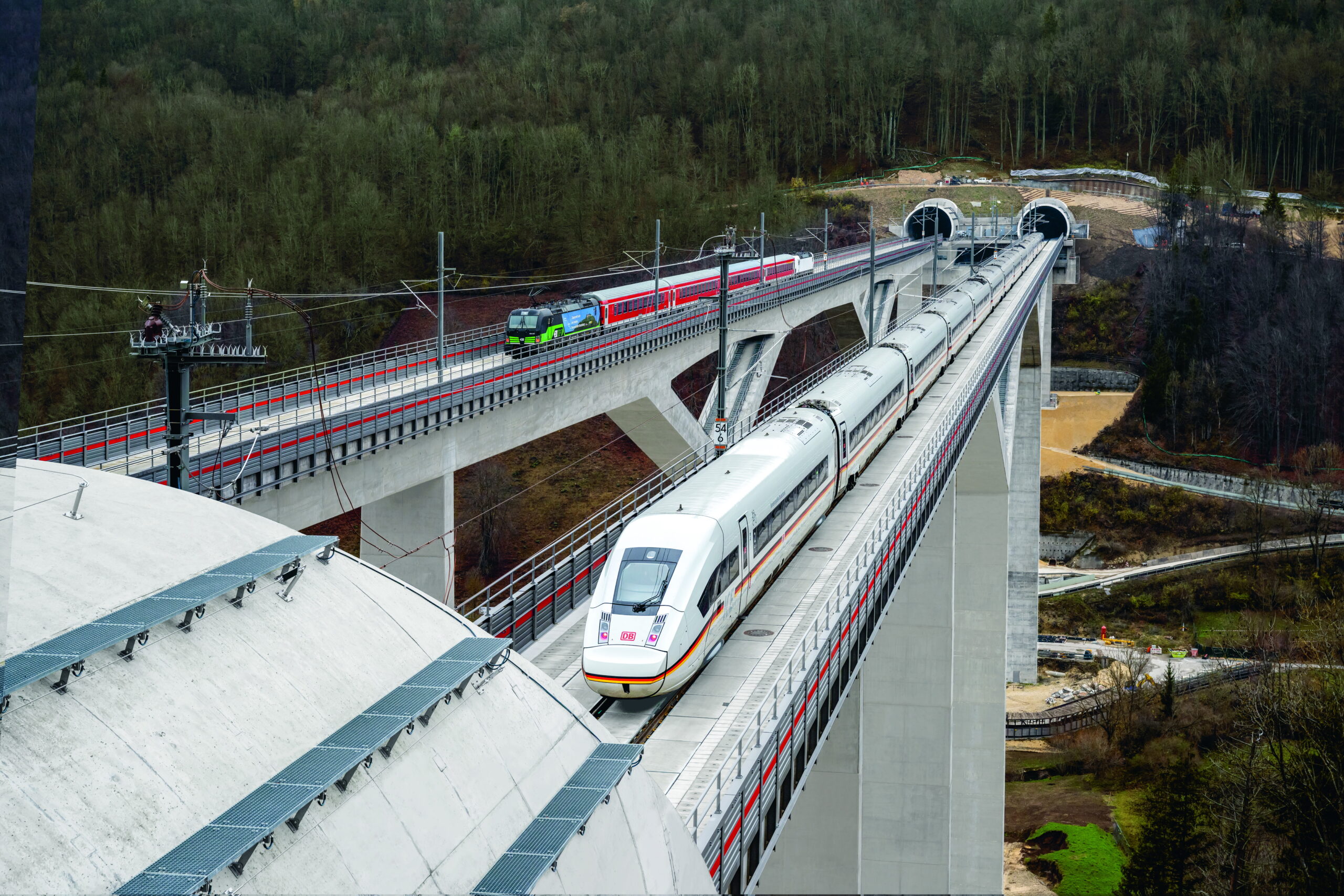 Deutsche Bahn said the key drivers of this positive development, alongside the strong demand in passenger transport, was the strong success of its (non-rail) logistics subsidiary DB Schenker, which exceeded its previous top result from 2021 by almost 50 percent. Generating EUR 1.8 billion in 2022, it achieved the highest operating profit in its history, pushing the company as a whole back into profitability.
Deutsche Bahn's core business – passenger transport – also saw significant improvements on the previous year. DB boss Richard Lutz said the demand was there and was continuing to grow. He envisaged new record passenger journeys for 2023 of substantially more than 150 million for long-distance services.
The key, he said, was increased capacity, especially on the parts of the network that are already busy. As a result, Deutsche Bahn is working on a fundamental overhaul of the rail infrastructure.
2022 Passenger Numbers
In 2022, Deutsche Bahn recorded around two billion passenger journeys on its services – a good 40 percent increase to 2021. Long-distance trips saw an even greater increase in passenger numbers of 61 percent. Turnover in Deutsche Bahn's long-distance business reached EUR 4.8 billion, an increase of more than EUR 2 billion compared to 2021.
DB Regio, the DB arm providing local and regional rail services, saw an increase in turnover of around EUR 1 billion.
The total passenger kilometres travelled in 2022 was ~82.6 billion. One key contributor here was the 9-euro ticket, which was sold a total of 52 million times last summer.
DB Cargo
DB Cargo increased its turnover but remains in the red. Deutsche Bahn said its rail freight subsidiary suffered from the tense operating conditions as well as additional costs. Overall, DB Cargo made a loss of EUR 600 million, despite improvements in turnover.
Infrastructure
The total number of kilometres travelled on the rail network in Germany in 2022 was ~1.13 billion, an increase of 2.2 percent compared to the previous year. This also means the network was busier in 2022 than before the pandemic. Deutsche Bahn said its rail network was too old, too prone to failures and lacking in capacity. And because it was delivering a record level of modernisation and construction throughout the country, Deutsche Bahn's trains were less punctual than ever before: only 65.2 percent of its long-distance trains arrived on time (2021: 75.2%).
"This past year marks a turning point. Everyone involved has realised: we have to change course and approach the overhaul and modernisation of our infrastructure in a completely different way."
Deutsche Bahn increased its net investments in 2022 by 6.4 percent to around EUR 6.8 billion. The gross investments, which also include the funds received from the federal government, totalled EUR 15.4 billion – the same high level of 2021.
The company's net financial debts at the end of 2022 were around EUR 28.8 billion, a figure slightly below that from the end of 2021.
Deutsche Bahn's Chief Financial Officer, Levin Holle, emphasised the extremely positive contribution made to DB's bottom line by DB Schenker.
"DB Schenker is a success story and well positioned in all relevant market areas. The company is continuing on this trajectory with the transformation programme it began in 2022. DB Schenker has the potential to deliver very good results over the coming years too."
DB Arriva
Deutsche Bahn's European regional rail subsidiary DB Arriva has made good progress, Deutsche Bahn said. It was back in the operational back in 2022.
2023 Outlook
Deutsche Bahn said big stress factors for the company in 2023 would be the very high energy costs and the greatly increased purchase prices. In addition, the company said the very high freight rates would likely normalise further in the entire logistics industry.
"In a difficult environment in 2023 we have to make sure that we bring DB's costs and income into a stable relationship. This also includes reasonable wage agreements that are affordable for the company."
The aim, Holle said, was to have the money to invest in capacity and punctuality on the network and this would require increases in productivity.
Because of the high levels of inflation and billions in advance payments for additional infrastructure improvements, DB said it expected an operating loss of around EUR 1 billion for the current financial year. Group sales (adjusted) are expected to exceed EUR 56 billion in 2023. Gross investments are expected to exceed EUR 18 billion and net investments to be more than EUR 8.5 billion.
Net financial debt is likely to increase to over EUR 33 billion. However, Deutsche Bahn also stressed that all forecasts were subject to great uncertainty due to volatile market developments.