Rail freight has been one of the sectors at the forefront of keeping society going during the coronavirus pandemic, supplying supermarkets, hospitals, power stations and ultimately consumers with vital goods. The passenger rail sector has helped keep key workers on the move and infrastructure managers have performed essential repairs and have staffed control centres to keep the railways working behind the scenes.
In April Lineas launched its white Heroes locomotive to say thank you to everyone, not just in rail, going the extra mile. We spoke to Lineas about their Heroes locomotive and how the coronavirus pandemic has affected operations.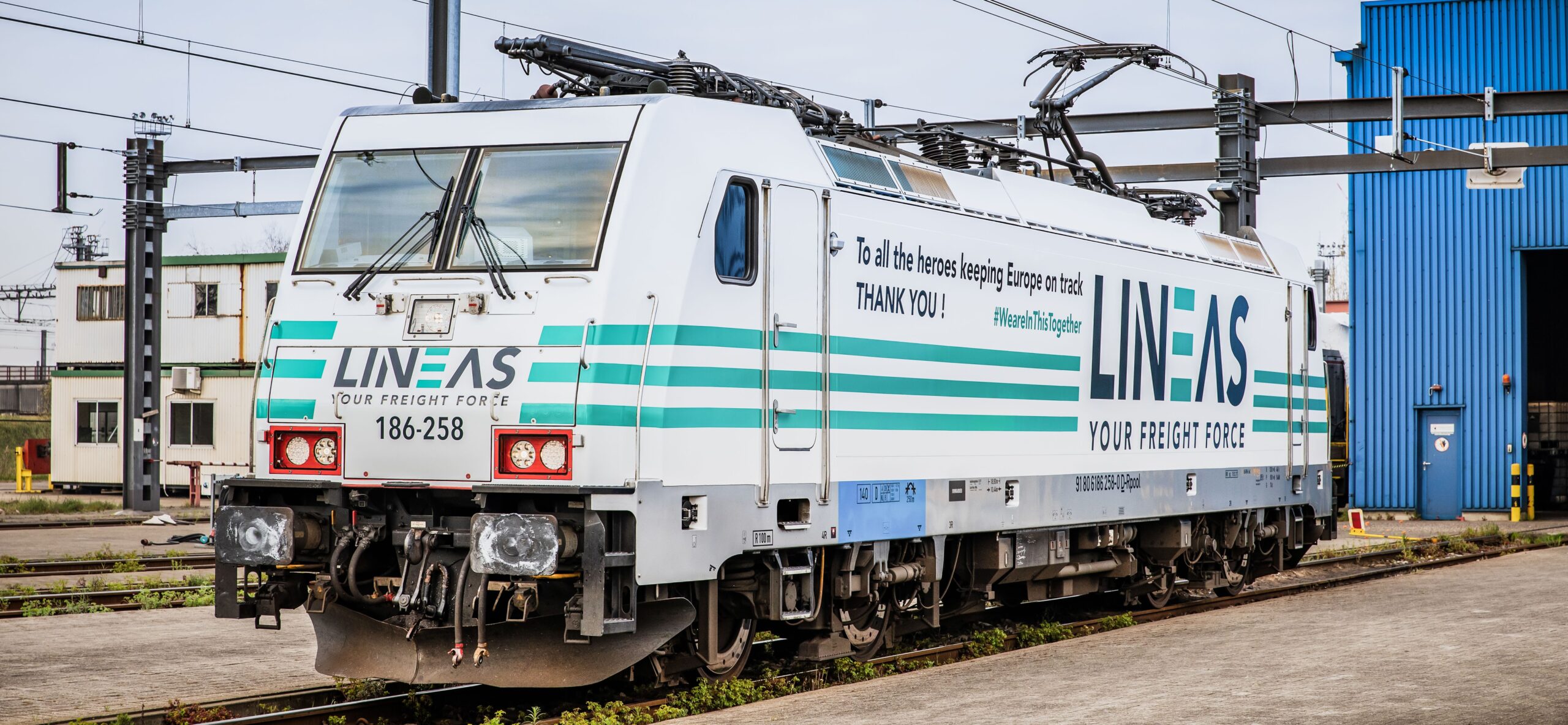 Railway-News: To start, could you tell us a little bit about Lineas and where your main areas of operation are?
Lineas: Lineas is the largest private rail freight operator in Europe. Our purpose is to convince customers to modal shift their transport from road to rail, thereby improving their own supply chain and contributing to a better climate and mobility.
We run a pan-European end-to-end logistics network. Our Green Xpress Network provides daily, fast and reliable rail connections between major European hubs and is completed with first and last mile services. It combines different types of cargo (intermodal, conventional, single wagonload) into one train.
We employ over 2,100 people and own a fleet of 250 locomotives and 7,000 wagons. We have our headquarters in Belgium and sites in France, Germany, the Netherlands, Italy and Spain.
RN: The coronavirus crisis is affecting all of us, including the rail sector and here different parts of the rail sector are facing slightly different challenges. What has been most challenging for Lineas in this crisis?
L: As transport is vital to keep society going, European countries have not put limitations on rail freight within and through their territories.
Of course, many of our customers have had to decrease or stop production temporarily. This affected their transport needs and led to a drop in transport demand of 20–30 percent.
Operationally, there were some minor challenges in the beginning to cross borders and to drive in different countries that have imposed different measures. In France, for example, the network was for a large part not available. However, our teams and partners have been able to overcome these obstacles.
We've also had to change our ways of working within the company. Where possible, our people are working from home; we have imposed extra health measures for people on the ground, etc.
RN: Have there been positive developments too?
L: Overall, we've been able to drive all our or planned trains with high quality. Our Green Xpress Network is proving to be a stronghold solution that provides the necessary flexibility for many existing and new customers to keep their goods moving.
Furthermore, we see that some customers are looking for alternatives to road transport. Where trucks are often stuck at borders or cannot drive because of lack of drivers – rail continues.
RN: You recently launched a white locomotive to thank those who are helping defeat the virus and keep society going. Can you say a little bit more about that?
L: We wanted to show our appreciation for people at the forefront of this crisis. Of course the medical staff saving lives. But also people working in other sectors that continue to keep society going during the crisis, transport being one of them.
Pharmaceutical products, food, disinfectants… many essential products are transported by rail. Our own teams and those of our partners and customers are going the extra mile to keep companies, hospitals, stores and consumers supplied.
So we wanted to thank all these heroes of today for their continuous efforts. And how better than with a locomotive?  This special edition white locomotive is hauling goods all over Europe. We hope it boosts the spirit of everyone who sees it, whether that's on social media from the safety of their homes or during a shift in the stations, terminals or rail track where it passes.
RN: Earlier this year Lineas joined ERFA, the European Rail Freight Association. What are your main objectives that you want to achieve for the rail freight sector in the EU?
L: At Lineas, we believe that private rail freight players will make the difference in Europe, as they are dynamic, nimble, innovative and able to really offer what the customer needs. Private companies have a unique customer-centric mindset to deliver the products that convince companies to shift from road to rail.
In co-operation with the other ERFA members, we will have a key role to play in the creation of a truly liberalised and competitive European rail freight market.
RN: One of the things people have appreciated during the coronavirus pandemic is the cleaner air and the reduced number of vehicles on our roads. Do you think we will emerge from this with a stronger push for fighting the climate emergency and – in rail freight – to achieve a meaningful shift to rail? Can you talk about this also in the context of the Rail Freight Forward coalition?
L: The Green Deal is a major opportunity to push the modal shift to rail. We know that rail is nine times better in carbon emissions, eight times better in terms of air quality and six times more energy efficient. We have to double rail freight volumes if we want to reach the EU climate targets.
The European rail freight operators have joined forces under the Rail Freight Forward coalition to push this modal shift to rail. We have developed a plan that outlines the actions railway unions, infrastructure managers and governments in Europe should take to achieve our ambition and as such substantially contribute to our climate objectives.
Also read: