One of the nicknames the president-elect of the United States, Joe Biden, is known by is 'Amtrak Joe'.
He got this nickname after travelling by train every day to commute between Washington D.C. and his home in Delaware. Tragically, he lost his wife and daughter in a car crash in 1972 and was then sworn into the Senate by his son's hospital bedside. For the next 36 years he reportedly took the train every day to be home with his sons.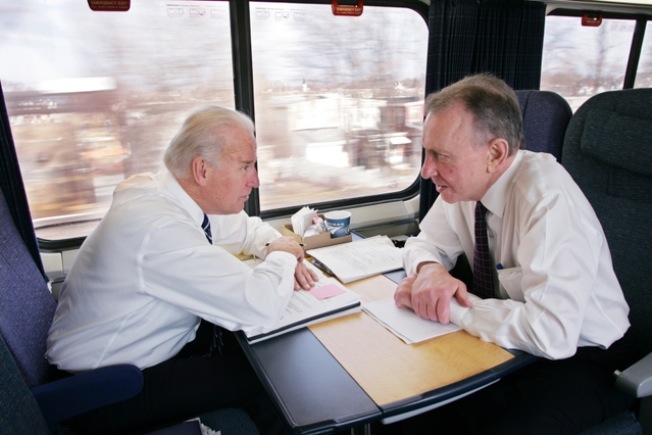 In 2010 he wrote an article for Amtrak's Arrive magazine entitled Why America Needs Trains, which was later republished by HuffPost. In it he described both his emotional connection to train travel, saying it was what had allowed him to be a senator in the first place, but also because of problems such as climate change and congestion
"But my support for rail travel goes beyond the emotional connection. With delays at our airports and congestion on our roads becoming increasingly ubiquitous, volatile fuel prices, increased environmental awareness, and a need for transportation links between growing communities, rail travel is more important to America than ever before.
Support for Amtrak must be strong—not because it is a cherished American institution, which it is—but because it is a powerful and indispensable way to carry us all into a leaner, cleaner, greener 21st century."
The president-elect has already announced his intention of rejoining the Paris Agreement as soon as he is sworn in. The United States officially left the Paris Agreement on 4 November 2020 under the Trump administration.
"Today, the Trump Administration officially left the Paris Climate Agreement, and in exactly 77 days, a Biden Administration will rejoin it."
Fittingly, the President and CEO of Amtrak, Bill Flynn, has issued a statement welcoming the new Biden administration.
He addressed the economic outfall of the coronavirus pandemic both with regards to paying staff and investing in railway infrastructure. He also highlighted rail's role in decarbonising transport, pointing out that the vast majority of these transport emissions come from road vehicles.
"Amtrak looks forward to working with President-elect Biden and Congress. To get the economy moving and help Amtrak and our employees through this unprecedented situation, Congress must act now on pandemic relief and economic stimulus funding which enables Amtrak to recall furloughed employees, restore service frequency on long-distance and state-supported routes, and make investments that will advance critical capital projects such as bridges and tunnels on the Northeast Corridor and new equipment, infrastructure improvements and major station upgrades throughout our network.
"As we look to the future, expanded Amtrak service is essential to decarbonizing our transportation network, which generates roughly 28% of the U.S. annual carbon emissions. With cars and trucks responsible for nearly 82% of those emissions, we need passenger rail alternatives throughout the nation. As we enter our 50th year of service, we stand ready to play an important role in helping our nation recover and grow for the future."
Also read: