The final construction phase for the rail connection between Oldenburg and the JadeWeserPort, the German North Sea deep water port in Wilhelmshaven, has begun.
By 2022 the line is to be fully electrified and double-track. Furthermore, Deutsche Bahn will install comprehensive noise barriers for residents.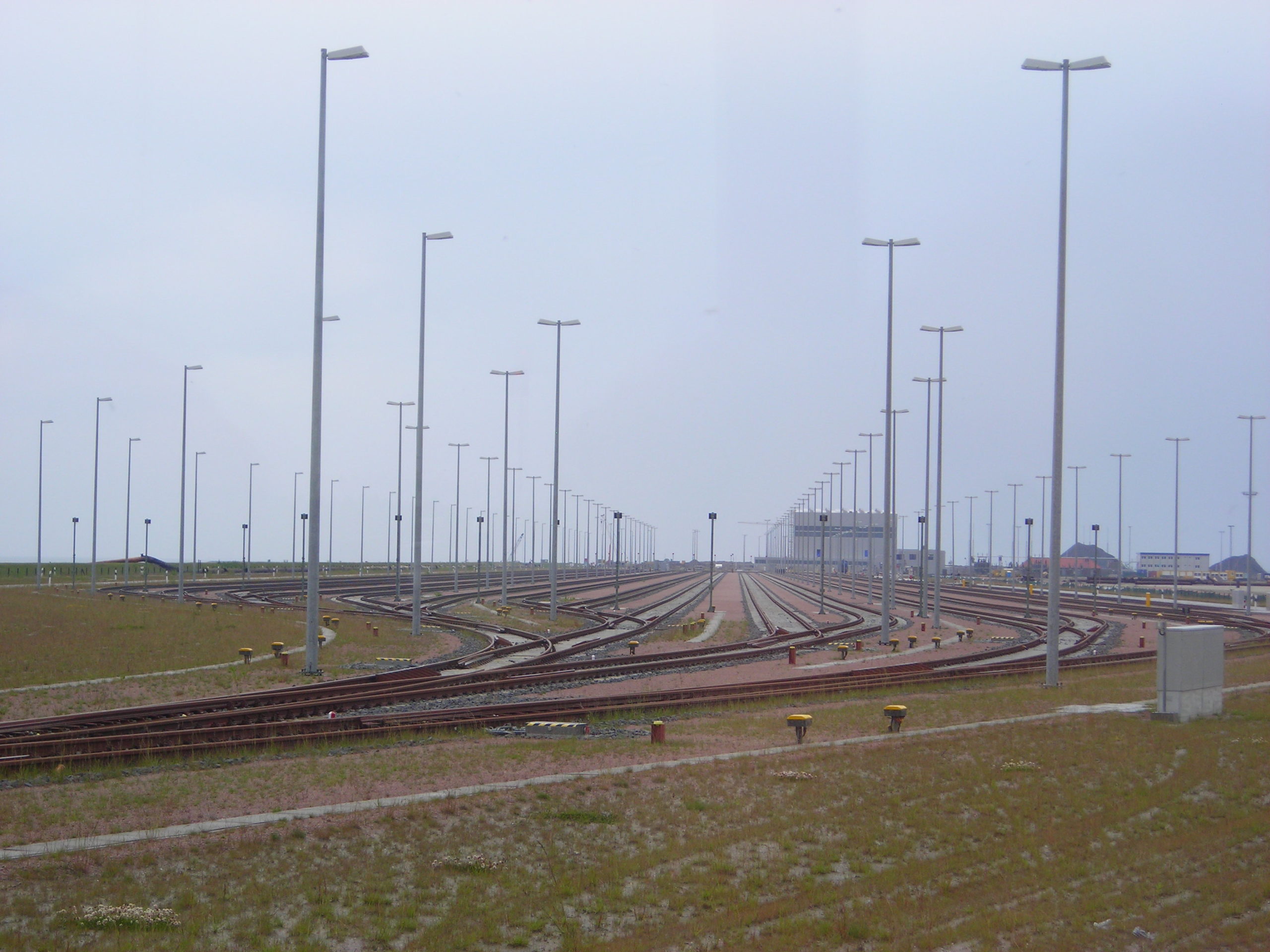 The Parliamentary State Secretary in the Federal Ministry of Transport (BMVI), Enak Ferlemann, and Ronald Pofalla, Head of Infrastructure on DB's Management Board, as well as Dr Berend Lindner, State Secretary in Lower Saxony's Transport Ministry launched the final phase with a ground-breaking ceremony.
"The upgrades to the Oldenburg-Wilhelmshaven line are a concrete step towards protecting our climate because it strengthens freight transport by rail. Through our 'strong rails' strategy we, together with the federal government and the rail industry, want to strengthen the market share of rail freight traffic, from 18 to 25 percent. That corresponds to 13 million truck journeys taken off Germany's roads in a year. To achieve that we need high-performing railway lines.
"To provide noise protection the 9km section between Oldenburg and Rastede will get 16km of noise protection walls to protect residents against noise."
The JadeWeserPort is Germany's only container port that is accessible 24/7 to the latest generation of container ships. Having this upgraded rail link is vital for the environmentally friendly onward travel of goods coming to the port. The total length of the railway line in question is 70km.
"Today's ground-breaking event for the Oldenburg-Rastede section, all construction segments between Oldenburg and Wilhelmshaven are in progress. We assume that DB Netz AG will complete the works on time and that electric operations along the whole route can begin at the end of 2022. That makes rail an attractive transport option that is gentle on the climate. The Deutschlandtakt envisages modern EMUs travelling between Oldenburg and Wilhelmshaven at 30 minute intervals at a speed of up to 120km/h. In line with our motto 'more – faster – everywhere' we are bringing the Deutschlandtakt to the region between the Hunte and the Jade. There will be departures in all directions every half hour from the hub of the Deutschlandtakt, which is Oldenburg Central Station."
The German federal government, Deutsche Bahn and the European Union are all investing funds over the next three years totalling more than a quarter of a billion euros along the 9km Oldenburg-Rastede stretch. The contractors will electrify and modernise the line, stabilise the substrate and renew the control and safety technologies. Around 10,000 modern sleepers and 16km of noise barriers will protect residents from noise and vibration. The new sleepers are fitted with a plastic base that dampen the vibrations of passing trains. Around 2,000 homes will get noise protection measures as well.
Also read: