By Tommaso Spanevello, UNIFE
The COVID-19 pandemic has severely disrupted economies around the world as it has forced people's daily lives to a grinding halt. The coronavirus outbreak is reasonably expected to have lasting impacts on our individual behaviour and lifestyle, particularly on the way we work, consume and travel. In regard to the latter, transport and mobility are at the epicentre of the immediate and long-term challenges posed by the global health crisis. From urban traffic to international trade flow, bustling movement has given way to hushed calm. Many countries have closed their borders and imposed curfews – resulting in sharp reductions in transport demand at both the local and continental level.
Nonetheless, even during such difficult times, transport's fundamental function of moving people and goods has remained an imperative, not a choice. The whole European rail sector, including its supply industry, has been working relentlessly to keep the inevitable economic impact as limited as possible while ensuring that international supply chains best continue to move seamlessly under these unprecedented circumstances.
UNIFE believes that a strong response to the post COVID-19 economic and social consequences must be taken primarily at the EU level, in conjunction with national efforts. To that end, we strongly welcome the Roadmap for Recovery 'Towards a more resilient, sustainable and fair Europe', endorsed by Member States in April. In particular, the document includes a strong investment component that welcomingly confirms an upcoming "comprehensive recovery package with the EU budget at its heart" for a Marshall Plan-type investment effort. It also defines key areas for action, including investments in clean and digital technologies, ensuring the strategic autonomy of the EU through a dynamic industrial policy and the crucial restoration of trade flows and supply routes.
Perspectives and Solutions for Rail Passenger Transport
Rail and public transport find themselves particularly under pressure as governments worldwide struggle to engineer a gradual, cautious restart of several economic and commercial activities. Arguably, in the short- and perhaps medium-term, ridership and transport demand are likely to drop for both mainline and urban passenger services as sanitary guidelines continue to recommend social distancing and the limitation of our movements.
Despite the ongoing crisis and its stringent sanitary guidelines, the whole rail sector has not been sitting around waiting. During this time, the rail community has been looking to the future and working on a systematic, sensible and coordinated response. The goal is to put in place a set of measures targeting each phase of a mainline and urban journeys that sharply minimise the risks for the public transport staff as well as for passengers, curbing further the spreading of the infection.
Such measures would require an efficient coordination between transport companies and public security and health authorities , as much as their implementation would follow a careful assessment based on scientific evidence. These norms, whenever communicated, must be adequately accessible and understandable by everyone. Additionally, on the supply industry side, European rail manufacturers have made the safety of workers an absolute priority, while making unprecedented efforts to ensure the continuity of the production.
The rail sector has actively followed public health guidelines to help ''flatten the curve'' and inspire public confidence in public transport during this distressing period. For example, it has become obligatory to wear personal protective gear such as masks and gloves and to disinfect vehicles and facilities. Furthermore, the sector has rearranged timetables and reorganised indoor spaces to limit 'peak hours' and ensure safe distance between users at all times.
Following this further, new digital applications offer public rail transport solutions that will help navigate it successfully through this storm. There exists a plethora of data-driven technologies that can be utilised by health and public transport authorities to facilitate and accelerate their decision- making. Locating and tracing passengers in real-time while communicating this information to users simultaneously is a scenario that is feasible due to the recent wave of data-driven innovation that mobility has been experiencing. In a sanitary emergency, such as the world currently finds itself, a clear picture of how, when and where people move would allow authorities to reorganise public transport in an efficient and safe manner.
The European rail supply industry has been leading the way in acknowledging the importance of streamlined data collection and processing to devise actionable insights. European rail manufacturers have been long calling for multi-stakeholder collaboration within the sector. The setting of a framework for data sharing processes across the mobility chain could be a reliable asset for public transport in the present time of the global health crisis. Collaborative research programmes, such as the Shift2Rail Joint Undertaking, would be crucial in the development of the enabling technologies.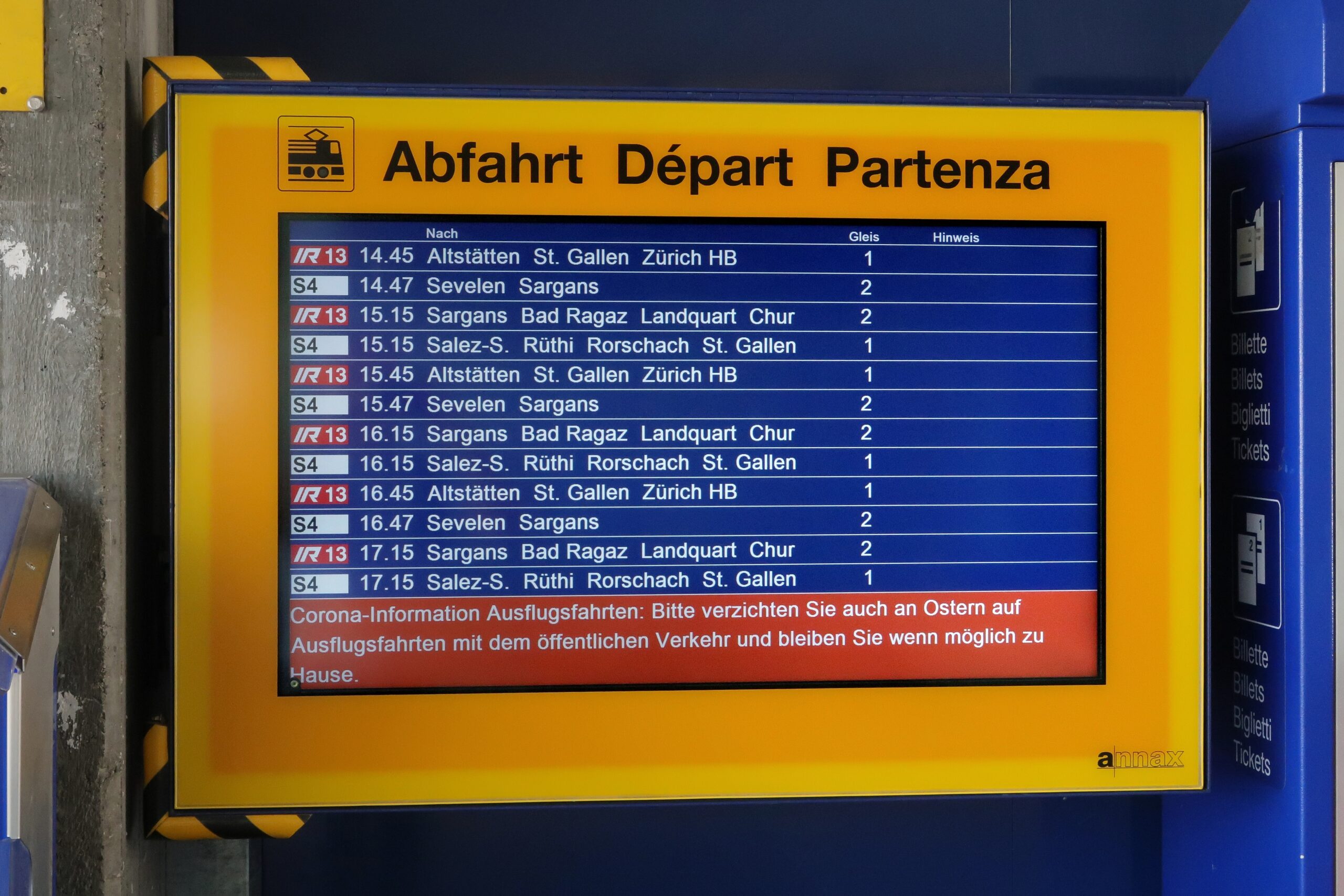 Rail Freight: Keeping Europe Supplied
As rail passenger transport is working hard to get through the winding path, it is rail freight which has claimed a central role during this crisis. In fact – especially in the early stage of the infection's surge – the urgency to contain the coronavirus from spreading uncontrollably has caused borders to regrettably reappear across our continent. Suddenly, the logistics chain was abruptly disrupted. Once defined by frictionless border crossing, European freight transportation was suddenly mired by grounded airplanes or endless queues of lorries.
Notwithstanding the gridlock, the European supply chain has kept moving thanks to its railways. Indeed, rail freight transport has provided the lifeline for raw materials, medical equipment, food and other essential products to continue to circulate around Europe. Rail freight has been finally able to leverage to its fullest potential its high capacity, safety and efficiency for the good of the EU. As a matter of fact, rail freight has proved to be a strategic asset for the EU economy, offering reliable cross-border cargo connections for large volumes of goods using minimal human resources. The importance of rail freight operations can be expected to grow even further over the coming months, and is an excellent opportunity to make the logistics chain more sustainable.
In March, UNIFE welcomed the European Commission's adoption of the ''Guidelines for border management measures to protect health and ensure the availability of goods and essential services''. The Guidelines set forth ''green lanes'' for freight transport in order to untangle the circulation of goods and ensure the availability of supplies while emphasising the importance of ensuring continuous flows along the TEN-T Network.
The Green Deal's Climate Priorities during the Health Emergency
Even before the pandemic sudden appearance, the European Union was at a crossroads concerning its future economic and social model. Climate change, in particular, has been one of the most pressing issues to solve. A way forward would require not only a different political mindset, but concrete steps to enable businesses, industries and citizens to drive forward a transformation of production and consumption based on sustainability and resource-efficiency.
Last December, the European Commission (EC) launched the European Green Deal (EGD) as the hallmark of its mandate, under the responsibility of EC Vice-President Frans Timmermans. The ambition of the EGD is to affirm Europe as the global leader in the transition to a net-zero greenhouse gases (GHG) emissions economy, by reaching full climate neutrality by 2050. All sectors and industries
are expected to proactively contribute this goal by reducing their carbon footprint and will be subject to different measures aimed at supporting Europe's overarching sustainability goals.
As the coronavirus infection surged, UNIFE and other economic and civil society actors firmly advocated for the EU's continued commitment to the EGD priorities and objectives. UNIFE argued that Climate neutrality and the green transition should not be watered down or dismissed due to the worldwide sanitary emergency.
In this regard, European rail manufacturers welcome the Roadmap for Recovery, approved by EU Member States on 23 April, explicitly acknowledges the Green Deal as a crucial enabler for Europe's post covid-19 economic recovery. UNIFE fully agrees that the Green Deal is as much an economic growth instrument as it is a climate plan and endorses the call for massive investments to be channelled into the European green transition.
Mobility is built into the architecture of the Green Deal. As the transport sector accounts for nearly a quarter of the EU's greenhouse gases emissions, climate neutrality cannot be achieved without the decarbonisation of transport. Rail stands out as the exception. It is the only mode which has reduced its emissions while improving further its energy efficiency and increasing its capacity – and is therefore essential to achieve the Green Deal's climate ambitions.
Within this framework, according to the European Commission's new work programme, a strategy for ''sustainable and smart mobility'' is expected to be launched by EU Transport Commissioner Adina Vălean at the end of this year. Modal-shift to sustainable modes such as rail will be key to accomplishing the strategy's ground-breaking goal to reduce transport emissions by 90% by 2050 – compared to 1990 levels.
A Way Forward for Rail Transport in the Post-Crisis World
Throughout the present global health emergency, rail public transport has indisputably been facing a number of considerable challenges. It has tested its resilience, resourcefulness and ability to adapt to an extraordinarily unpredictable degree.
However, these weeks have also shown that even when our countries are brought to a near-standstill, rail and urban rail systems (i.e. trams/metros/urban rail) have continued to ensure the circulation of goods and the continuation of fundamental services. The circumstances has showed the rail sector's support to national health systems – as seen in the case of special ''medical trains'' to transfer patients from one region to the other – and the transportation of passenger working in ''essential professions''. This has been made possible thanks to major EU investments in rail projects in the past years, in particular through the Connecting Europe Facility (CEF) and the European structural and investment (ESI) funding instruments, which has modernised European infrastructure, eliminating bottlenecks and bridging missing links.
The strategic role played by rail during the COVID-19 crisis, and its assets as the greenest and safest mode of mass transportation, should convince Member States' governments to direct huge investments towards strengthening future transport systems with rail as their backbone. UNIFE firmly believes that Europe needs a massive infrastructure investment programme as part of the green recovery roadmap, and investments in rail must be at the forefront of this initiative.
UNIFE hopes that European institutions and Member States will mobilise ambitious EU and national financial envelopes to relaunch Europe's economy while fostering key climate objectives set by the Commission in its European Green Deal. European rail manufacturers believe that the transition towards climate neutrality must be at the centre of the revised Commission's Multi-annual Financial Framework (MFF) 2021-2027 proposal and the Roadmap for Recovery. Furthermore, the forthcoming 'Sustainable and Smart Mobility' strategy in the context of the Green Deal offers an additional opportunity to shape the European economic and social upturn within a long-term outlook based on climate neutrality, resource efficiency and circularity.
Throughout its long history, rail transport has overseen significant economic, political and social turmoil. Its reliability, immovability and safety has got it through those earlier trials and has proved to be a strategic asset for citizens and economies in their pattern to recover. The coronavirus global health crisis has posed unprecedented challenges to which the whole rail community, once again, is working tirelessly to respond. The European rail supply industry reaffirms its readiness to work together with the European Commission, European Parliament and Member States to ensure that rail transport best contributes to both the recovery of the EU economy and the wellbeing of European citizens.
Also read: