The Office of Rail and Road (ORR) has published its Rail Industry Finance report 2020–21 for the United Kingdom.
The report outlines the income, expenditure and government funding of the UK rail industry for the financial year 1 Apr 2020–31 Mar 2021, during which the rail industry was heavily affected by the coronavirus pandemic. During this period, passenger journeys fell to a historic low and government emergency measures were introduced so that services kept running. This resulted in a large increase in train operator subsidies.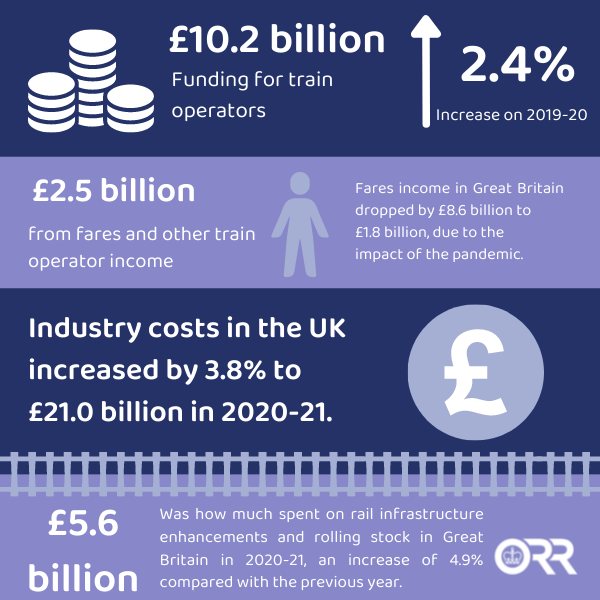 However, the report has also found that the rail sector has started to recover from the impact of the pandemic. In Q1 of 2021–22, approximately 182 million rail passenger journeys were made in Great Britain, 35 million more compared to the same quarter the previous year.
In 2020–21, the industry cost 20.7 billion GBP, funded by government (16.9 billion GBP), fares and other passenger income (2.5 billion GBP), and other sources (1.3 billion GBP). Fares income during this period was 1.8 billion GBP – a drop of 8.6 billion GBP from the previous year. The number of passenger journeys fell by 77.7 percent in 2020–21 (compared to 2019–20).
Government funding of the operational railway increased by 10.4 billion GBP to 16.9 billion GBP, mostly because of the emergency measures that were put in place for train operating companies.
Industry expenditure was 21 billion GBP in 2020–21. This was an increase of 0.8 billion GBP. Overall, the rail industry ran 20.9 percent fewer services, as a result of which variables expenditures (e.g. fuel, Network Rail charges etc.) fell. In some areas the pandemic increased expenditure, e.g. the purchase of PPE.