Network Rail has completed two week's work on Kilsby Tunnel on the West Coast Main Line, allowing full line speed through the tunnel to resume.
Kilsby Tunnel, which opened in 1837 and which now forms part of one of Europe's busiest mixed-used passenger and freight railway lines, was allowing water to leak through its walls. This caused the track to flood and degrade.
As a result, all 400 trains running through the tunnel every day had to reduce their speed, leading to delays for the many passengers travelling on the route between London and the Midlands.
The high traffic volume on the route meant Network Rail was not able to perform such major upgrade works during normal operations. However, the reduced traffic volume caused by the coronavirus pandemic gave Network Rail the opportunity to complete the repairs.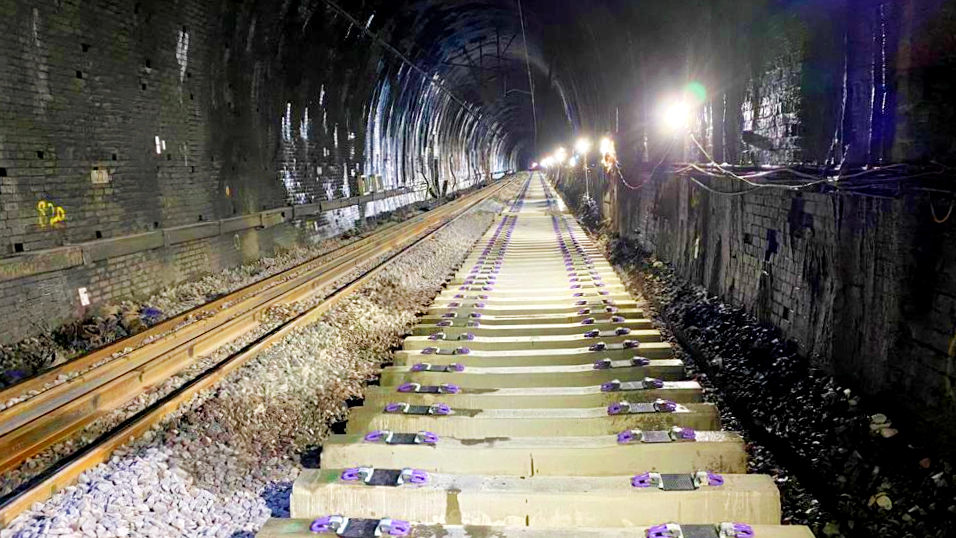 Network Rail workers completed waterproofing and track drainage improvements, which means trains can once again run at full line speed of 110mph. Avanti West Coast, which operates the West Coast Partnership franchise between London, the Midlands and Scotland, will now save 82 minutes of delays every single day.
"Bringing Kilsby tunnel up to modern standards will make a huge difference for passenger and freight trains on the economically important West Coast main line.
"In normal times it would have been impossible to close this entire section of railway for an upgrade of this scope and scale. I'd like to pay a huge credit to our train operators and industry colleagues for enabling us to carry out this work at short notice and get the railway in the best-possible shape as the country recovers from the coronavirus pandemic."
Kilsby Tunnel Project
Network Rail replaced 1.3km of track, laid 2,458 new concrete sleepers, laid 7,700 tons of ballast, and created 745 metres of new drainage. The total length of Kilsby Tunnel is 1.5km.
"We are pleased to have played an important role in giving Network Rail access to the railway between Rugby and Milton Keynes – a notoriously difficult section to maintain due to the number of trains that use it every day.
"This scale of work would usually take months of careful planning but working together with industry colleagues we were able to do this in a matter of days because of our reduced timetable and alliance with Network Rail."
Rubgy-Milton Keynes Upgrades
During the line closure between Rugby and Milton Keynes Network Rail also replaced and serviced signalling cabling and equipment. It maintained the 25kV overhead lines, replaced and welded rail, installed new sleepers, improved trackside drainage, inspected railway structures and managed lineside vegetation.
Also read: