When I was a child, I was oddly fascinated by the idea of Clapham Junction.
Visited by every train out of Waterloo, and most of those out of Victoria, it was said to be the busiest station in Britain, and quite possibly in Europe, too, served by over 100 trains every hour. It was, what's more, on the other side of London from the Essex suburbs where I lived, which gave it an exotic air that seems quite funny now. I remember one day realising it wasn't even really in Clapham, but in Battersea, and struggling to contain my delight.
I was, now I come to think of it, quite a strange child.
Strange or not, however, I would have been equally delighted to realise that there was another station, much closer to home, which would one day be even busier – just so long as you counted by number of passengers instead of number of trains. That station is the unassuming, and frankly unglamorous, Stratford. It's known officially as Stratford (London) so as to avoid confusion with the much fancier Stratford-upon-Avon, and, come to that, its own near neighbour, the strangely international service-free Stratford International. But Stratford (London) dwarfs them both: in the most recent full year for which we have figures, it saw more passengers than any other station in Britain.
This was, to be clear, a side-effect of the pandemic, and the lockdown that accompanied it. The Office of Rail & Road has been publishing figures on passenger numbers in pretty much every year since the late 1990s. Only the very end of the 2019–20 financial year was affected by lockdown, so the rankings that year look pretty much like normal. The busiest station was London Waterloo, with 87 million entrances and exits, followed by London Victoria (74 million) and London Liverpool Street (66 million). In fact, eight of the top ten were London terminals; the only exceptions were Birmingham New Street (6th, with 47 million) and Stratford (8th, 42 million).
Total entrances/exits, 2019/20
1. London Waterloo – 86,903,518
2. London Victoria – 73,559,158
3. London Liverpool Street – 65,984,786
4. London Bridge – 63,095,300
5. Birmingham New Street – 46,510,526
6. London Paddington – 44,871,096
7. London Euston – 44,776,804
8. Stratford (London) – 41,912,114
9. London St Pancras International – 36,040,080
10. London Kings Cross – 32,532,404
Source: ORR
For more than half of 2020–21, though, Britain was in lockdown, and millions worked from home even when it wasn't. This, predictably, had a huge impact on the railways, with passenger numbers falling by nearly 80%.
It also had an impact on the busiest station rankings. The number in brackets is the fall from the previous year's figure. Spot the difference.
Total entrances/exits, 2020/21
1. Stratford (London) – 13,985,162 (-67%)
2. London Victoria – 13,791,322 (-81%)
3. London Bridge – 13,763,890 (-78%)
4. London Waterloo – 12,214,626 (-86%)
5. London Liverpool Street – 11,212,008 (-83%)
6. Highbury & Islington – 8,660,736 (-71%)
7. Clapham Junction – 8,370,706 (-71%)
8. Birmingham New Street – 7,350,942 (-84%)
9. Barking – 6,742,918 (-51%)
10. East Croydon – 6,695,420 (-73%)
Source: ORR
The number of London terminals has halved, their places taken by four extra outer London hub stations, including my old friend Clapham Junction. Topping the chart, though, the busiest station in Britain, is Stratford.
The reason for this pattern can be found in those percentages. The London terminal stations, plus Birmingham New Street, all saw huge drops in passenger numbers, ranging from 78% for London Bridge to 86% at London Waterloo. Numbers at the outer London stations, though, fell by smaller numbers, from 73% at East Croydon to just 51% at Barking.
It's tempting to find part of the explanation for this in poverty: people whose journeys start and end in Barking are less likely to have the sorts of cushy office jobs that allow for working from home. But much of it is about the sorts of journeys being undertaken. "Bigger drops in usage at central London stations," an ORR spokesperson told me, "may be associated with a greater reduction in longer distance journeys and/or office-based commuters in central London working from home instead."
Numbers at outer London stations, though, proved more resilient. Journeys taken on the London Overground, which serves all but one of those outer London stations, are as likely to be taken for purposes of leisure as commuting, and were thus – outside lockdown, at least – less affected by the shift to working from home. As a result, passenger numbers at Highbury & Islington fell by less than those at Waterloo or Liverpool Street.
As to why Stratford saw more passengers than any other station, this, it turns out, is the culmination is a very long-term trend. Between 1997–98, the first year for which the ORR has data, and 2019–20, the last year before the pandemic, the number of entrances/exits recorded at Clapham Junction increased from 7.3 million to 28.9 million, a factor of nearly four.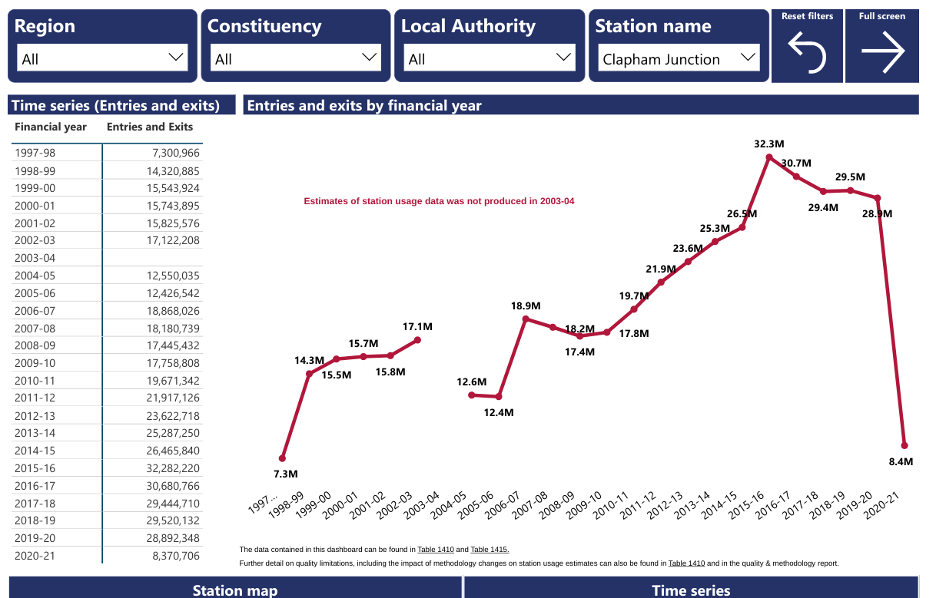 At Stratford, though, they increased from 2 million to 42 million, a frankly mindblowing factor of 21. Part of this probably reflects the amount of new housing that has popped up in the area over the last few years; partly it's that today it serves both the huge Westfield shopping centre and the Queen Elizabeth Olympic Park, neither of which existed a dozen years ago.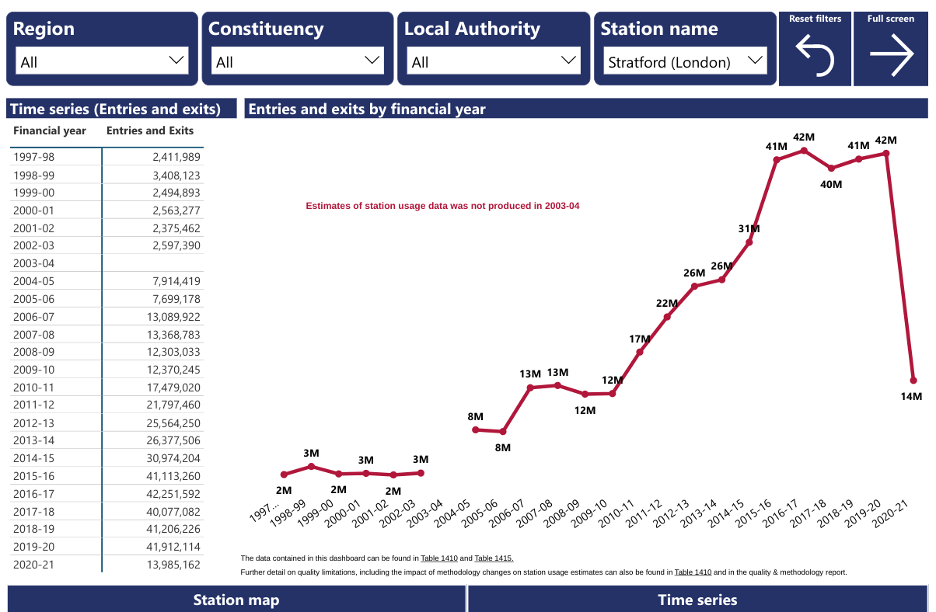 © ORR
But much of it is simply that Stratford station has become a lot more useful. Back in the 90s, it was served by the Great Eastern mainline and the Central line of the tube, plus a single platform on the DLR and the rather unloved Silverlink North London line. Since then, the Jubilee line has arrived, plus three more DLR platforms, and that Silverlink service has been transformed into the Overground; if all goes to plan, Crossrail might finally open before the year is out, too.
And so, what was once a rather grotty station convenient mostly for some rail yards and the world's largest fridge mountain has quietly become one of the most useful interchanges on London's entire rail network, as well as a destination in its own right. No wonder it's the busiest station on the network.
And unlike Clapham Junction, it's actually in the place its name suggests, too.
About Jonn Elledge
Jonn Elledge is a journalist and editor who specialises in transport and local government. Former assistant editor of the New Statesman.