The High Speed Rail Group has published a report entitled HS2 Midlands Voices, in which voices from the Midlands say why they think building the full Y-shaped HS2 line is crucial for both the regional and the national economy.
A quick overview: HS2 Phase 1 runs from London to Birmingham in the West Midlands; HS2 Phase 2a then continues from Birmingham to Crewe. HS2 Phase 2b has two legs – the western leg, from Crewe to Manchester, and the eastern leg, from the West Midlands to Leeds. This latter eastern leg branches off from the westbound HS2 route just north of Birmingham.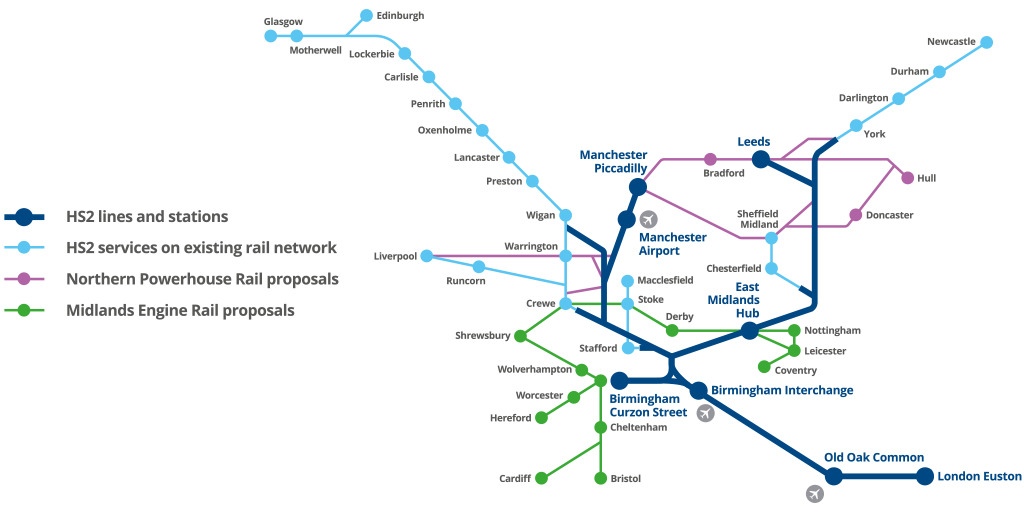 The contributors to the report come from the fields of politics, business and industry, such as from city and county councils, from the Birmingham Centre for Railway Research and Education (BCRRE), from Arup, SYSTRA and more.
The report argues that thanks to Phase 1 of HS2 major businesses, such as Deutsche Bank, HSBC and Jacobs, have already established premises in Birmingham, making HS2 a catalyst for job creation outside of London.
Midlands Voices: The Key Reasons Why HS2 Is Necessary
HS2 will level up the Midlands regional economy and improve both east-west and north-south connections
the project will help the country recover economically from the coronavirus pandemic
it will give passengers a transformed transport offer with more connections, more capacity and faster services
HS2 will increase jobs in the region, as well as access to them, which will build skills in the area
HS2 will benefit the environment by enabling modal shift and helping to reduce air pollution