Given the demand, the ICE Sprinter trains between Berlin and Munich are making a comeback. The first one will run on 2 June, a further one is scheduled to run from 14 June. Departing Frankfurt, Stuttgart and Munich, passengers will reach central Berlin particularly quickly.
Deutsche Bahn is making additional trains available to holidaymakers this summer. For the first time there will be an ICE connection between Stuttgart and Binz (on Rügen) via Berlin.
International Connections
International connections are also being expanded. There will be a direct rail link between Berlin and Innsbruck. From today almost all services between Germany and Austria and Switzerland are up and running again. The first trains between Berlin and Prague are also back on track. Further connections to all neighbouring countries will follow depending on the border circumstances; in mid-June connections to the Netherlands and Poland will resume.
Austria & Switzerland: rail services have largely resumed to normal
France: the first trains from Frankfurt and Karlsruhe to Paris are already running
Netherlands & Belgium: Frankfurt-Cologne-Brussels and Frankfurt-Cologne-Amsterdam already operating; Berlin-Hanover-Amsterdam will resume 1 June
Denmark: the first trains between Hamburg and Aarhus and Hamburg and Copenhagen are running again
Poland & Czech Republic: the first trains between Berlin and Prague resumed on 25 May; Berlin-Warsaw will follow in June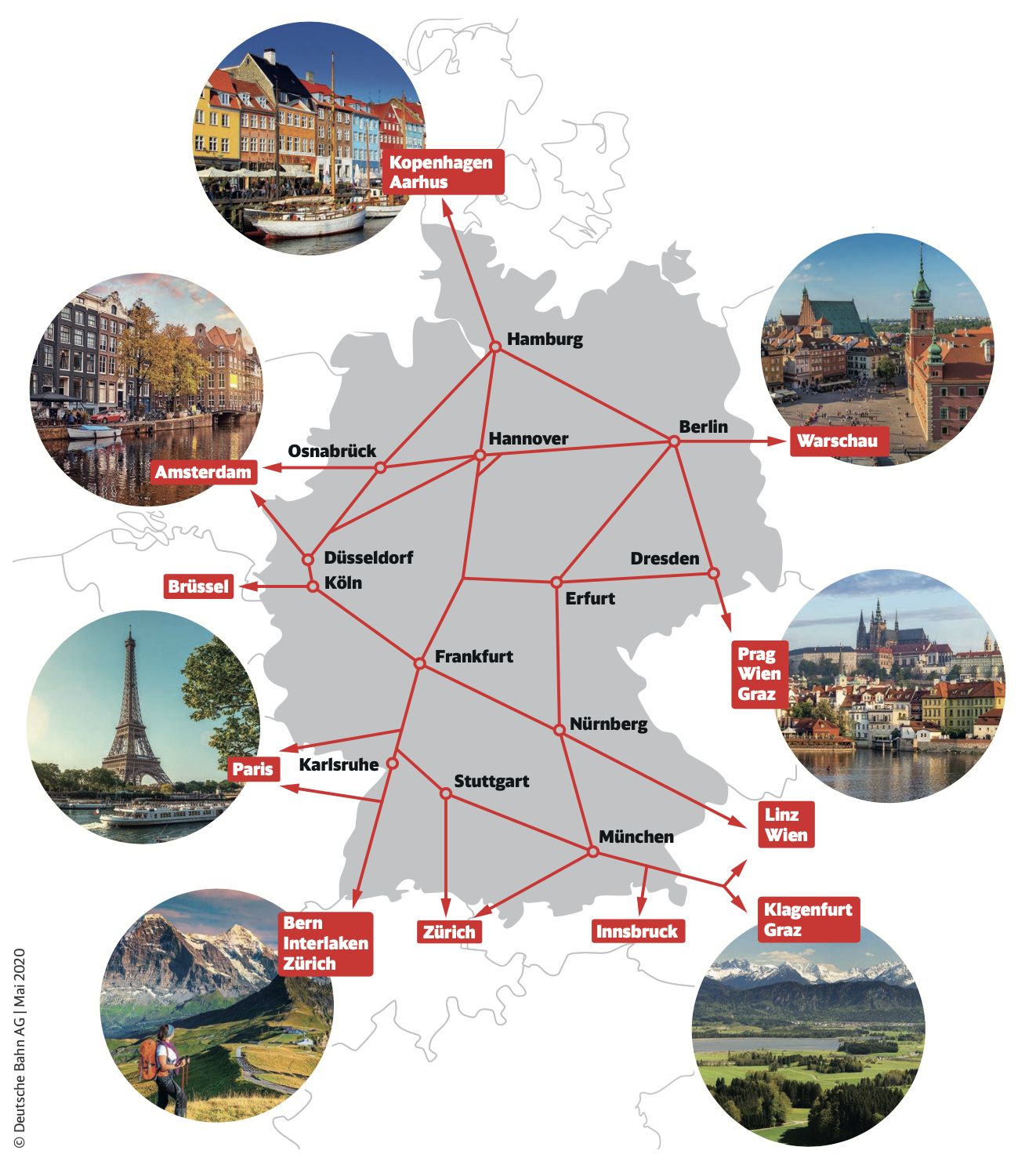 Capacity Control
Starting this week Deutsche Bahn is introducing a new capacity display. Customers can check on the website bahn.de and on Deutsche Bahn's app, DB Navigator, as soon as a long-distance train is more than 50 percent full based on early bookings. The number of reservations will be limited. Trains that are likely to be quite full will have their ticket sales suspended.
Fleet Expansion
Lastly, Deutsche Bahn is investing further into modernising and expanding its fleet. Over the past twelve months the capacity on long-distance routes has increased by around 15,000 seats. By the end of the year this figure is set to rise by a further 13,000 seats.
Also read: