Amtrak has revealed renderings as well as other information about the new diesel-electric locomotives that are set to replace the current fleet on the national network, including all of the operator's long-distance services and many of the state-sponsored routes.
Five of the six new locomotives, ALC-42 Siemens Chargers, will feature the livery revealed in these renderings, while the sixth will get a special anniversary livery to commemorate 50 years of Amtrak.
ALC-42 Siemens Charger
The ALC-42 series was developed by Amtrak and Siemens Mobility. It features Positive Train Control (PTC) and crash energy management. The diesel engine will power an electrical AC alternator-rectifier which will provide power to the traction motors, giving these locomotives a top speed of 125mph.
The 16-cylinder Cummins QSK95 engine is classified as Tier 4 with regards to emissions, meaning it will emit 89 percent less nitrogen oxide and 95 percent particulate matter. The engine's efficiency will also reduce the locomotive's diesel fuel consumption.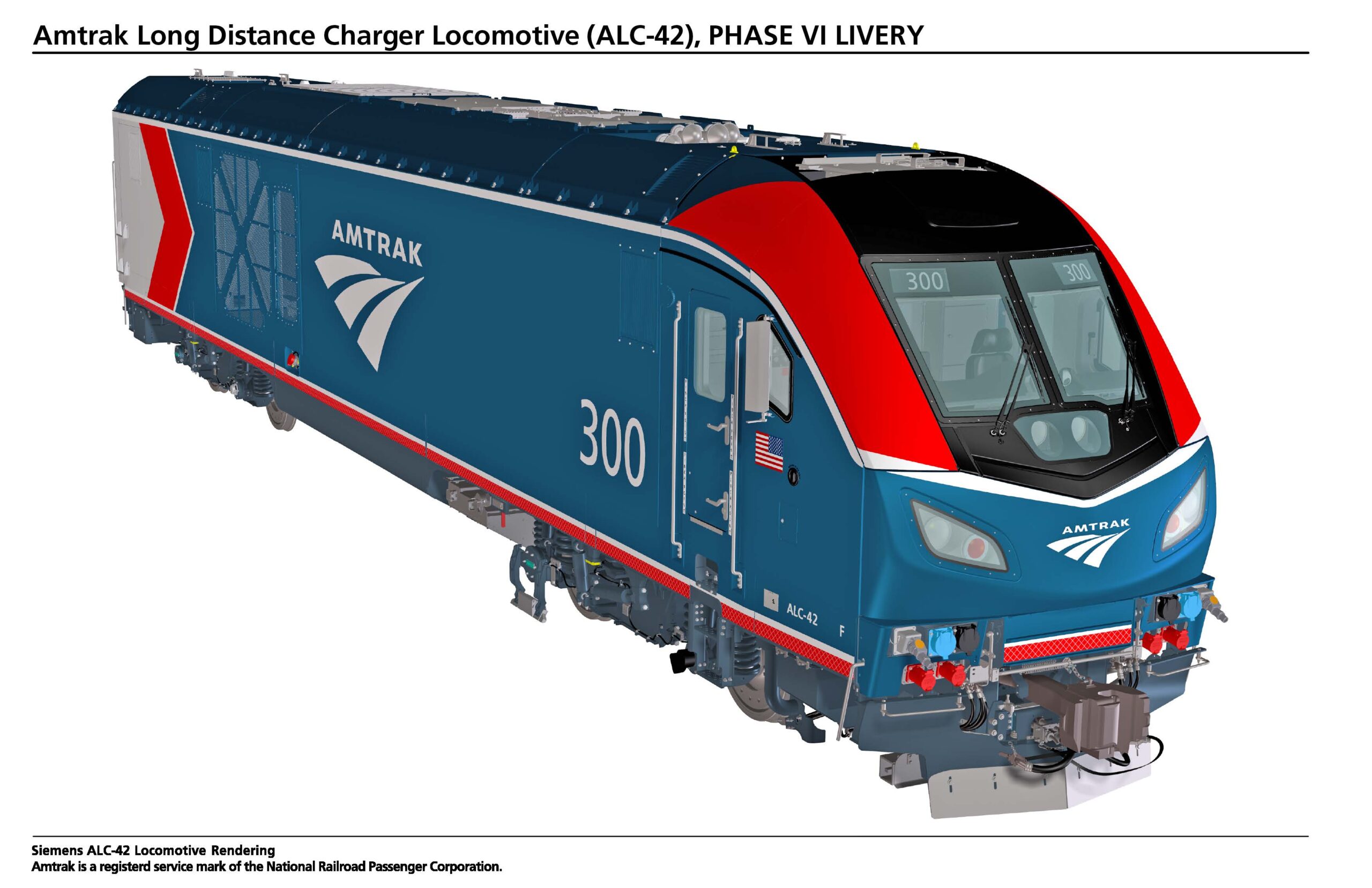 Amtrak announced it had ordered 75 new locomotives in December 2018. Siemens Mobility will deliver these through 2024. The initial agreement also includes an option for Amtrak to purchase further ALC-42 locomotives.
Compared to the SC-44 locomotives that Amtrak also operates, the ALC-42 has a bigger fuel tank for longer routes. It also has increased head end power, meaning it can haul longer trains. Thanks to a number of other improvements, this locomotive will have lower maintenance intervals compared to the existing fleet.
The ALC-42 locomotives are being manufactured in Sacramento, California. They will largely replace P40 and P42 diesel-electric locomotives. The P-series locomotives were purchased in the 1990s and have spend more than a quarter of a century in operation. They do not have up-to-date technology and they do not achieve Tier 4 emissions standards.
In order to fulfil Amtrak's 'Buy American' provision, Siemens Mobility uses suppliers across the US. These include Cummins, which manufactures its diesel engines in Seymour, Indiana.
These locomotives merely part of Amtrak's long-term improvements plan for rolling stock, infrastructure and stations. Other elements include new Acela trains, which are currently in the testing phase and which will enter passenger operations in 2021. New York Penn Station and Moynihan Train Hall are being upgraded, while major stations in Washington, D.C., Baltimore, Philadelphia and Chicago are also undergoing expanded development.
Also read: