Amtrak Completes Renewal Work at New York Penn Station
Amtrak engineering forces have completed the summer infrastructure renewal work at New York Penn Station, allowing for regularly scheduled operations to resume tomorrow, Tuesday, Sept. 5.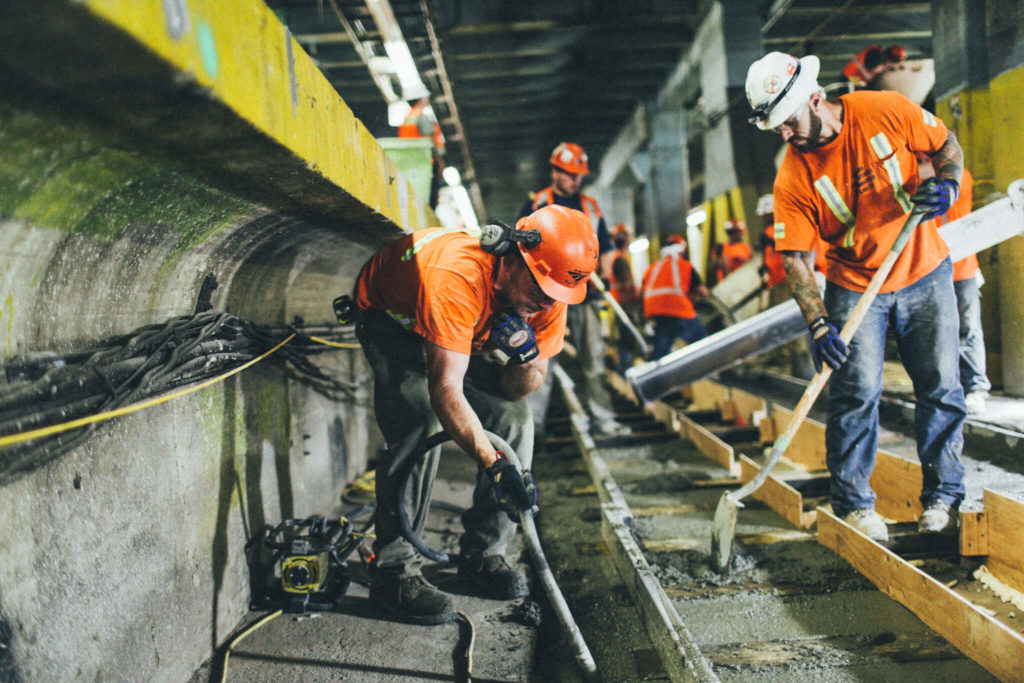 Amtrak co-CEO, Wick Moorman, said:
"This accelerated work was an enormous undertaking. We did it on time, on budget, and most importantly, safely"

"We thank passengers for their patience and flexibility, and our commuter partners, local governments and the states for their collaboration this summer. This summer's work and support from our partners will result in greater reliability in the future. I also want to specifically thank all of the Amtrak employees who were involved in this massive project. Without their skill, dedication and hard work, none of what we do would be possible."
Infrastructure Renewal
This summer's work focused on "A Interlocking," the critical sorting mechanism routing incoming and outgoing trains that enter and exit Penn Station from the Hudson River tunnel and the Long Island Rail Road's (LIRR) West Side Yard to the various station tracks and platforms. The work in A interlocking included total track and switch replacement that will improve the reliability of train service through this area in Penn Station. In total, approximately 360 dedicated Amtrak employees worked around-the-clock to install 897 track ties, 1,100 ft. of rails (or six football fields worth of track), 1000 tons of ballast, 7 turnouts (switches), 4 complex diamond crossings, and 176 yards of concrete.
Moorman added:
"As we mark the conclusion of this intense two-month work period, we must remind everyone that much more work remains and that rebuilding our infrastructure is a continuous process. We have more work planned throughout the fall, winter and into next year to improve other areas of track within New York Penn Station. Most of this work will be handled during our normal weekend maintenance periods and should not have major impacts to service levels"

"Now we need continued investment from the federal government, our railroad partners, and the states to help us make the necessary improvements to infrastructure at Penn Station and all along the entire Northeast Corridor."
Improving Reliability for the Future
This renewal work is one element of Amtrak's plan to modernize stations, infrastructure, and equipment on the Northeast Corridor. Amtrak's Penn Station concourse operations improvement study has begun and improvement projects for the restrooms, waiting areas and Acela Lounge in Amtrak's concourses are underway. New Acela trainsets that will provide more frequency and smoother rides will enter service starting in 2021. Passengers will see refreshed Northeast Regional coaches with new seats, carpet, improved lighting and other enhancements later this fall and in 2018, pulled by our new electric locomotive fleet. The much anticipated construction of the Moynihan Train Hall is now underway and key projects of the Gateway Program to preserve and expand rail capacity into New York City are ready to begin construction.
Regularly scheduled services including all previously announced modified routes at New York Penn Station as well as Empire Service trains, which will be returning to Penn Station for all arrivals and departures, will resume Tuesday, Sept. 5, with the exception of the Crescent, which will resume regular operations between New York and New Orleans Saturday, Sept. 2. Full Amtrak schedules are available for reservations at Amtrak.com.
Original article © Amtrak.
FOR ALL THE LATEST INFORMATION, NEWS, IMAGES, VIDEOS AND ARTICLES ON ALL ASPECTS OF INFRASTRUCTURE, PLEASE CLICK HERE.