A groundbreaking ceremony was held on 1 August 2022 to celebrate the start of construction on the new Portal North Bridge, which will improve service, reliability and capacity for rail travel along the Northeast Corridor.
The Portal Bridge is currently a 110-year old railroad swing bridge over the Hackensack River in New Jersey.
This structure will be replaced with a modern two-track, high-level, fixed-span bridge that will improve service and capacity along this section of the Northeast Corridor.
The new Portal North Bridge will rise 50 feet over the Hackensack River and will allow marine traffic to pass underneath without interrupting the rail line. This new bridge will greatly reduce gridlock caused by critical operation and maintenance issues of the older infrastructure.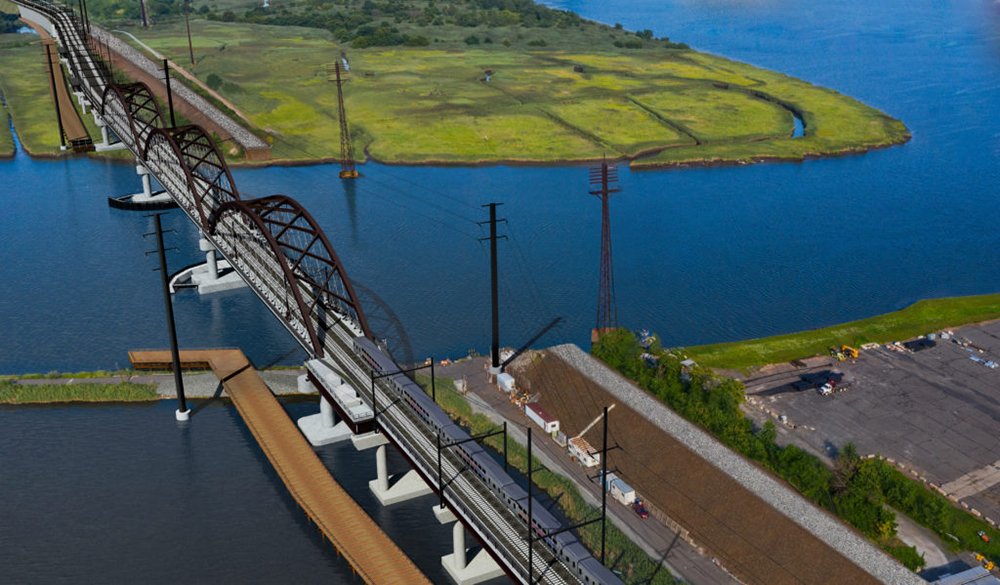 "This project turns the Portal North Bridge from a chokepoint to an access point. It modernises the way that people and goods get to and from this region that is responsible for 20 percent of America's economic product every year. I hope that this bridge will not only bring people to work and loved ones to where they need to be, but brings renewed confidence in our ability to get things done together. We are entering into a true infrastructure decade."
In October 2021, a 1.5 billion USD construction contract was awarded to Skanska/Traylor Bros PNB Joint Venture for the construction of the new Portal North Bridge. The contract is the single largest construction award in NJ TRANSIT's history and is being funded by the US Department of Transportation, New Jersey, New York and Amtrak.
The Portal North Bridge project is a major component of the larger Gateway Program, which will eventually double rail capacity between Newark and New York.
"Today's event marks the beginning of this major construction on a project that will greatly benefit Amtrak and NJ TRANSIT passengers by eliminating delays caused by an outdated, moveable bridge. Having shovels in the ground means that the planning and talking are over; it's time to build state-of-the-art infrastructure and make rail travel more reliable to the region's train travellers."
The project spans 2.44 miles of the Northeast Corridor and includes construction of retaining walls, deep foundations, concrete piers, structural steel bridge spans, rail systems and demolition of the existing bridge.