Amtrak CEO Bill Flynn has told a Congressional Committee that America needs high-speed rail links as part of its railway infrastructure, as they would not only provide more frequent services, but also generate significant economic benefits and reduce greenhouse gas emissions.
Flynn praised President Biden's American Jobs Plan, saying it was an "important first step in developing an improved passenger rail system that would enhance mobility by serving more communities; provide more frequent and more equitable service; generate significant economic benefits; and reduce greenhouse gas emissions".
He further highlighted Japan's Shinkansen service and the extensive network of high-speed trains China has developed over the past 15 years as examples of how next-generation rail links can benefit a nation.
"What we should be asking is how [...] we can develop a modern, efficient, trip time competitive intercity passenger rail network throughout the United States that includes high-speed rail."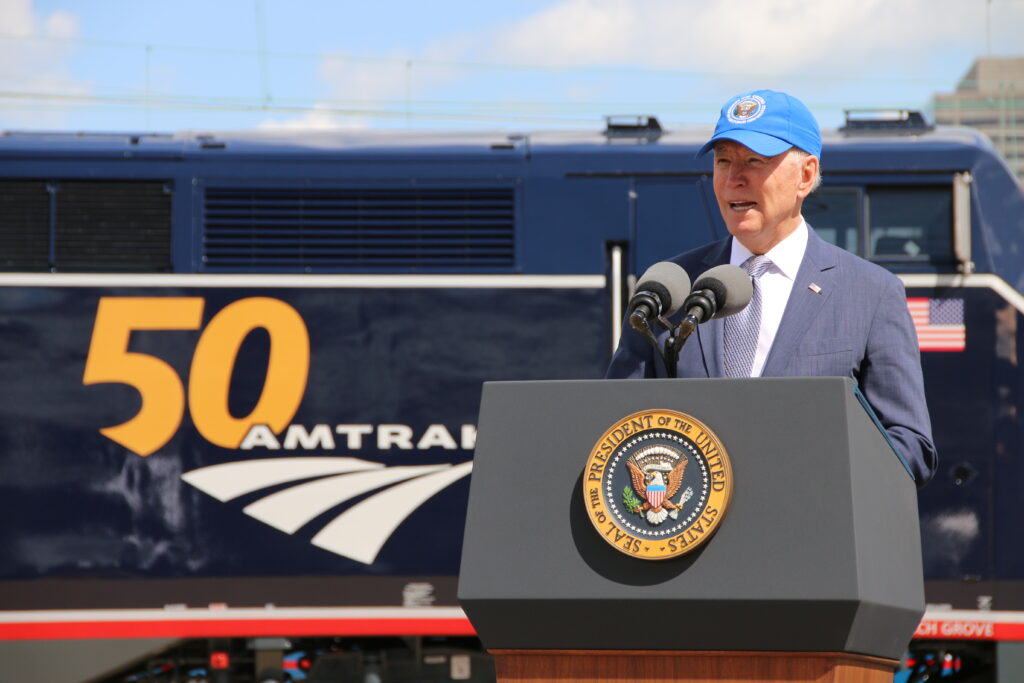 Last month, at a ceremony to celebrate Amtrak's 50th anniversary, President Biden was also keen to highlight the importance of rail in America's transportation and economic future, and called for Amtrak's routes to be expanded and for the operator to receive a significant increase in railway funding.
He said that Amtrak's vision shouldn't be limited to reducing trip time from New York to Washington to two hours. He said the aim should be to achieve a trip time of 90 minutes with 220mph trains. Furthermore, he suggested there should be to roll out of competitive services across the nation. The proposed new high-speed lines are:
Bayview (Baltimore) to Newark, Delaware
Philadelphia International Airport
Baldwin, Pennsylvania to Philadelphia
Philadelphia to Bridesburg, Pennsylvania
North Brunswick to Secaucus, New Jersey
"Imagine a two-hour train ride between Atlanta and Charlotte going at speeds of 220 miles an hour. Or faster and more regular trips between Los Angeles and Las Vegas, a route that I imagine could be pretty popular on Fridays... Today we have a once in a generation opportunity to position Amtrak, and rail, and intercity rail, as well as in general to play a central role in our transformation of transportation and economic future."
These new segments, which would be designed for 220mph operation, would connect to NEC tracks at endpoints. But beyond that they would be almost entirely separate from the current NEC network. Consequently, their construction would be basically disruption-free on current NEC services, meaning that construction works could proceed alongside upgrades to the existing NEC tracks. These works would require track possession and result in some disruption.
Services could commence on the new lines right away. After enough track miles had been built, new high-speed trains could be purchased, bringing up the top speed of the new lines to 220mph.
Words of Caution
Although Amtrak strongly supports the development of new high-speed corridors, the company believes it would be wrong to look at rail as independent lines, rather than as an interconnected network.
"If we focus myopically on the development of dedicated high-speed rail lines, or on new technologies that share most of their characteristics, we will not tap intercity passenger rail's potential in the many locations around the nation where it can play a meaningful role."
Citing the UK's HS2 as an example, Flynn pointed out the large timescales that go by when planning for a new high-speed rail line. He also highlighted the special characteristics that make the Northeast Corridor such as success – not least the fact that it is underpinned by an extensive network of conventional rail.
"The urgent economic and mobility needs of the nation require a more holistic approach that focuses on quickly improving and expanding our conventional network to serve more people and places with reliable service, completing the two high speed corridors already under development – the NEC and California High-Speed Rail – and launching select additional corridors with the right attributes for high-speed development."
Commenting on why the US didn't have more high-speed trains on appropriate corridors, Flynn did not mince his words. "Money," he said. "Unlike [European] countries, the United States has chosen to primarily invest in highways and aviation rather than rail." The current 150mph maximum of the Acela trains on the NEC places the US 18th in the world for fastest trains.
Successful high-speed rail networks in other countries have certain features in common:
Consistent governmental funding over an extended period of time
An incremental approach to expanding the high-speed network
High-speed rail services are integrated with conventional intercity passenger rail services and seamlessly connected to regional and commuter rail as well as airports
A national rail operator has played a central role, e.g. SNCF, Deutsche Bahn, Renfe or JNR
In his concluding remarks, Bill Flynn urged Congress to support President Biden's proposal. He urged Congress to provide "adequate, assured and long-term funding for intercity passenger rail service, such as the trust funds it established decades ago for other transportation modes, and that has been the key to the development of high-speed rail services in every other nation".