Amtrak Becomes First Railroad to Earn EMAP Accreditation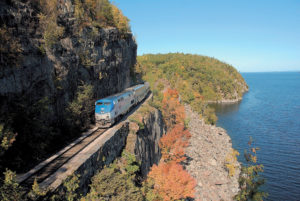 Amtrak has earned accreditation by the Emergency Management Accreditation Program (EMAP), a recognition typically awarded to federal, state, local and tribal emergency response agencies. Amtrak is the first railroad ever to earn the five-year accreditation.

To achieve voluntary accreditation, an applicant must demonstrate through self-assessment, documentation and peer assessment, verification that its program meets industry standards. EMAP recognises the ability of emergency management programmes to bring together personnel, resources and communications from a variety of agencies and organisations in preparation for and in response to an emergency, in addition to obtaining the ability to measure those capabilities.
Within Amtrak, the Emergency Management and Corporate Security (EMCS) department manages the security and preparedness program at Amtrak to help better prepare customers and employees throughout the rail system for emergencies.
DJ Stadtler, Amtrak Chief Operating Officer, said:

"Emergency management accreditation represents a significant achievement."

"We're extremely proud of members of the EMCS department for leading Amtrak through this process. Accreditation demonstrates Amtrak has put the right policies and procedures in place to allow for an efficient and effective response during emergencies. The steps taken in achieving this affirm that safety and security are a priority at Amtrak."
Susan Reinertson, Vice President of Emergency Management and Corporate Security, added:
"Amtrak is committed to responding to a railroad incident with the same dedication and structure we use every day. Having a security and preparedness program in place and conducting training and exercises on how the program procedures flow, is one of our best defenses at Amtrak."
The Emergency Management Standard is flexible in design so that programs of differing sizes, populations, risks and resources can use it as a blueprint for improvement and can comply with those standards in an accreditation process.
For more information, please visit Amtrak.