Design Unveiled for Amtrak's Next-Generation High-Speed Trains
Amtrak has revealed a model of the new paint scheme for its next-gen Acela trainsets, set to operate along the Northeast Corridor.
The trainsets will be among the most reliable and energy efficient in the world and will have one-third more passenger seats, while preserving the spacious, high-end comfort of current Acela Express service.
Next-Generation High-Speed Trains
Building upon 16 years of high-speed rail service in the Northeast, Amtrak is working with Alstom to produce the next-generation of high-speed trainsets built to international standards, to replace the equipment used to provide Amtrak's premium Acela Express service on the heavily-traveled Northeast Corridor (NEC).
As part of this multifaceted modernization program, Amtrak is also investing in infrastructure needed to improve the on-board and station customer experience and accommodate the increased high-speed rail service levels made possible by the new trains.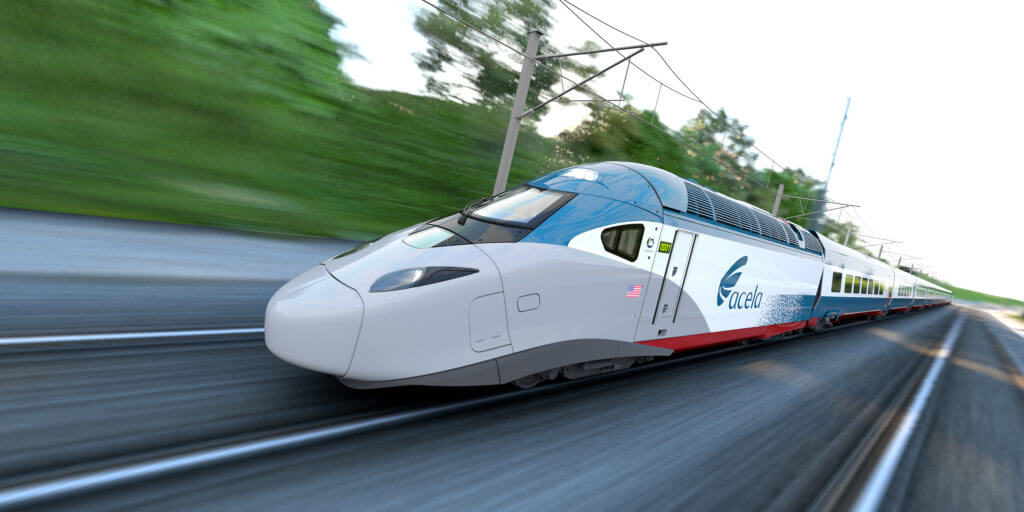 Customer Benefits
Each trainset will have roughly one-third more passenger seats, while preserving the spacious, high-end comfort Acela customers expect and feature an improved boarding experience and more comfortable seating.
Amtrak is ordering 28 trainsets, 40% more trainsets than its current high- speed fleet, to provide half-hourly Acela Express service between Washington, DC and New York City during peak hours, and hourly service between New York City and Boston.
The trainset design, together with advanced track maintenance practices that Amtrak will be funding, will result in a smoother ride comparable to international high-speed train service.
Each trainset will have modern amenities that will be upgradable as customer preferences evolve:
Improved Wi-Fi access
Personal outlets, USB ports and adjustable reading lights at every seat
Enhanced food service car offering easy access and greater selection
Modern interior design for increased comfort and productivity throughout the journey
Exceed the ADA minimum accessibility requirements
Infrastructure, Facility and Station Investment
As part of a $2.45 billion loan from the Federal Railroad Administration's (FRA) Railroad Rehabilitation & Improvement Financing (RRIF) program, Amtrak will invest in significant station improvements at Washington Union Station, Moynihan Station New York, as well as safety, track capacity and ride quality improvements to the NEC.
Additionally, Amtrak will modify high-speed fleet maintenance facilities to accommodate the new trains.
Amtrak is funding this project on its own through this loan, which it will repay through growth in NEC revenues. Amtrak is not relying on federal grants for this project.
Original article © Amtrak.
FOR ALL THE LATEST INFORMATION, NEWS, IMAGES, VIDEOS AND ARTICLES ON ALL ASPECTS OF ROLLING STOCK, PLEASE CLICK HERE.