The National Railroad Passenger Corporation – Amtrak – has recognised the Class 1 railroad Canadian Pacific (CP) as the best host railroad 2021.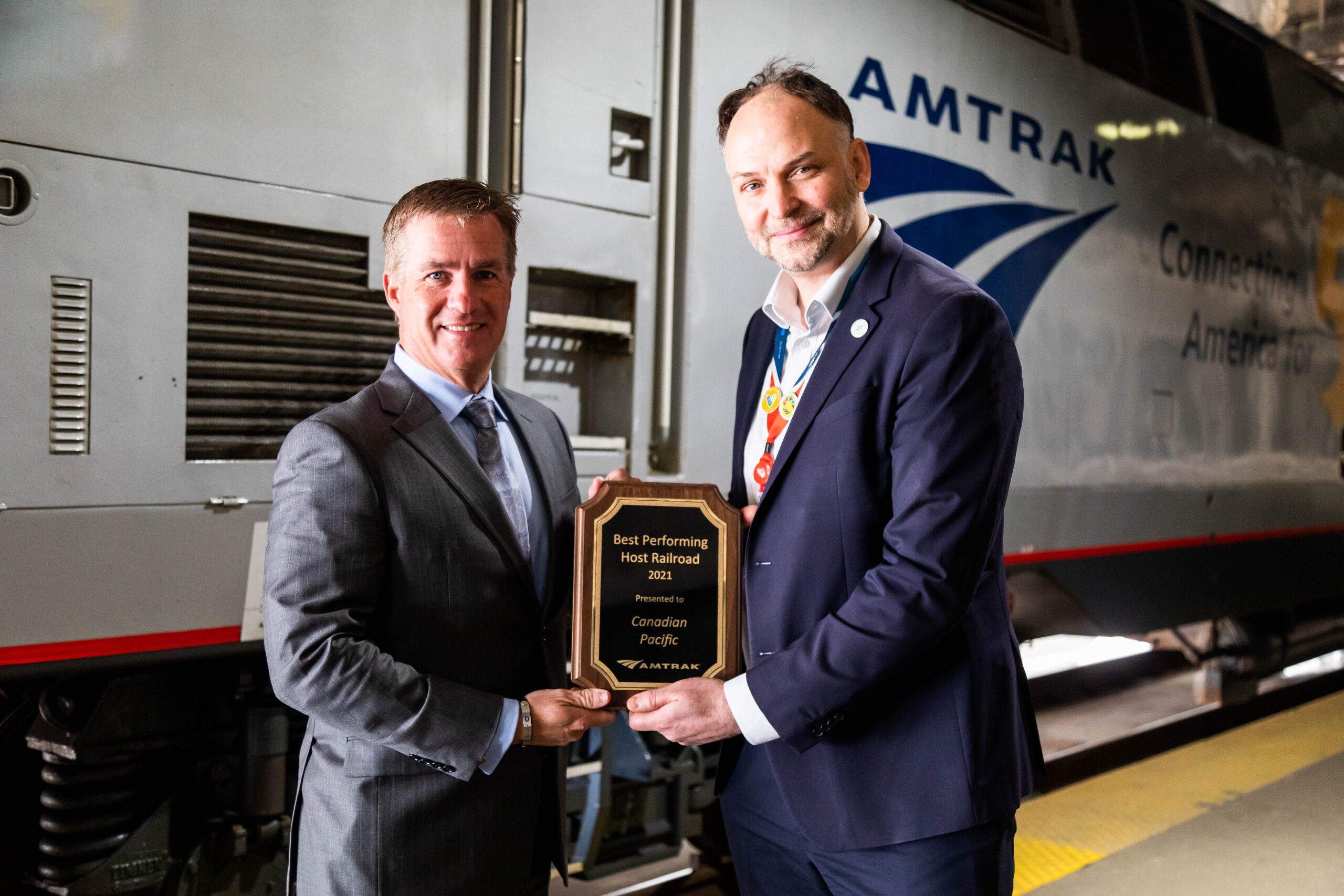 For the sixth consecutive year, this Class 1 has earned an A grade on Amtrak's annual Host Railroad Report Card, which ranks freight railroads on how well they do keeping Amtrak trains on time. Amtrak President and CEO Stephen J. Gardner congratulated Canadian Pacific for its performance and presented CP President and CEO Keith Creel with the host railroad award at Amtrak Chicago Union Station.
Stephen J. Gardner:
"We're proud of the Amtrak-CP partnership and we applaud you and your team's continued commitment to providing outstanding service to our passengers. Congratulations on six years straight as Amtrak's best performing host railroad."
Keith Creel:
"CP is honored to receive this recognition of the success we have achieved as a host railroad providing industry-leading service to Amtrak on our lines."
In January of this year Amtrak and Canadian Pacific announced an agreement in which the two parties said they would co-operate to bring about Amtrak's long-term strategic vision to bring new and expanded intercity passenger rail services to the Midwestern and Southern United States.
Stephen J. Gardner said:
"Given CP's consistent record as an Amtrak host, we are supporting CP's proposal to expand its network in a merger with Kansas City Southern."
Keith Creel said:
"CP is pleased to continue to support Amtrak and its infrastructure projects to provide capacity needed to accommodate additional service and thankful to Amtrak for its support of our historic combination with Kansas City Southern."
In addition to CP's strong dispatching performance from its Minneapolis-based rail traffic control centre, the Class 1 railroad was the first Amtrak host to certify schedules to measure on-time status at all Amtrak stations.
In the US, unlike in Europe, the tracks are privately owned and Amtrak, the quasi-public corporation that runs many US passenger services, has access rights on these privately owned tracks.