Stadler and FNM have presented a mock-up of the FLIRT train for Lombardy at EXPO Ferroviaria 2019 in Milan. This rail exhibition is a fitting place for the presentation as Milan is the capital of the Lombardy region.
Stadler and FNM signed a framework agreement for up to 50 multiple units in November 2018. FNM ordered 30 vehicles at the same time. Now, with EXPO Ferroviaria taking place 1–3 October, visitors to the show are able to see the demonstration model of the diesel-electric train.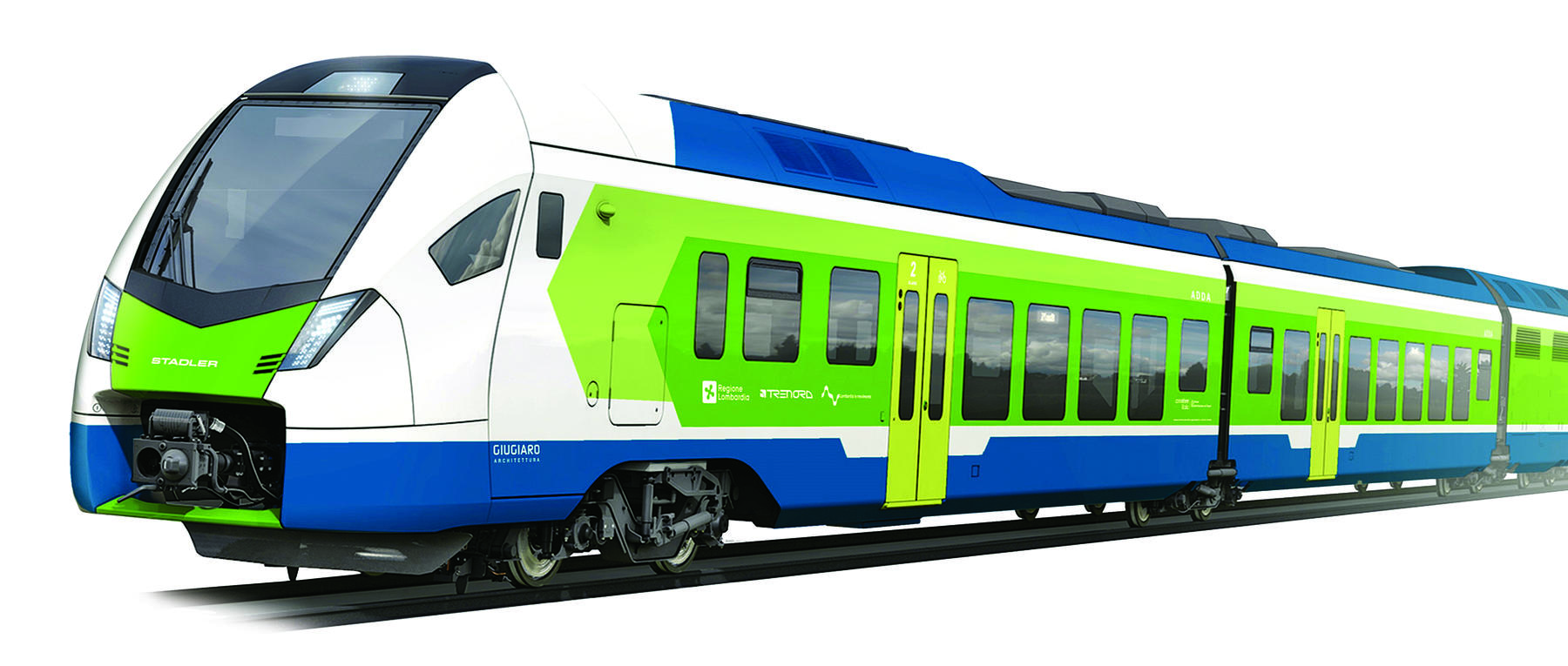 The mock-up is true to size. Stadler will deliver the actual vehicles for regional operations in Lombardy at the end of 2021. The contract, worth 1.6 billion euros, is footed by the Regione Lombardia.
Stage V European Union Emissions Standards
Despite using diesel, Stadler says it designed the trains with sustainability in mind. For example, the trains feature a power pack containing four modern, low-emission diesel engines (stage V with SCR catalytic converter) and two sets of batteries. Emission standards for non-road mobile machinery (which includes rolling stock) are set by the European Union. Stage V standards – the most stringent – started to be phased in from 2018. Full enforcement will be in place by 2021 – i.e. when Stadler will deliver the trains.
As diesel-electric trains that are fitted with batteries, the trains will have a lower emissions impact on the stations they enter. At the same time, these trains will also generate less noise pollution.
The new diesel-electric multiple units will consume around 30 percent less fuel than vehicles in the existing fleet. This would lead to a financial saving of around 3 million euros annually. Carbon emissions will go down by 12,400 tons per year.
Passenger Comfort
The engines are located in the middle of the train. This design is advantageous because it stops noise and vibrations reaching the passenger cars.
Each train will feature a toilet, LED lighting, wifi, 220V plug sockets and USB sockets. Warning lights will inform passengers about when doors are opening and closing. Passengers with reduced mobility can use sliding steps to bridge the gap between the train and the platform. Lastly, the trains have enough space to accommodate bicycles and luggage.
"We are proud to be able to support FNM in the continuous development and modernisation of its fleet with innovative vehicles. The presentation of the mock-up underlines our productive, pleasant working relationship with FNM. We are delighted that future passengers can now discover the train for the first time as a demonstration model."
Each train will be three cars in length, 66.8m long and have space for 328 passengers with 168 seats. The trains will have a top speed of 140km/h.
"We are continuing the action to renew the fleet of trains made possible by the financing and indications of Regione Lombardia. The aim remains that of ensuring the best service for the more than 800,000 people who use the regional railway service every day."
Also read: