Berner Oberland-Bahnen AG has ordered six three-car ABeh 4/8 multiple units from Stadler Bussnang AG to expand the Bernese Oberland Railway's existing fleet of rolling stock.
The Bernese Oberland Railway is a narrow-gauge mountain railway that connects several popular resort towns in Switzerland.
Local operator, Berner Oberland-Bahnen has announced that Stadler will supply six new ABeh 4/8 multiple units to complement the line's current multiple units and control cars, which have been in service since 2017. The new units will share identical parts with the older models to enable easy maintenance of key components, such as the chassis and interior fittings. However, the ordered units will also feature new door systems with sliding steps as well as air-conditioning. The order is valued at 66 million CHF.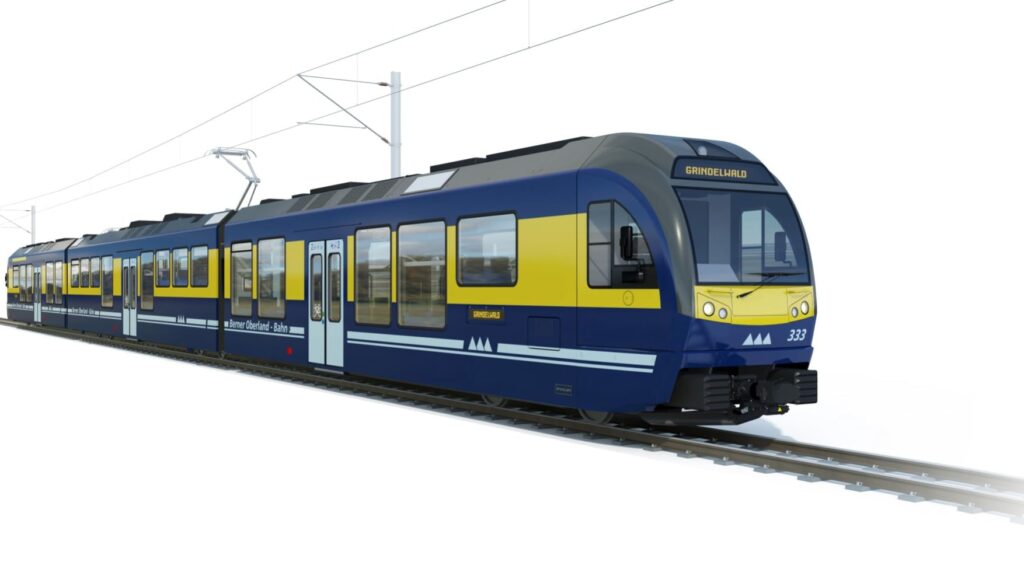 The additional trains will allow for the planned expansion of the Bernese Oberland Railway in conjunction with a park & ​ride service to offer a more attractive public transport connection in the Lütschinen valleys. This development will help shift local mobility from road to rail and relieve the roads in the Lütschinen valleys of excursion traffic. To transport visitors who usually arrive by car, the Park & Ride will be built at the planned Matten stop with a direct connection to the A8 motorway. The Bernese Oberland railway will then carry guests to the Lütschinen valleys's excursion destinations.
The Matten stop is part of the Swiss government's STEP ES 2035 programme that aims to extend the Swiss rail network and increase services. To further improve the attractiveness of the public transport connection, the Bernese Oberland Railway's existing regular service will also be supplemented with additional trains.
The new multiple units are expected to be in service from winter 2025/2026. They will each have 140 seats, providing 280 seats in double traction. The trains will feature multifunctional compartments for skis, snowboards, bicycles or baby buggies, and the wide low-floor entrances will enable rapid entry and exit.
Once the units have been delivered, Berner Oberland-Bahnen will decommission or sell all high-floor rolling stock and will only operate units with low-floor entrances.