From 24–26 October, Global Mobility Call brought together rolling stock manufacturers to discuss the 'train of the future'.
Across several panel discussions, representatives from Alstom, Stadler, Talgo and CAF discussed their visions for the future of rolling stock and the expanded capabilities of passenger railcars.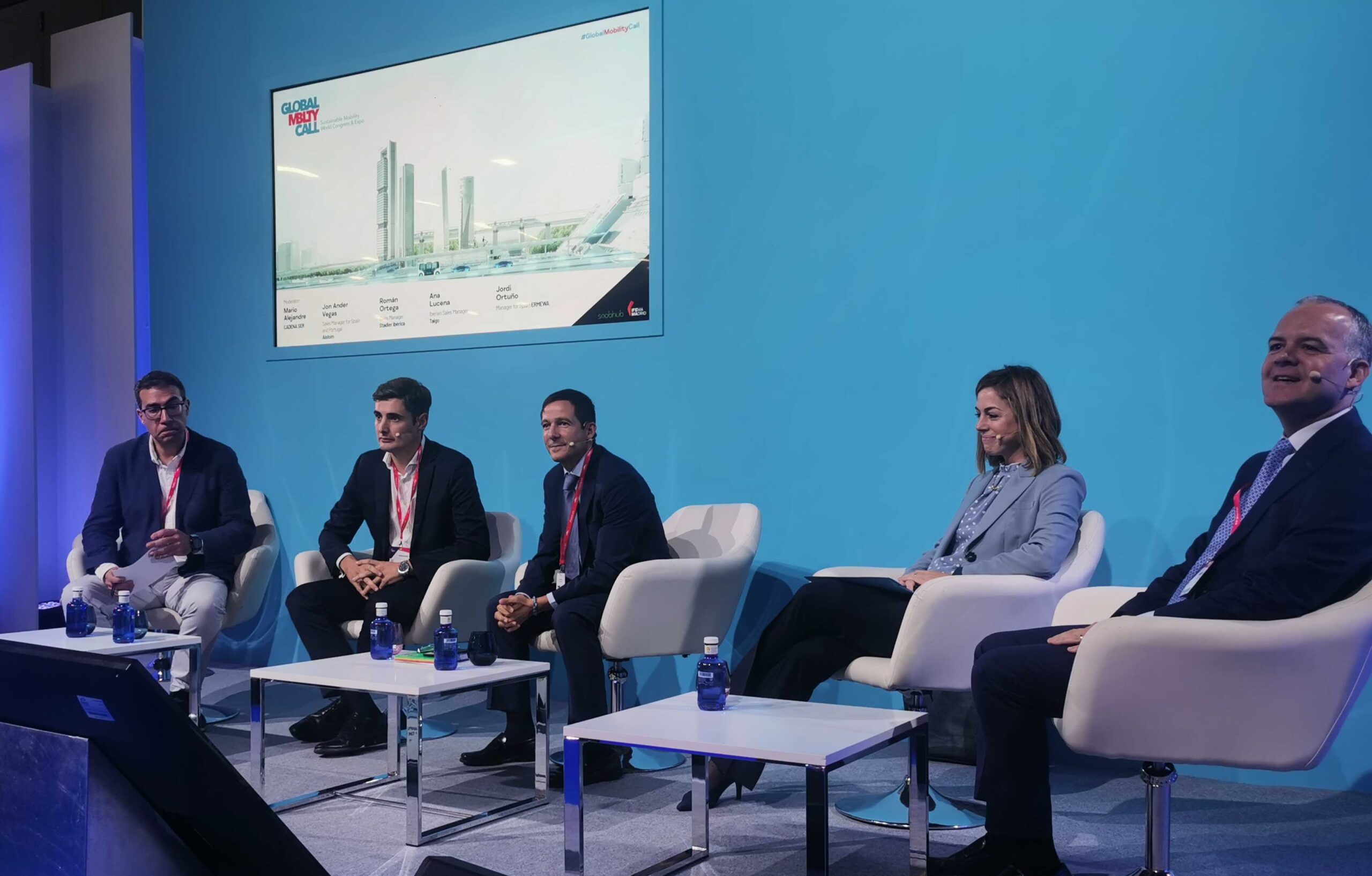 These discussions typically revolved around three key themes: sustainability, demand and digitalisation.
Sustainability
Rail travel is a sustainable mode of mass transport that significantly reduces emissions compared to travelling by car or plane. Indeed, Inmaculada Lebron, Business Development for Rolling Stock in Spain and Portugal at Alstom, pointed out that with the transport sector responsible for 25% of emissions in Europe, just 0.4% come from rail.
In line with the global focus on achieving 'net zero', the industry is working to further decarbonise these operations through electrification and the use of hydrogen and battery technologies.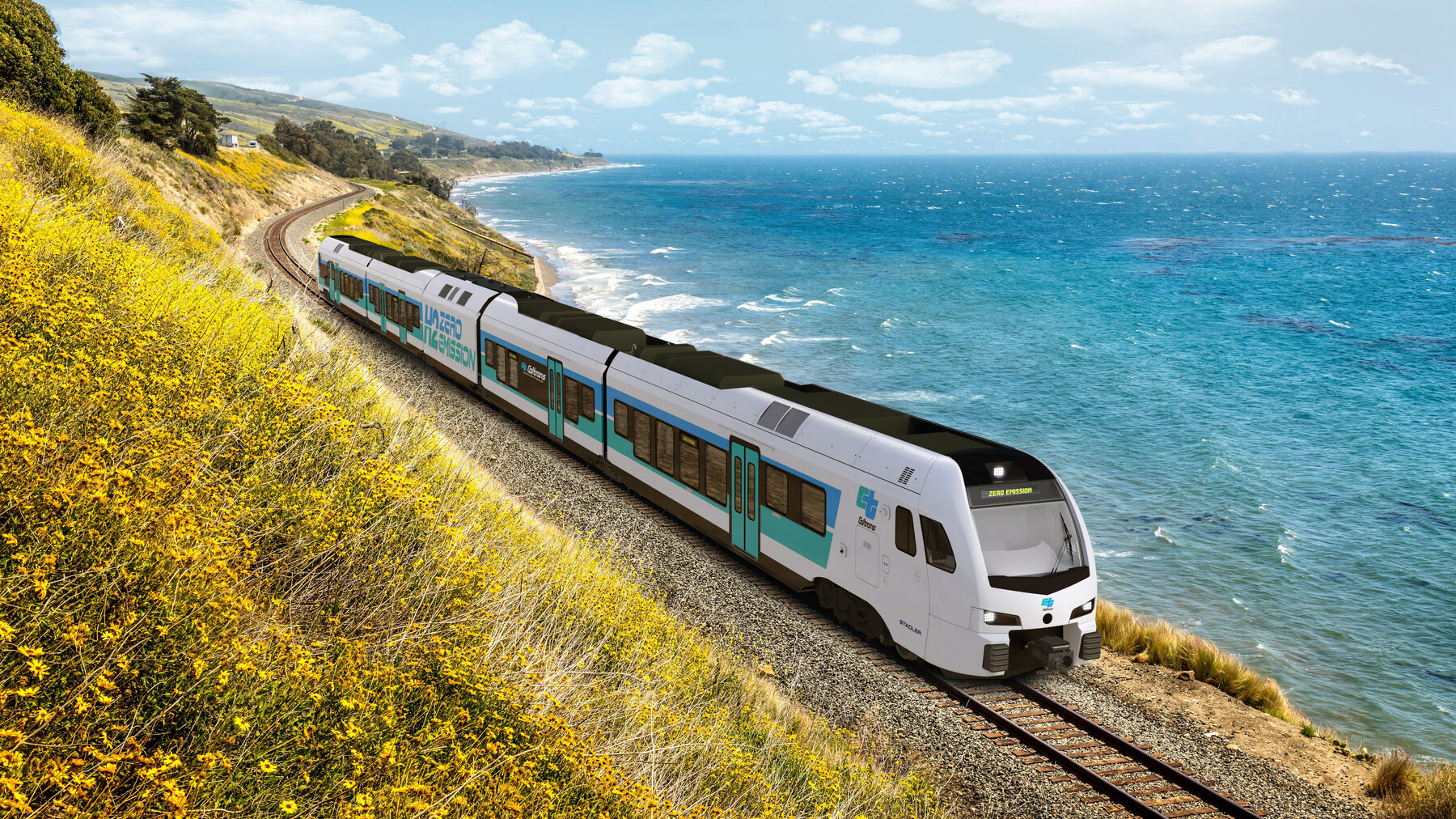 © Stadler
However, to ensure future trains are truly sustainable, the focus must go beyond tailpipe emissions. For example, Pedro Martínez Area, Zonal Sales Manager at Stadler Rail Valencia acknowledged that although hydrogen-powered trains look sustainable, the hydrogen to power them has to be manufactured and transported, which results in a system with a low efficiency of around 30–35 percent.
An understanding of the bigger picture must likewise apply to the entire supply chain when manufacturing, maintaining and recycling rolling stock materials. The panelists therefore argued that it was necessary to consider these elements during the design phase.
"We are now designing the trains of the future that will be in circulation for 40 years and we must attend to all manufacturing phases: choosing lighter and renewable materials, optimising the design or reducing particle emissions outside and inside the train."
Due to this focus on energy efficiency, rolling stock manufacturers are also working to ensure their models are aerodynamic and lightweight. For example, thanks to its lightweight body, the Talgo 230 model ordered by Deutsche Bahn and Danish State Railways is 30% more efficient than the industry standard.
To promote further progress in this area, Talgo's Innovation Director, Emilio García highlighted the need for additional lightweight materials that met fire requirements to become available on the market.
Consequently, the sustainable credentials of the train of the future will also rely on progress from outside of the immediate rail sector, such as from companies specialising in energy and materials.
Demand
With this increased focus on sustainability, rolling stock manufacturers are also receiving more orders from customers that are constructing new rail networks or replacing diesel-powered units.
As a result, in the first quarter of 2023, both Alstom and Talgo reported revenue increases of 7% compared to the same period in the previous year thanks to increased industrial activity. To meet this demand, rolling stock companies are moving towards digitalised ways of working to increase capacity.
What's more, Jon Ander Vegas, Sales Manager for Spain and Portugal at Alstom acknowledged that new trains were also being designed to carry greater passenger numbers while remaining compatible with infrastructure limits. For example, the high-capacity trains ordered by Renfe will each have capacity for 900 passengers.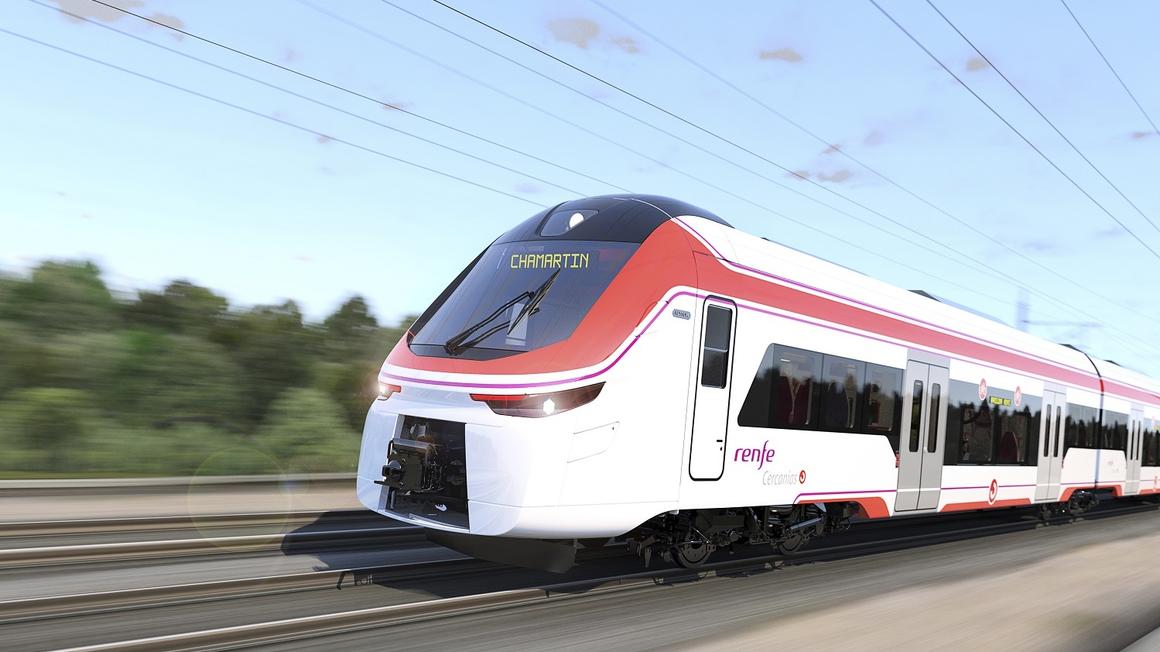 However, to ensure these units deliver sustainable operations, it is crucial to ensure they are not empty once they enter service. The demand for increased rail travel must therefore come from the passenger, rather than just the operators.
"We can make rolling stock very sustainable with all the technologies we have, but if we move it empty without people, we are not achieving our goal. Therefore, it is very important within our sector that we change our thinking to attract the passenger who is on another, more polluting mode of transport."
With this in mind, Talgo conducted a 2021 study in Germany, Spain and the United Kingdom to assess the user experience on the railway. The study found that many passengers were not faithful to travelling by train because their basic needs were not met.
Consequently, sustainability is inevitably linked to an operator's ability to deliver a positive passenger experience, as a train's sustainable credentials are dependant on the number of passengers it carries and the number of cars it in turn takes off the road.
Digitalisation
In addition to facilitating increased manufacturing capabilities, digital technologies can be deployed to enhance the passenger experience and attract more riders.
For example, predictive maintenance technologies can improve reliability by detecting faults at an early stage to avoid in-service breakdowns. This process also ensures vehicles spend less time in the depot, as prolonged maintenance activities can lead to service cancellations.
Indeed, Inmaculada Lebron, Business Development for Rolling Stock in Spain and Portugal at Alstom stated that by monitoring over 100 million pieces of data on 80 trains in Madrid and applying this data to preventative maintenance practices, the time these vehicles spend in the depot has been reduced by approximately 30 percent.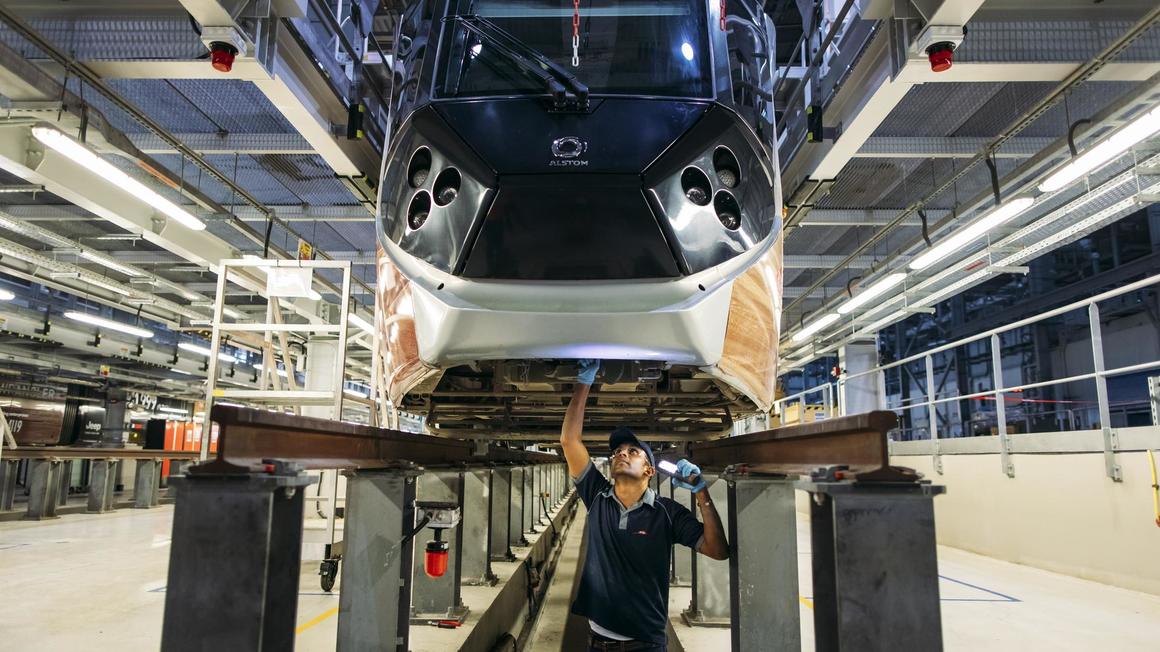 © Alstom
To further build on these time-saving benefits, AI and robotics, such as Deutsche Bahn's E-Check technology, can be deployed to increase the speed and efficiency of processes in the depot, allowing trains to return to passenger service more quickly.
Meanwhile, digitalisation can also help improve sustainability by optimising braking and acceleration to enhance energy efficiency and extend the lifespan of rolling stock materials.
"We have implemented a system to help both the operation and maintenance of trains. And all of this has an impact on the traveller in the end, who is the end customer. With this system, we can collect data from the train using sensors to detect possible problems and prevent them from arising when the train is in operation. In the end, the issue of not having breakdowns when the train is operating is essential to avoid delays and provide a good service.
"It is also worth noting that if you have a car and you accelerate or brake, the life of that car is going to go down. The same applies to trains. You can monitor and manage this using sensors and see when the driver is braking and identify whether the conditions in that area can be improved."
Due to the multitude of these benefits, Lebron asserted that digitalisation was no longer "fashionable" but a "basic necessity" for efficient operations. However, as technology continues to develop, further advantages can be realised. For example, Felipe Rodrigo, Area Director at CAF argued that the future of rail would incorporate greater speeds and frequencies, as well as autonomously-driven trains.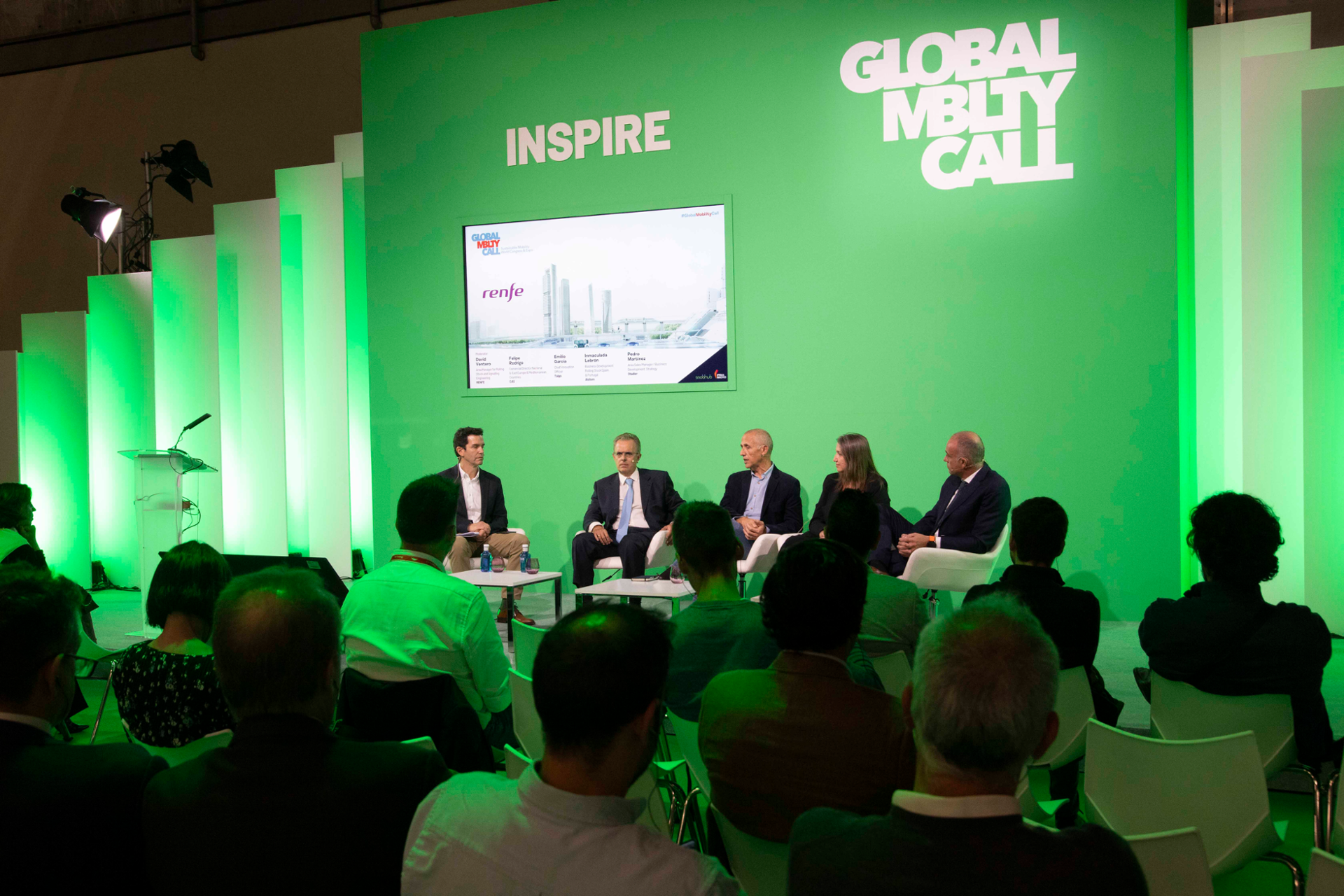 © Ifema
Furthermore, in addition to advancing the technical elements of rolling stock, Román Ortega, Commercial Director of Stadler Ibérica advocated for a clear focus on incorporating digitalisation as part of a passenger's travel experience. This can include the display of live travel information, capacity-checking tools to indicate which carriages are least busy, and convenient navigation aids for making connections.
Specifically, Global Mobility Call highlighted the importance of multimodality in encouraging people to use public transport. Mobility-as-a-service (MaaS) apps such as Renfe's dōcō can thus be instrumental in helping passengers plan point-to-point journeys using several modes of transport. In turn, this can facilitate Emilio García's vision for the rail network to become "the backbone of mobility" for all, including those who do not live near a train station, through his role as Talgo's Innovation Director.
The Train of the Future
The 'train of the future' will thus rely on advancements in digitalisation to help meet customer demands and deliver a service that is attractive to passengers. To achieve this vision, Global Mobility Call highlighted how rolling stock manufacturers are working to ensure current and future models are greener, more reliable, and provide greater capacity.
However, although many new technologies are already being rolled out on the latest models, Talgo's Innovation Director, Emilio García warned that the 'train of the future' will instantly become the 'train of the past' due to the rate of technical development and the considerable number of regulations and processes that slow down their rollout.
This issue is arguably exacerbated by the need to conform to standards across different nations, which prevents the rollout of a global solution.
"Once we develop the future train, it will be the past train. Not only because technologies are moving very fast, but because of the bureaucratic slowness in implementing all the developments we want to make define the future train. That is to say, the development in which we must certify the future train is not going at the same speed as the technology. So when we turn out the future train, we have already been beaten to the punch by other mobility sectors."
As a result, future technologies are being deployed slowly, and the 'train of the future' will gradually evolve, rather than hitting the market as an overnight sensation. In doing so, it will ultimately pave the way for more efficient rail services that aim to attract more passengers and improve the green credentials of the transport industry as a whole.