Stadler has received an order from Austrian Federal Railways (OEBB) for 41 KISS double decker trains.
The order is made up of 20 six-car and 21 four-car EMUs and valued at approximately 600 million euros (653.55m USD).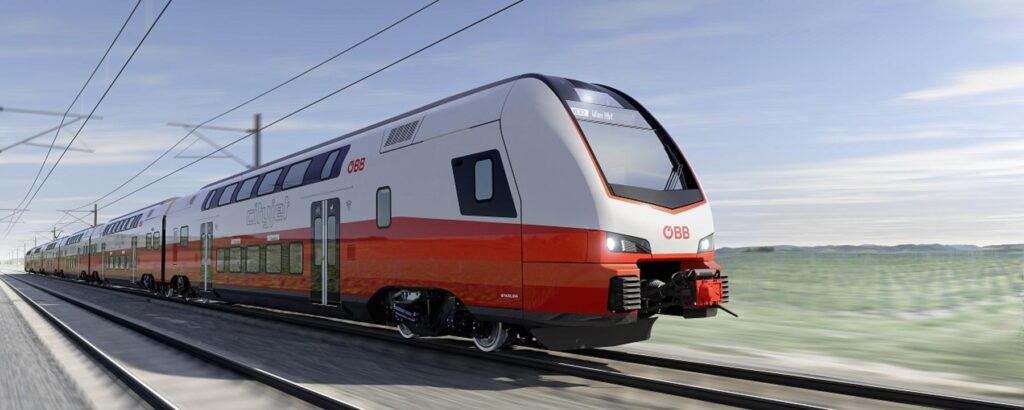 This is part of a framework agreement with a ten-year runtime for up to 186 double-decker multiple units order value of three billion euros (3.27bn USD).
The original framework agreement was queried by Alstom, due to an issue with Stadler's qualified electronic signature, and declared null and void on court.
OEBB since retendered the framework agreement and this was recently approved by Austria's higher administrative court.
The new KISS trains have a top speed of 160 kilometres an hour and have improved acceleration, which makes them particularly suitable for busy routes.
The four-car configuration offers seating for 380 passengers, while the six-car option has seating for 610.
The spacious trains have low-floor entrances, climate control, passenger information systems and video surveillance, with sockets available in each row of seats.
Stadler will manufacture the EMUs at its centre of excellence in St. Margrethen, Switzerland.
The trains will begin passenger service across eastern Austria at the beginning of 2026.
"With these 41 new double-decker trains we continue to modernise our local transport fleet in Vienna, Lower Austria and Burgenland.
"From 2026 on, we will offer even more capacity and comfort to our passengers, making the switch from individual transport by car to rail transport more attractive to commuters."