Talgo used InnoTrans 2022 to introduce the public to its intercity train platform, as well as the new products it has developed to support the decarbonisation of rail transport.
These included hydrogen-powered regional and commuter trains, as well as the use of carbon fibre in trains' running gears and structures to reduce overall weight.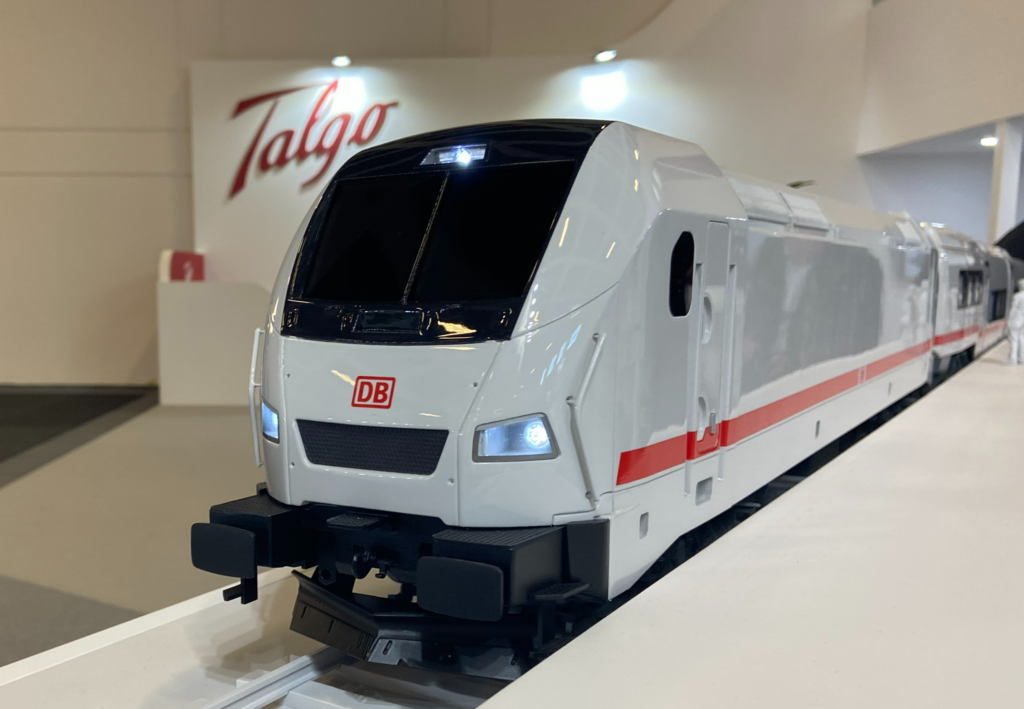 The Intercity Talgo 230 was a focus for the company at the trade fair. This is the platform chosen for Deutsche Bahn's (DB) new long-distance ICE L train, with iterations already purchased by operators such as DSB in Denmark and ENR in Egypt.
The Talgo 230 is a multi-system train, compatible with different supply voltages and different signalling systems. This, and its locomotive and hauled passenger car formula, makes the platform well-suited to long-distance, international travel.
Its modularity will also make rail travel more appealing, with a variety of interior types, including one suited to overnight travel.
In regards to the Talgo 230's green credentials, the train can weigh up to 20% less, based on weight per passenger, compared to its counterparts. This results in a reduction in energy consumption and CO2 emissions.
Talgo also updated visitors at InnoTrans on its TPH2 dual hydrogen-electric train project. The train is equipped with hydrogen fuel cell and battery technology and is currently undergoing successful dynamic testing in collaboration with Repsol.
Talgo is also currently developing intelligent software that will assign the most efficient energy source for sections where there is no overhead line equipment.
This laboratory train will support the development of Talgo's regional train, Vittal One.
Powered entirely by hydrogen, the Vittal One will be able to run on non-electrified tracks with a range of 800–1000 kilometres between refuelling.
It will also be able to run under conventional catenary lines, as well as offering operators a third mode of propulsion: battery, which uses regenerative braking and electrified lines to recharge.
Talgo also demonstrated the feasibility of using composites in key structural elements of rolling stock, through the presentation of a running gear made from carbon fibre, titanium and high-strength steels, as opposed to the structural steel used today.
In addition, Talgo presented a section of a high-speed passenger car made entirely of carbon fibre, which could replace the current aluminium structures.
The use of these materials could reduce the weight of some structures by up to half, further reducing energy consumption.
Finally, Talgo presented its advanced maintenance engineering products, which form the cornerstone of its digitalisation plan.
Products include TSMART, a digital native suite that allows railway operators to access predictive intelligent maintenance of trains and leave behind the old preventive maintenance plans for trains based on intervention schedules.
This technology anticipates potential failures by using AI and machine learning (ML) to analyse the information that the train sends in real time through thousands of sensors and that can exceed five gigabytes per vehicle per day.