There were two main topics of conversation at Rolling Stock Networking (RSN), which took place in Derby, UK in July this year.
The morning session was focused on 'delivering for customers' and culminated in a panel discussion entitled 'How can we improve customer experience in a cost-constrained world?' The afternoon session, 'for the environment', asked 'How can rail decarbonise more quickly and affordably?' There were speakers to represent TOCs, rolling stock manufacturers, the supply chain, ROSCOs, the government and freight, delivering a full spectrum of perspectives.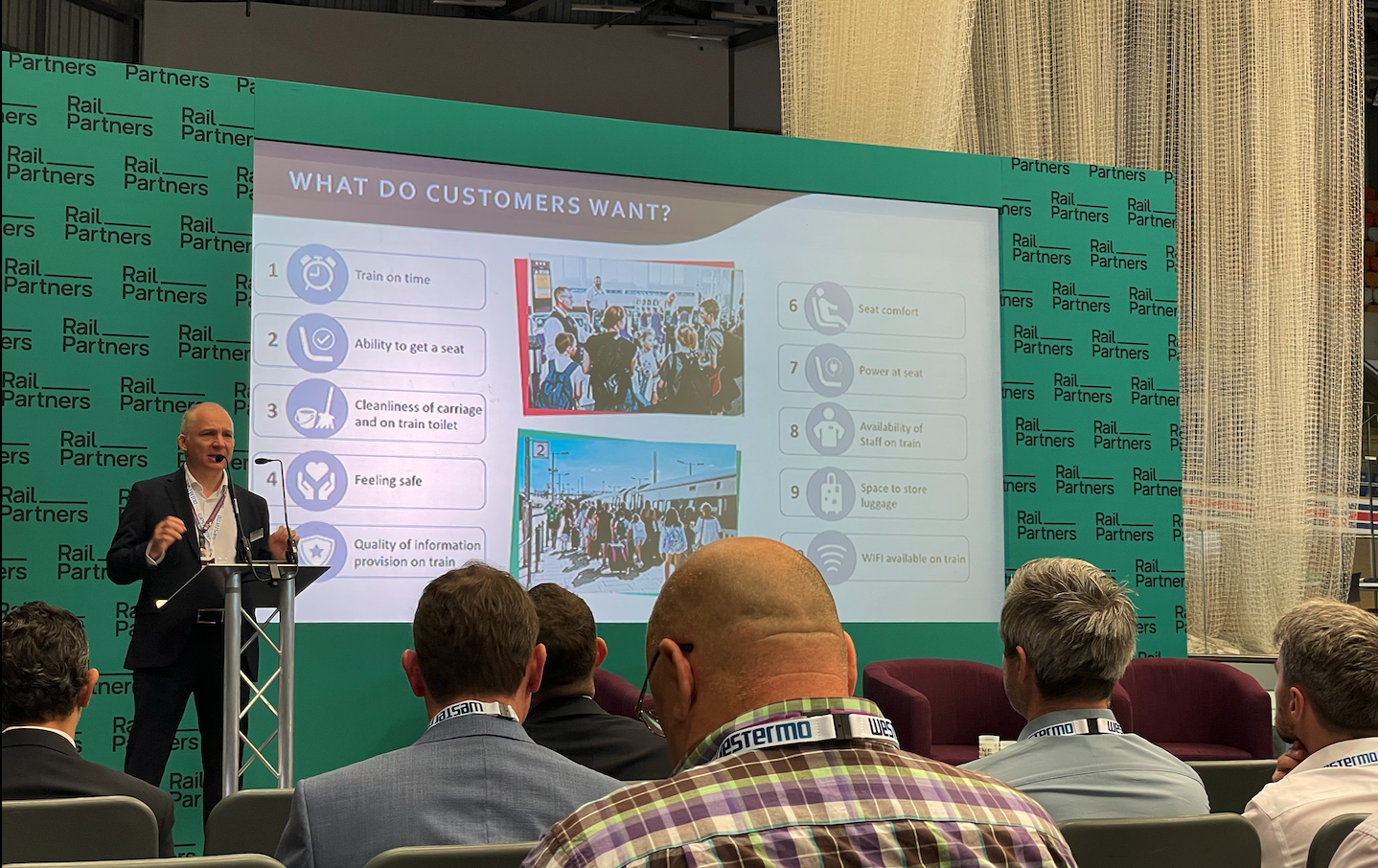 Initially, I had planned to write two articles – one covering each one of these two topics. However, it is an artificial distinction. By this I mean: improving the customer experience often requires the same measures as decarbonising the railways and if customer experience is improved such that it brings about modal shift, this will decarbonise transport by shifting away from more polluting modes. Some examples for both of these:
During his talk from a TOC's perspective, Will Rogers, Managing Director at East Midlands Railway, presented a list of the top ten things passengers want for a good customer experience. First and foremost was for the trains to be on time. An associated desire was that passengers wanted to complete their journeys as quickly as possible. A talking point was line speed improvement. Currently, the line speed between Nottingham and Lincoln is poor, making journey times slow. This requires an infrastructure that can accommodate a certain line speed. Having to keep changing line speeds is energyintensive. Getting consistently good line speed would therefore benefit passengers and reduce energy consumption.
A further example is air quality and noise pollution. Moving away from diesel trains by electrifying track or switching to alternative traction rolling stock will decarbonise rail and improve the customer experience by improving air quality and reducing noise pollution, making the rail environment healthier and more pleasant.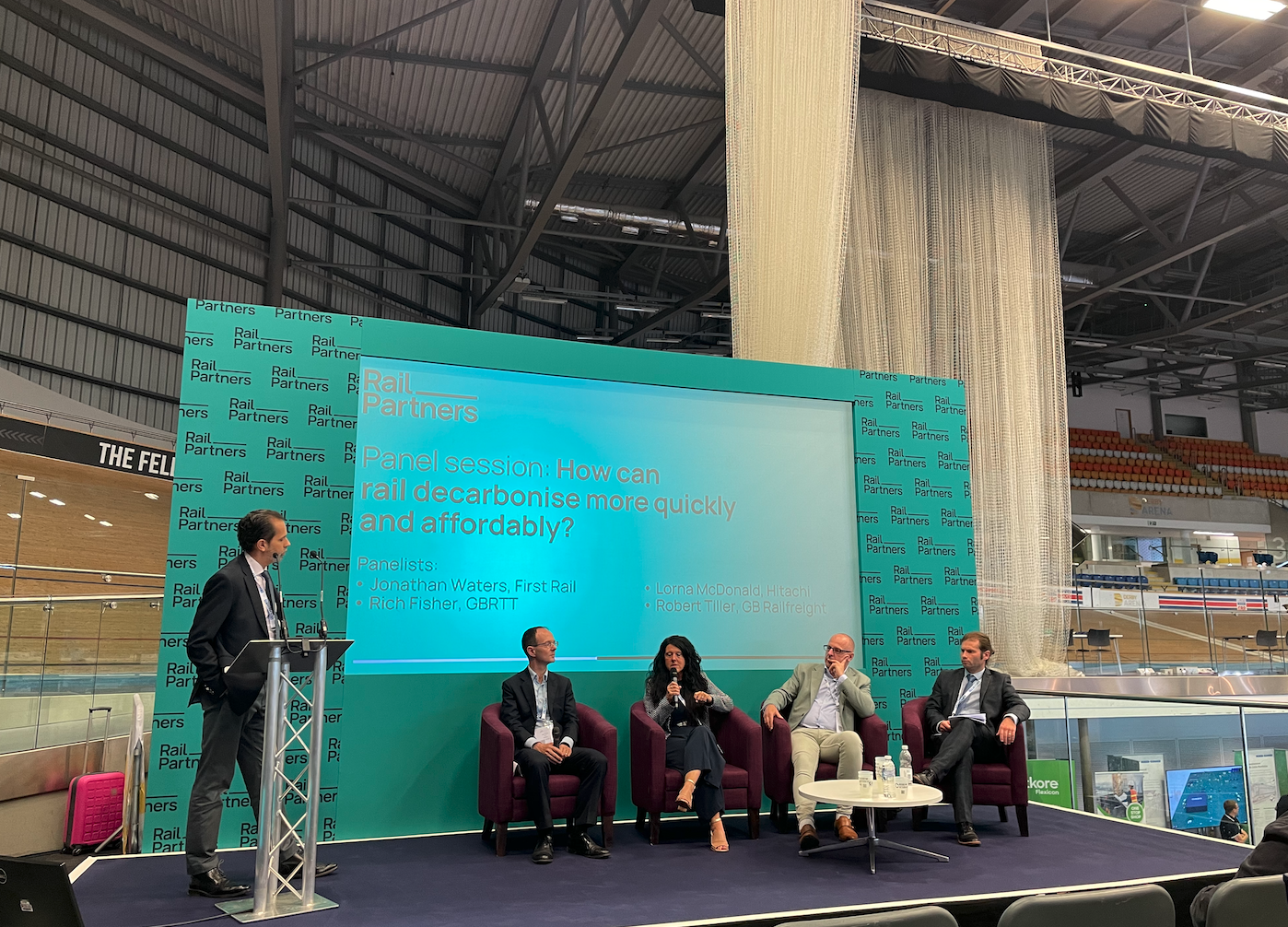 © a2b Global Media
Other aspects desired by passengers are: at-seat power, on-train Wi-Fi and comfortable seats. All of these aspects indirectly decarbonise transport by encouraging modal shift. It was noted during the panel discussion on passenger experience that rail has traditionally competed against coaches and domestic flights. These days it was competing against Zoom and Microsoft Teams. In the future it might even be competing against the private car. Elon Musk said in one tweet (if they're still called that) that "Self-driving car [sic] will amplify traffic to insane levels, as you won't feel the pain of driving yourself". If people can work with focus in a car or relax and watch movies, this attacks one of rail's USPs.
Private vehicles such as cars also guarantee a seat and this was another item on the list of top passenger wants, along with staff available on board. On my train journey home from Derby after RSN, the train was extremely crowded and even though I had a seat reservation, my seat was occupied by someone who did not get up when asked, instead saying "What are you going to do about it?" There was no staff on board, so no one to ask for assistance. I did eventually find a seat, but I only managed to work thanks to using my phone as a hot spot. The on-board Wi-Fi did not succeed in loading web pages.
The bottom line is, rail has to deliver a better customer experience than its competitors – cars, coaches, planes or Zoom – for passengers to choose it. Instead of asking passengers what they want from a good train service, it might be more indicative to ask people why they didn't choose rail as their transport mode for a particular journey.