Mechan Jacks Lift Expectations for Crossrail Trains
Trains running on London's eagerly anticipated Elizabeth Line will spend more time in service and less in the depot, thanks to rail maintenance equipment specialist, Mechan.
The Sheffield-based manufacturer has developed a bespoke set of jacks capable of lifting the complete nine-car electric trains being introduced in the capital, as part of the Crossrail project.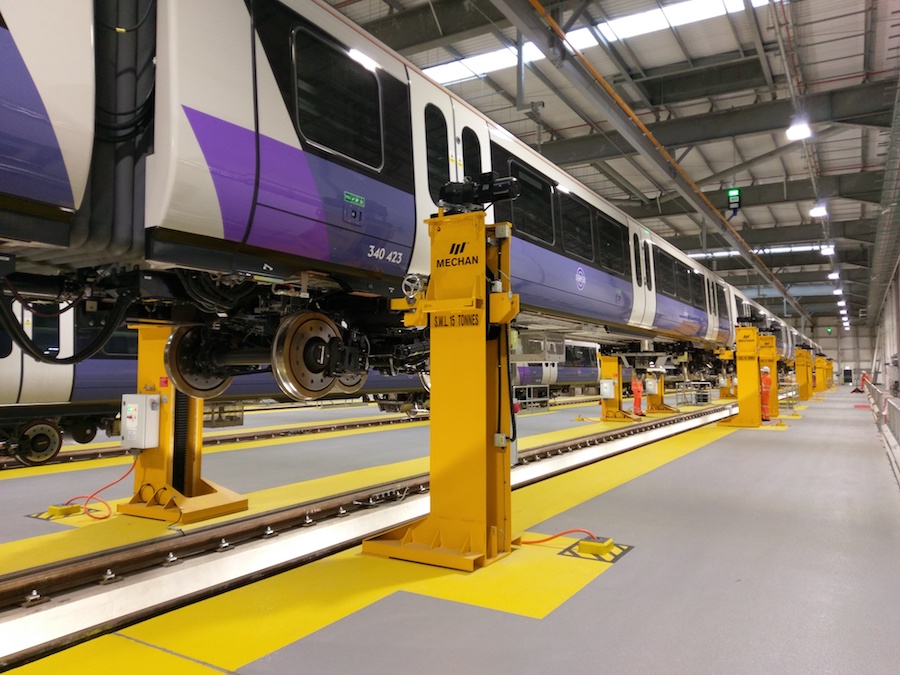 A 36-jack set has been installed at the new Old Oak Common depot in north London, along with five bogie turntables, in a deal that has given Mechan's order book a £1 million boost.
Thanks to the firm's unique Megalink control system, its flagship jacks can be configured in any number to lift trains without splitting carriages, saving valuable servicing time. The Old Oak Common set is among the largest produced to date, although a record 44 are in use at the Longsight depot in Manchester to maintain 11-car Pendolinos.
Martin Berry, Mechan's engineering manager, said:
"We have worked with Bombardier many times and thanks to our ongoing relationship and the performance of our equipment elsewhere, it was specified by Crossrail from the outset. Keeping passenger services running at full capacity is a huge challenge for the industry, so having the ability to lift a full train is a significant way to save time and make the maintenance process more efficient."
Mechan's jacks and turntables are now installed and commissioned at Old Oak Common, ahead of the Elizabeth Line's launch in December this year. A total of 70 nine-car Bombardier Class 345 electric crossrail trains will run on the new commuter service, the majority of which will be maintained and stabled at the depot.
For more information about Mechan's jacks or its wide range of lifting and handling equipment, telephone (0114) 257 0563, visit www.mechan.co.uk or follow the firm on Twitter, @mechanuk.
FOR ALL THE LATEST INFORMATION, NEWS, IMAGES, VIDEOS AND DOCUMENTS FROM MECHAN, PLEASE CLICK HERE.