Mechan Delivers Fleet of Jacks to Capital
Rail depot equipment specialist, Mechan, is giving a busy London maintenance depot the lifting power to tackle a new heavy overhaul programme.
The Sheffield-based manufacturers have supplied 20 of their flagship lifting jacks to GTR's Selhurst Depot in Croydon, enabling five-car trains to be overhauled.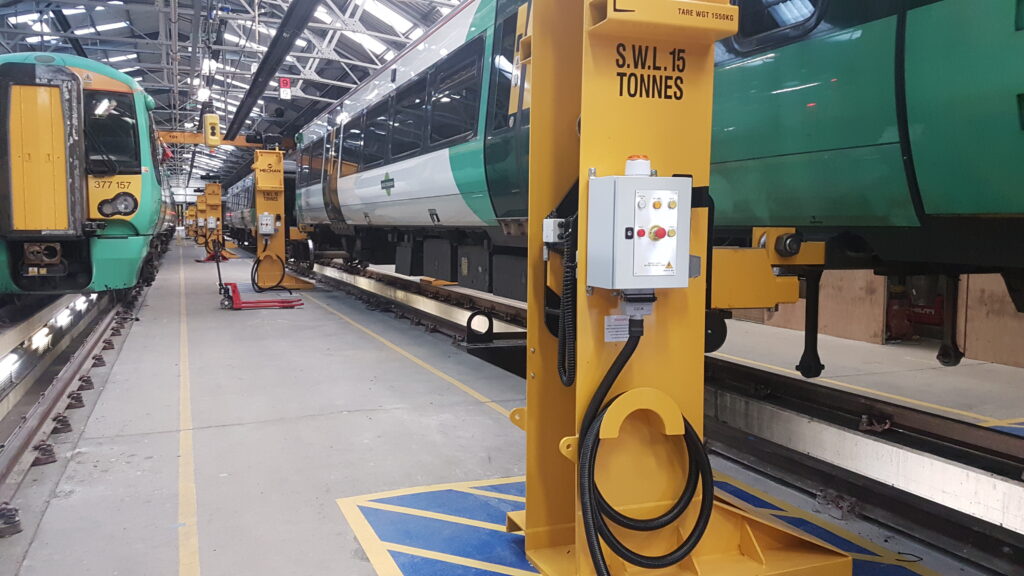 Mechan has worked with Govia Thameslink for almost 20 years and the new jacks join a raft of other equipment that has been supplied during this time, including a bogie press, bogie rotator and wheelset drop.
The 15-tonne mobile jacks are designed to operate as a set of eight, 12 or 20, giving Selhurst maximum flexibility when servicing different vehicle types. Mechan worked with the Fleet Infrastructure Team and depot to install a combination of floor and wall-mounted socket boxes along its allocated lifting road, enabling trains to be split either side of the existing wheel drop for maintenance.
This set of jacks is one of the first to be supplied with the latest version of Mechan's control system, which has been developed to include input/output (I/O) technology, reducing the size of cables and 4G connectivity, allowing for remote diagnostics.
"Selhurst has been using four of our jacks to lift single carriages for many years, so when this new heavy overhaul programme came along, the team knew our equipment would give them the ability to raise multiple cars safely and efficiently. Commissioning was undertaken successfully by our engineering team and feedback on the new control system has been extremely positive."
Mechan will continue to visit Selhurst to maintain the new jacks, alongside the wheel drop and bogie rotator it supplied previously.
For further information about Mechan's jacks, or its portfolio of rail depot maintenance products, telephone (0114) 257 0563, visit www.mechan.co.uk or follow the firm on Twitter, @mechanuk.