Mechan Equips Acton for Bakerloo Action
Rail lifting jacks produced by Sheffield manufacturer, Mechan, have been identified as the most efficient way to carry out major refurbishment to London's oldest tube trains.
The depot maintenance specialist has supplied its flagship jacks to the Acton site in West London, from where the Bakerloo Line Life Extension Project is being delivered.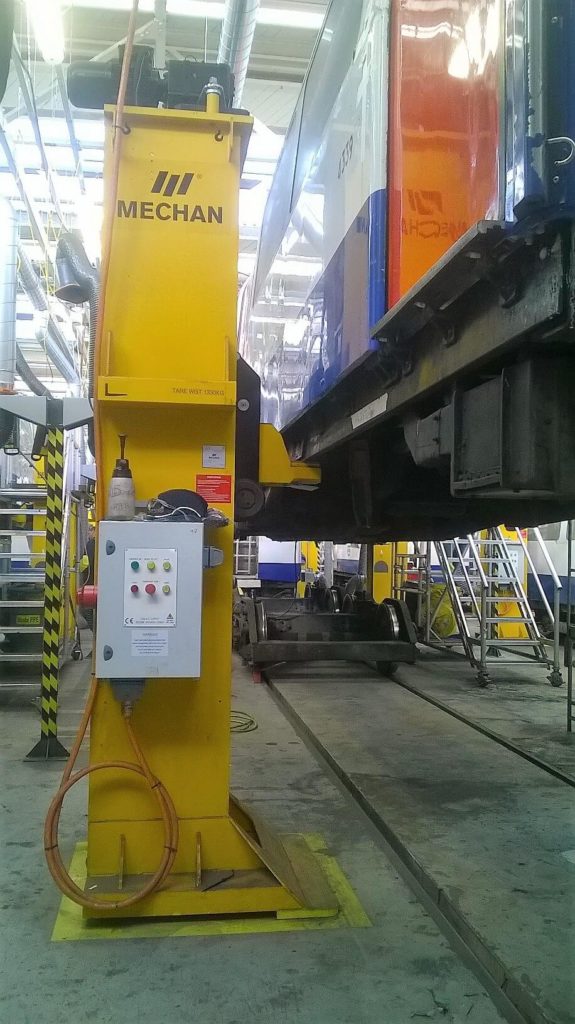 Mobile Rail Lifting Jacks
Mechan delivered and installed 16 ten-tonne mobile jacks to London Underground's Trains Division, as part of extensive work being carried out at Acton in preparation for the Bakerloo upgrades. They are being used to remove bogies from 1972 tube stock running on the line and carry out repairs that will extend its operational life, whilst maintaining uninterrupted service.
The depot is already using 16 ten-tonne jacks supplied by Mechan in 2014. Although they will not be working together, it was knowledge of the first set's productivity and reliability that prompted a second order.
Bespoke Rail Depot Equipment
To accommodate Bakerloo's tube stock, Mechan has fitted its jacks with a specially modified base plate, allowing the shoe gear to pass and ensuring there is no collision with the train. The Acton site will also benefit from the latest version of the firm's Megalink controller, a remote, full colour touch screen that enables an unlimited number of jacks to be synchronised and operated by just one user.
Lee Pitts, Mechan's senior estimator, said:
"It is testament to the build quality of our jacks that London Underground has doubled the number at the Acton site in preparation for this key refurbishment project. The 1972 tube stock requires heavy underframe modification and our equipment will provide a safe environment in which work can be carried out, without bottlenecking other depot processes."
Mechan, part of the CIM Group, produces a wide range of rail depot handling equipment. For more information about its lifting jacks, telephone (0114) 257 0563, visit www.mechan.co.uk or follow the firm on Twitter.
FOR ALL THE LATEST INFORMATION, NEWS, IMAGES, VIDEOS AND DOCUMENTS FROM MECHAN, PLEASE CLICK HERE.