Mechan Celebrates Half a Century
UK rail maintenance equipment specialist Mechan has kicked off its 50th anniversary celebrations with a donation of £5,000 to a much-loved local charity.
The Sheffield manufacturer handed over the proceeds of its fundraising to the city's Children's Hospital at a recent open day to mark its half century.
Alison Riley from The Children's Hospital Charity joined staff, professional partners and key clients at Mechan's 50th anniversary open day, where she was presented with the cheque. A number of events were arranged by the firm to raise funds, whilst clients, suppliers and its parent companies also provided donations. The open day gave guests a unique behind-the-scenes look at the firm's workshop, highlighting how the highly specialised products it supplies are created. This included a chance to appreciate the sheer size of Mechan's flagship jacks up close and an overview of a bespoke traverser currently in production for a Northern England depot.
Mechan were also joined by the Sheffield Chamber's president Steve Manley, and their account manager Sarah Briggs who were eager to learn more about what the Sheffield business does. Following the success of its charity initiative, Mechan has pledged to continue supporting Sheffield Children's Hospital throughout 2019.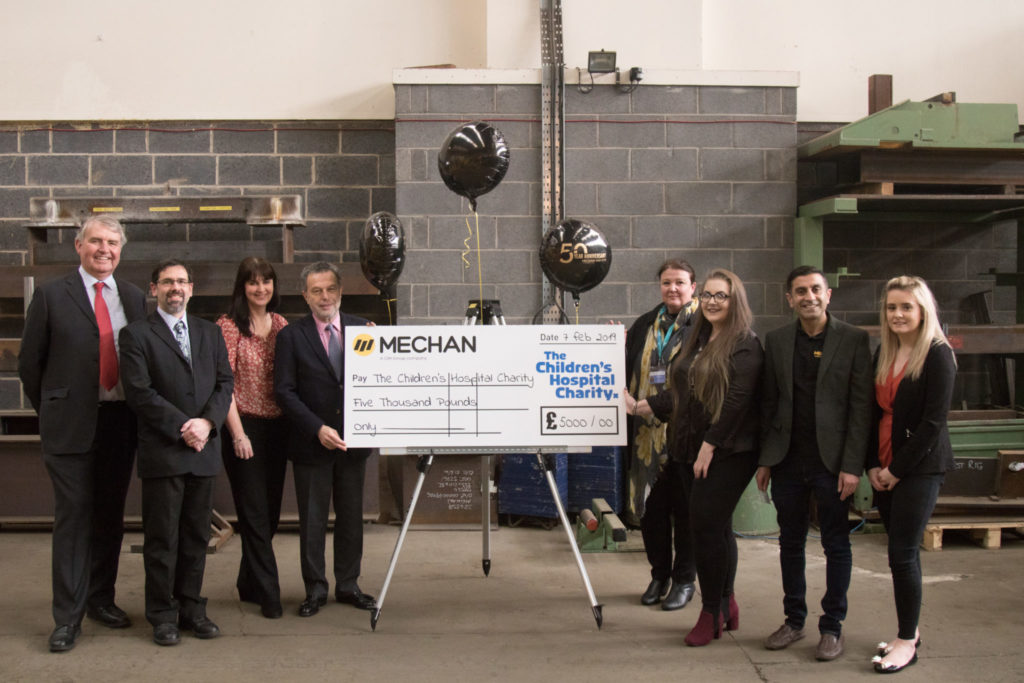 Financial Director Zahir Altaf said:
"We are very lucky to have this wonderful resource on our doorstep. Many of my colleagues have used its services over the years and it was, therefore, our pleasure to mark 50 successful years by raising much needed funds to support its hugely important work."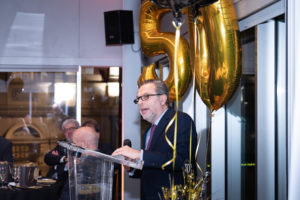 Mechan was founded in 1969 to serve Sheffield's dominant steel sector, but following the collapse of the industry in the 1980s, diversification was necessary for Mechan to survive. Its first set of rail car lifting jacks was launched in 1990 and they now stand sentry in some of the most advanced depots in the world.
Just two years ago, Mechan joined French rail infrastructure group CIM, which operates in 120 countries. This has accelerated international development and exports now play a much larger role in the firm's order book.
On Friday, 8 February, a special anniversary dinner brought together Mechan staff, past and present, at renowned Sheffield venue The Crucible to recognise the official 50th birthday. It was attended by founder and guest of honour Tony Hague and presided over by CIM CEO and Mechan Chairman Alain Lovambac, who travelled from France for the event.
He said:
"We became increasingly aware Mechan's excellent reputation and high-quality depot products were complementary to our own and would broaden our in-house offering. I am pleased to say the management were open to our advances and our relationship is now flourishing. In the relatively short time we've worked together, I've discovered that each and every member of the team shares my passion for great engineering, great products and great service."
A number of CIM employees and two representatives from parent group CMI (Belgium) attended the dinner and met Mechan staff for the first time. They were entertained by close-up magician Duncan William. Special cakes in the shape of bogie turntables were cut to commemorate the anniversary.
Since becoming part of a larger family of companies, Mechan has been involved in a number of major international infrastructure projects, including the construction of a second metro line in Panama City. It supplied a set of 20 12-tonne lifting jacks, four turntables and 40 vehicle stands to a new build depot in the Nuevo Tocumen area, as part of CIM's contract to install and maintain 50 kilometres of track, catenary and workshop equipment for the project.