Mechan Lifts Underground Upgrades to New Heights
Rail depot equipment specialist, Mechan, is delivering one of its largest ever orders of lifting jacks to London Underground's Acton depot.
A total of 44 jacks have been manufactured at the firm's Sheffield headquarters for the west London facility, taking the total number of its flagship products in use there to 68.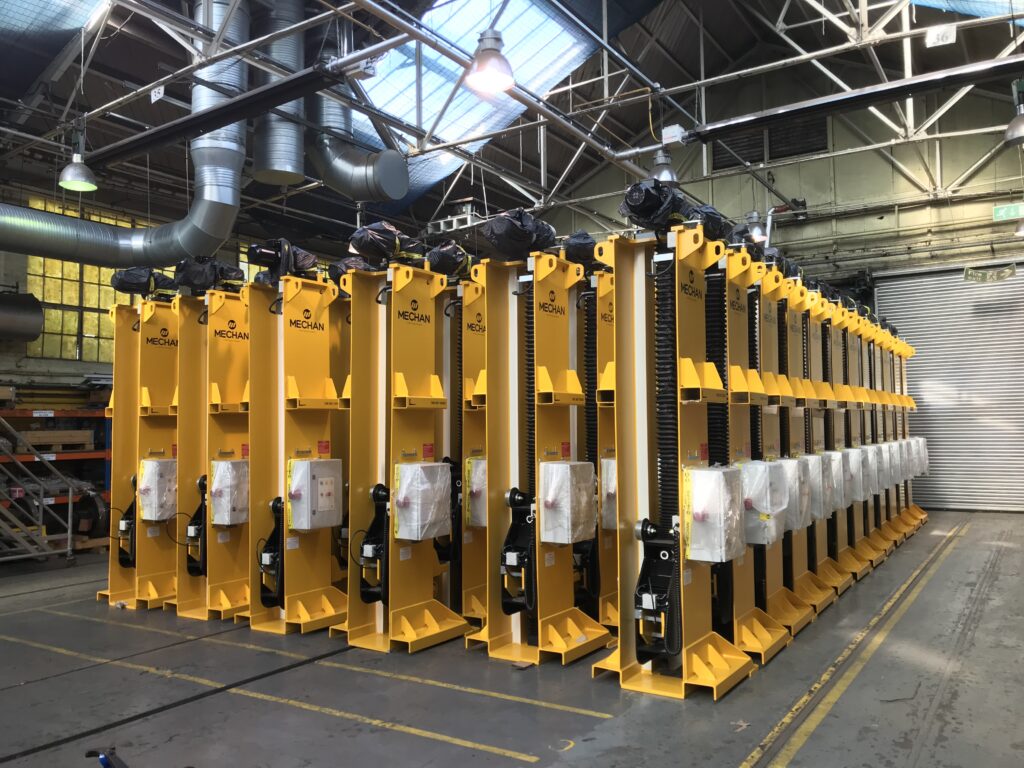 The ten-tonne mobile jacks will work with 16 existing units, supplied to Acton in 2017. They will be housed in the site's new train modification unit (TMU) and used to repair and upgrade London Underground vehicles. In the first instance, they will assist with an ongoing project to reduce increasing maintenance costs and improve the reliability and efficiency of the Central line fleet.
Mechan's 44 new jacks have been designed to the same specification as the 16 existing units, with moving anvils and a base that allows them to be transported around the depot by pallet truck, for added versatility. They are due to be commissioned at the end of May. Modifications to the older jacks were made last year, so they will all work in synchronisation, using the firm's innovative Megalink control system.
"Our jacks will be situated on two roads in Acton's state of the art TMU, giving maintenance teams unrivalled flexibility to raise trains of any length without decoupling, saving valuable servicing time. We enjoy an excellent working relationship with depot staff, forged over many years and they appreciate the quality of our products and aftersales care."
Mechan has also undertaken wiring modifications to the first eight jacks it supplied to Acton in 2015, retrofitting the Megalink control system, so they too can be used with the latest order, if required.
For more information about the firm's renowned lifting jacks, telephone (0114) 257 0563, visit www.mechan.co.uk or follow Mechan on Twitter, @mechanuk.