Mechan Rewarded for Top Quality People Management
Sheffield manufacturer, Mechan, has retained its Investors in People accreditation, after being described as having a "strong purpose and vision to be recognised as the best in the industry."
The rail depot equipment specialist has been granted the internationally recognised standard for a fourth time, following a rigorous assessment process and employee interviews.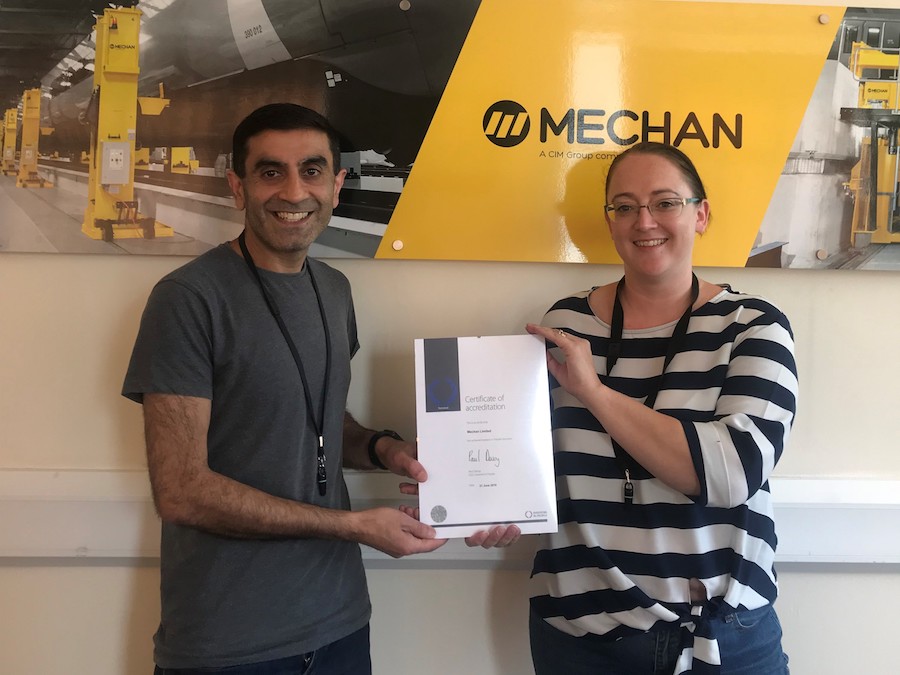 Mechan was assessed against the nine key indicators of high performance that comprise the Investors in People framework. It was praised for its open and friendly environment and positive support for learning and development. Regular communication between managers and staff was noted, which encourages responsibility and pride in what they do.
The firm first gained the Investors in People standard in 2009 – it's 40th anniversary – and will now hold the mark of quality for another three years.
Ann Lyon, representing Investors in People North of England, conducted Mechan's reaccreditation. She said:
"People are proud of what they do, with strong values of quality, responsiveness, customer service and support for each other.

"Managers and people demonstrate a clear understanding of what has made the business successful in the past and are committed to its future success."
Director, Zahir Altaf, added:
"We are very proud to receive such a glowing report from an independent source and to be representing the very best in people management. Our close-knit team works extremely hard to uphold Mechan's reputation for quality and reliability and this reaccreditation is a result of continued endeavour at all levels."
About Mechan
Mechan is part of France's CIM Group. For more information about its Investors in People reaccreditation or wide range of heavy lifting and handling products, telephone (0114) 257 0563, visit www.mechan.co.uk or follow the firm on Twitter, @mechanuk.
About Investors in People
Investors in People defines what it takes to lead, support and manage people well for sustainable results. The organisation works with thousands of top businesses across the country and has a community of nearly 10,000 organisations across 58 countries.
Successful accreditation against the standard is the sign of a great employer, an outperforming place to work and a clear commitment to sustained success. Based on a tried and tested framework and a rigorous process of assessment, organisations that meet the Investors in People standard proudly display their accreditation to the world because they understand that it is people that make the difference.
FOR ALL THE LATEST INFORMATION, NEWS, IMAGES, VIDEOS AND DOCUMENTS FROM MECHAN, PLEASE CLICK HERE.