Mechan Lands Prestigious Heathrow Contract
Sheffield's rail depot equipment specialist, Mechan, is flying high after securing a contract to supply its flagship lifting jacks to London's Heathrow Airport.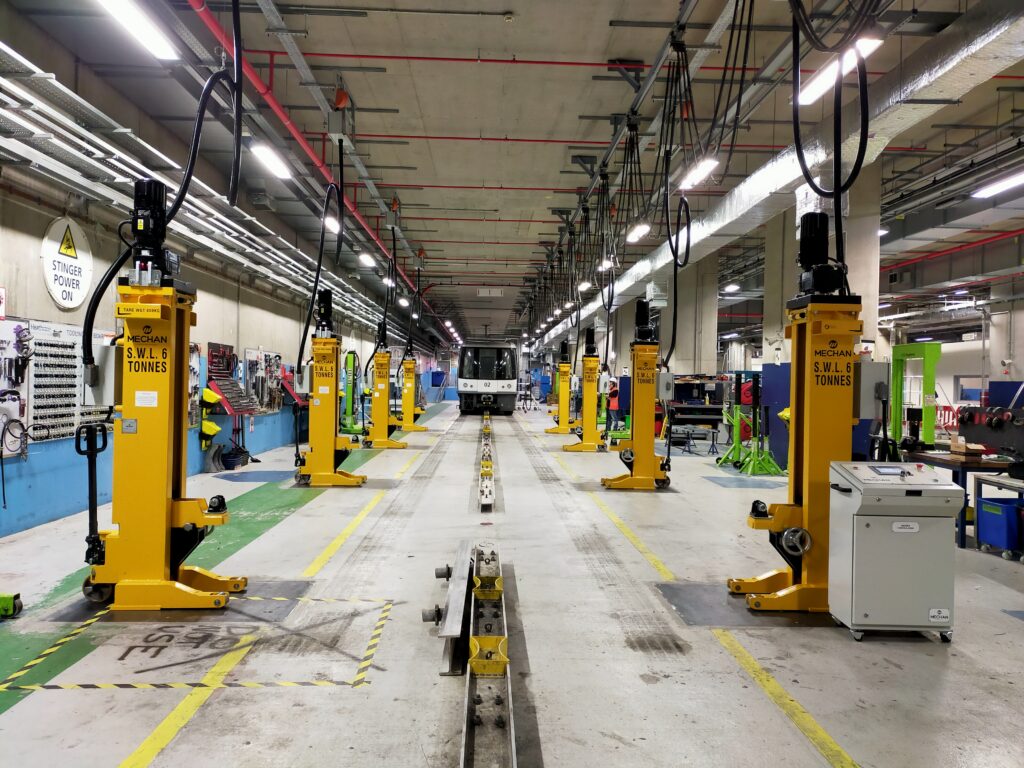 The manufacturer has been commissioned to design and build 10 bespoke mobile jacks, to speed up the maintenance of vehicles used on the airport's Track Transit System.
Mechan is working with aviation construction specialist, Mace, to design jacks that will operate in conjunction with an existing wheel change unit. This will allow the large, tyred wheels on Heathrow's new two-car automated passenger vehicles to be removed and replaced without decoupling, dramatically reducing servicing times. They will be used as a synchronised set of eight (and two spares), replacing the depot's current jacks that only operate in sets of four.
The close proximity between the transit car's jacking point and its large wheels means that Mechan has had to create a narrow version of its mobile jack. It must also be compact enough to fit into an elevator that is used to access the underground maintenance facility at Heathrow's terminal five.
"We are very pleased to be working on our first project with Mace, following a personal recommendation, and relish this opportunity to demonstrate our skills to the aviation industry. The unusual location of the airport's maintenance bay - under the runway - has put our designers to the test, with cabling having to be suspended from the ceiling. As always, they've risen to the challenge and produced an excellent solution that will enhance the current operation considerably."
Heathrow's Track Transit System is used to transport airside passengers at Terminal 5, between T5A, T5B and T5C. The South Heavy Maintenance Bay is being upgraded by Mace to cater for the 20 new cars and using the new Mechan jacks, two coupled Alstom cars can be maintained. The vehicles are being introduced to increase capacity and meet future passenger numbers.
For more information about Mechan's lifting jacks, or its portfolio of rail depot maintenance products, telephone (0114) 257 0563, visit www.mechan.co.uk or follow the firm on Twitter, @mechanuk.
This article was originally published by Mechan.