Mechan Raises Export Trade with Major Hong Kong Orders
Sheffield-based rail depot equipment specialist, Mechan, is enhancing its Far East export trade following the confirmation of two major orders from Hong Kong.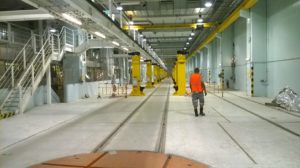 Mechan are currently building a bespoke bogie drop and have already delivered lifting jacks and bogie turntables to MTR, the nation's rapid transit railway operators.
Rail Depot Equipment 
Two dozen 20-tonne versions of its renowned jacks were supplied to the Wong Chuk Hang depot on the South Island along with four turntables, used to transfer bogies between maintenance roads. Mechan are working closely with local agent, Associated Engineers. 
The jacks are controlled by the firm's innovative Megalink system, which allows each of the two sets of 12 jacks to be lifted simultaneously by just one operator. To adhere to Hong Kong's rigorous electrical regulations, a new emergency stop safety circuit was also designed and fitted. Mechan visited the depot to oversee installation and carry out training on its equipment.
Currently under construction is a customised bogie drop for the Shek Kong Running Maintenance shed, required due to the limited pit depth and unique ground conditions at the site. A number of new design elements will also be incorporated at the request of MTR for higher levels of automation and train support.
Richard Carr, Chief Executive at Mechan, said:
"We have a longstanding, successful relationship with MTR spanning almost two decades and we are very pleased the operator continues to source new depot lifting equipment from us. Our jacks and turntables are now fully operational and after a long and complex planning stage, we are confident the bogie drop will follow suit before the end of the year."
Despite Mechan undertaking most of its work in the UK, exports currently account for more than 20% of turnover; its products are used in 30 countries worldwide.