Mechan Set to Flaunt Distinctive Lifting Jacks at InnoTrans
Heavy lifting specialist, Mechan, will be attracting attention at this year's InnoTrans with their distinctive yellow lifting jacks – a renowned sight in rail depots world wide.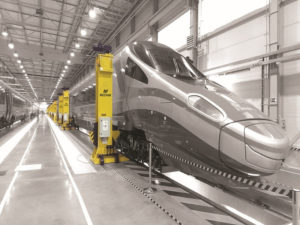 Mechan Lifting Jacks in Action
This year, visitors can catch a glimpse of the spectacular machinery in action as it takes centre stage of Mechans' display, in the British Pavilion, hall 2.2, stand 206E. Mechan will demonstrate its cutting-edge Megalink controller; a system that means just one operator can raise an almost unlimited number of linked jacks in complete unity.
Mechans' Chief Executive, Richard Carr, said: "Our jacks are a distinctive sight when they are lined up together in rail depots and the gigantic yellow structure is sure to grab the attention of passers-by at InnoTrans."
Mechan is a well-known, respectable player in large-scale bespoke installation and is now making a name for itself in the global market. It built the largest traverser in the UK for the Port for Felixstowe and can design cost effective products for any size or weight vehicle.
Bespoke Heavy Lifting Equipment
The company also offers a wide range of under car equipment, under floor lifting systems, traversers, bogie handling and storage, bogie presses and equipment drops.
Under floor lifting systems, like bogie drops, can be tailored to the depot environment. They are best suited to new build facilities designed for one train type, as the vehicles are lifted by an in floor system that raises the rail sections under the bogies, then deploys retractable stands to support the body.
Bogie handling refers to a number of items that make the removal, refurbishment and maintenance of bogies safer and effectual. In demand lines include turntables, lifters, lifting platforms and rotators, which allow access to all areas of a bogie in a fitting and safe manner, making them very favourable. Low or high level stands and stacking frames are also advantageous for stowing spare bogies securely and efficiently when space is imperative.
A bogie press is needed to make sure the ride height is correctly set following a build or repair. For better performance, Mechan typically advise customers to fit a spreader beam under the rails to transfer the bogies' weight to the press structure.
To save valuable time, equipment drops are a favoured addition to depots, allowing the removal or replacement of complete bogies or under carriage equipment without decoupling vehicles – making the change achievable whilst cutting maintenance time.
Mechans reliable and innovative product portfolio is attracting new business on a global scale. Richard concluded:
"Recent success at home and overseas has enabled us to invest in our best ever InnoTrans display and we look forward to unveiling it in front of colleagues old and new."
For more information about Mechan's product portfolio, speak to its sales team at InnoTrans, telephone (0114) 257 0563, visit www.mechan.co.uk or follow the firm on Twitter, @mechanuk.