Francilien trains will begin operating on the Paris-Provins branch of line P now that electrification of this section has been completed.
This follows Ile-de-France Mobilités' summer announcement that the electrification of the entire Ile-de-France rail network will be completed by 2030.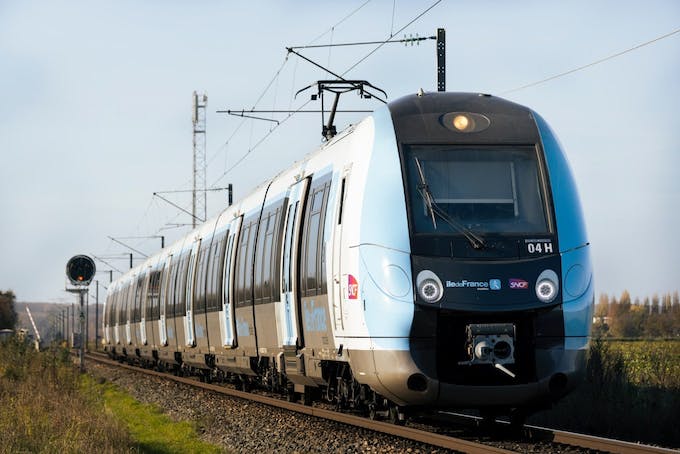 A total of 22 new fully electric trains will run on this section. These vehicles are already well known to Île-de-France passengers, as they frequent lines P, J and I.
Their arrival on the Paris-Provins route is expected to provide the branch with a punctuality gain of 1.2 points.
The Francilien trains have already proven their reliability, robustness and punctuality on the Paris Saint-Lazare lines (lines L and J) and the Paris-Nord lines (lines H and K), with up to 95 percent cumulative punctuality in mid-2022.
Train features that help with punctuality include wider doors and movable steps for better access to and from the platforms. These aid boarding and alighting passengers while optimising parking times in the station.
The new trains also increase capacity by 29 percent, as they each have 944 seats compared to their predecessors' 732.
New features include automatic counting devices, which allow travellers to see how many passengers are in each car and choose those with more available seats.
Currently, this information is only viewable at transilien.com or via the chatbot Tilien. However, by the end of the year, it will be displayed on passenger information screens in stations.
The Francilien is also equipped with large on-board information screens that broadcast information in real time. As well as displaying train services and connections, in the case of a disruption, the operations centre can quickly share information with passengers through these screens.
The completely open 'boa' configuration of the Francilien also provides many benefits.
Not only does it allow passengers to easily travel the whole length of the train and access the information screens, it also generates a sense of security by enabling everyone to see what's happening around them. In addition, it simplifies the work of teams of controllers, railway police and mediators.
This is augmented by the train's on-board video cameras.