Alstom has unveiled two new trainsets for the Hauts-de-France Region: the Omneo Premium and the Regio 2N equipped with ERTMS.
This took place at a special event at Alstom's Crespin (Nord) site, attended by Xavier Bertrand, President of the Hauts-de-France Region, Jean-Baptiste Eyméoud, President of Alstom France and Jérôme Bodel, Regional Director of SNCF Voyageurs TER Hauts-de-France.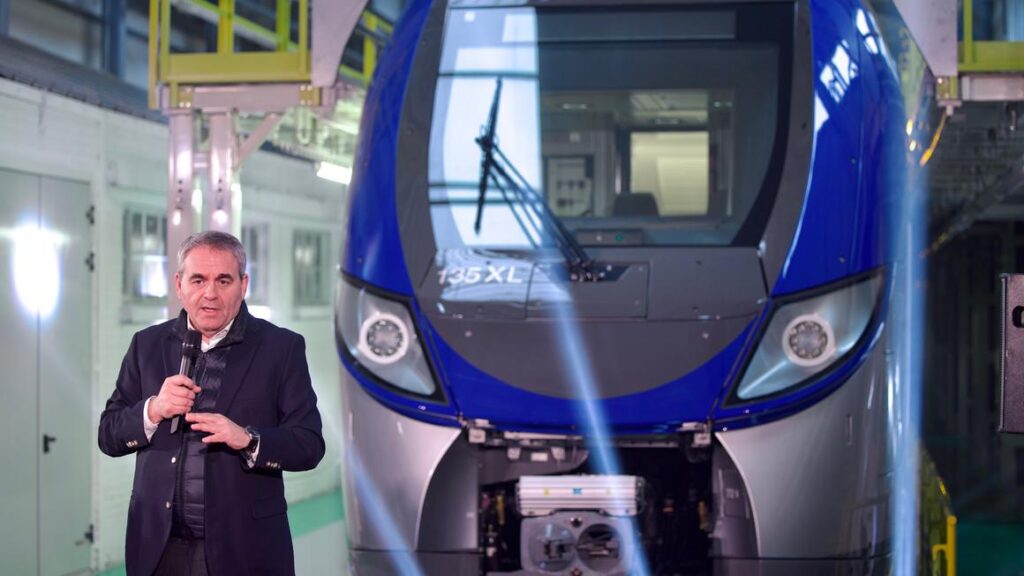 Alstom's Omneo platform, from which the Regio 2N and Omneo Premium are derived, is a family of extra-wide double-decker trains consisting of alternating single and double-deck coaches. They are available in lengths from 85-135 metres and in several layouts.
Omneo Premium
The Omneo Premium trainset is the first of a series of 19 double-decker trains ordered in November 2018 by SNCF on behalf of the Hauts-de-France Region.
This was an option from a 2010 contract, which covers the manufacture of up to 860 Omneo trains for the French Regions.
This new double-deck train is 135 metres-long, with a seating capacity of 463. The trainset will be able to be operated in double units, which will make it possible to accommodate up to 926 people per train. This is 25% more seats than the Corail trains currently running on these lines.
The new vehicles, which offer more space and improved comfort, will replace the Corail trains on busy lines between Paris and Amiens and Paris and Saint Quentin – Maubeuge/Cambrai.
Regio 2N
The Regio 2N trainset is equipped with ERTMS, which is essential for running the future service linking Paris-Charles de Gaulle Airport to the Hauts-de-France region.
This is the first of 33 Regio 2N ERTMS trainsets ordered in December 2020 by SNCF on behalf of the region.
Currently in production at the Crespin site (Nord), these trainsets will be deployed on the region's busiest network lines, particularly those linking Picardy to the Paris Basin.
Alstom worked closely on the trains' accessibility, on-board services, interior and configuration with SNCF and the Hauts-de-France Region.
The interior layout optimises space, with mainline seats, equipped with individual reading lights and electrical and USB sockets, and the trains have both air conditioning and heated floors.
Accessibility has been improved through the introduction of wide doors and barrier-free routes along the entire length of the train.
Each train will have space for two wheelchair passengers and a total of 12 bicycles, and will be equipped with large luggage compartment.
Delivery of the vehicles is scheduled for 2024 and 2025.
"Passengers will discover a new style of train travel with the Omneo Premium, which combines a large seating capacity, increased comfort and greater accessibility.
"As for the Regio 2N ERTMS trains, they will increase capacity and improve service quality and regularity for the benefit of users on the busiest lines in the Hauts-de-France Region.
"These trains are designed and manufactured at our Crespin site in the Hauts-de-France region and will run in this region, which is very committed to the railway industry and its local ecosystem."
Once these orders have been completed, the Hauts-de-France Region will have a total of 77 Omneo platform trainsets in its fleet.