The Société du Grand Paris has awarded VINCI Construction the contract to build the operation and rolling stock maintenance centre for the Grand Paris Express's future Line 18.
The VINCI Group has been involved in several other projects for the Grand Paris Express. In 2018 it was awarded the contract to build a maintenance base for Line 14.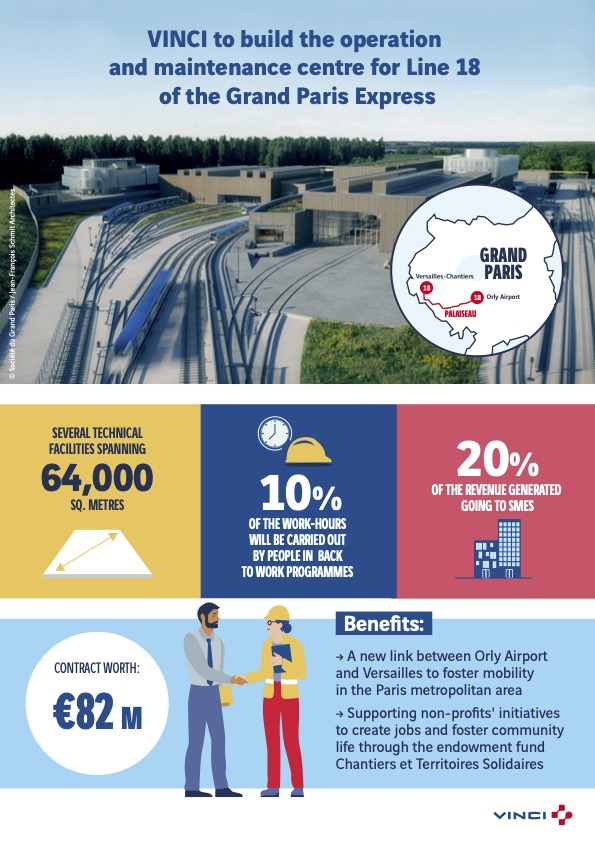 The Line 18 operation and maintenance centre will be built in Palaiseau, south of Paris. It will be made up a number of standalone technical facilities and cover an area of 64,000 square metres.
The buildings will include a central control room to co-ordinate, supervise and regulate traffic, a maintenance base and depot for the automatic metro line's trains and an infrastructure maintenance base to service Line 18 equipment such as tracks and power distribution systems.
The contract, valued at 82 million euros (95.48 USD), includes roadworks and utility networks, earthworks, the structure, envelope, finishing work, technical installations and industrial equipment.
A fifth of the contract's value will go to SMEs, while 10 percent of the hours worked during this project will be set aside for people taking part in social integration programmes.
VINCI's endowment fund, Chantiers et Territoires Solidaires, will also engage in this project. Money from this fund is used to support non-profit initiatives that help create jobs in areas around Grand Paris Express projects.