Swiss rolling stock manufacturer Stadler has presented its results for 2019.
In 2019 Stadler delivered 444 vehicles, which is an increase of 80 compared to the previous year. Stadler also received record-levels of orders worth 5.1 billion CHF (4.8 billion euros | 5.3 billion USD), of which 833 million CHF (782 million euros | 871 million USD) were in the service sector. In that year Stadler saw a 60 percent increase in its turnover, to 3.2 billion CHF (3 billion euros | 3.3 billion USD) and an increase in its earnings before interest and taxes of 6.1 percent. In order to handle this growth, Stadler also saw an increase of 23 percent in its workforce, up to 11,000 (annual average).
Trains Sold
Stadler sold more trains and locomotives in 2019 than ever before and the company's order levels were more than 700 million CHF (657 million euros | 732 million USD) higher than in 2018.
Of the 444 units sold, the main bulk of these came from seven vehicle fleets that started passenger operations after receiving their certification in various countries. These fleets include the high-speed Giruno for SBB and the double-decker trains for Mälardalstrafik in Sweden.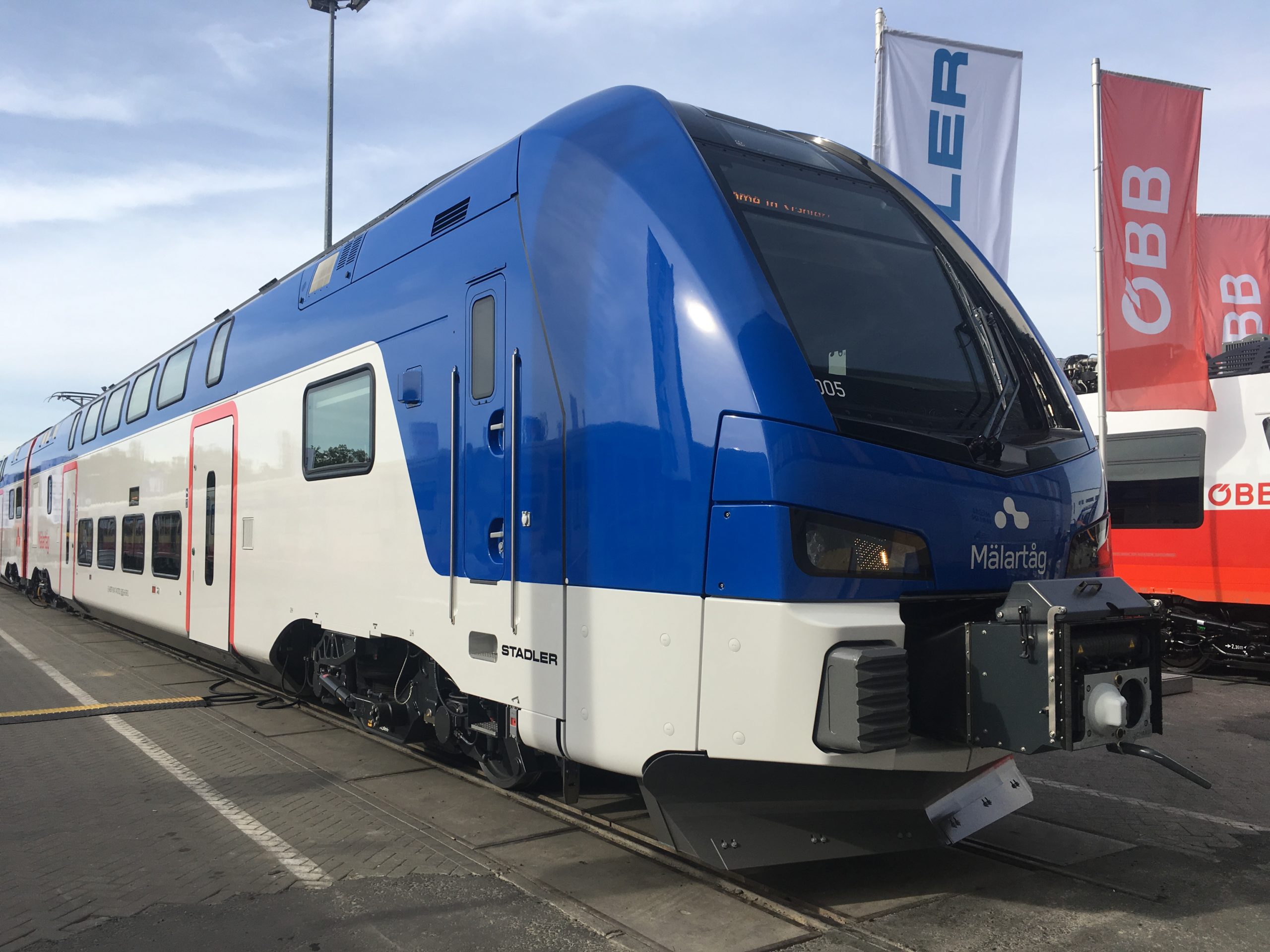 Stadler has furthermore invested in new technologies, for which it found customers sooner than expected. These technologies include digitalisation projects, new traction technologies using battery power and hydrogen and a completely new tram model.
UK: Greater Anglia
The order from Greater Anglia has confronted Stadler with special challenges. The camera system manufactured by a British supplier did not meet the expectations of performance and stability. Furthermore, the region's infrastructure is quite old, which caused problems during the introduction of the bi-mode FLIRT. However, the authorisation for the bi-mode and electric multiple units was obtained in record time. The Greater Anglia order is one of the reasons why Stadler's EBIT is lower than in 2018.
New Markets
Stadler says it was successful in Asia in two ways in 2019: firstly, it sold 34 diesel-electric locomotives to Taiwan. Secondly, Stadler signed a joint venture contract with PT Inka in Indonesia in September in order to get a footing on the Asian continent.
United States: The first US FLIRT trains have been in operation in Dallas Forth Worth since the beginning of the year. The new assembly hall in Salt Lake City was ceremoniously opened on 13 May. Stadler then went on to win its first service contract in the United States in June: the delivery of eight FLIRT trains for Dallas Rapid Transit also includes planning for a service depot. In November the Metropolitan Atlanta Rapid Transit Authority (MARTA) and Stadler signed a contract for the supply of 127 METRO trains with two options for 25 further trains each. This was Stadler's largest single vehicle order in its history and it was also its first large METRO order in the US. Lastly, Stadler signed a contract with San Bernardino County Transportation Authority (SBCTA) for the first FLIRT H2, which will enter passenger service in 2024.
Service Sector
In May 2019 Stadler won a contract to maintain more than 100 trains for operator Vy in Norway. This is the largest single fleet Stadler has ever taken under contract.
In Germany Stadler won two contracts in the modernisation and re-fit area, one with Bogestra and one with Netinera. The installation contracts for Stadler's diagnostic system (RDS system) are smaller in volume but strategically important for the company with regards to digitalisation.
Stadler will maintain the 41 vehicles of the new fleet for the Rhine Ruhr S-Bahn for a period of 32 years at its new service facility in Herne, Germany. Stadler will also be responsible for the maintenance of the newly developed FLIRT Akku that it has sold in Schleswig-Holstein for a period of 30 years.
In the UK Stadler will maintain its 52 new METRO trains for Merseytravel in Liverpool for 35 years at its cutting-edge depot in Liverpool-Kirkdale.
Signalling
Stadler has been expanding its presence in the signalling sector since 2016. Several teams of highly qualified engineers at its Wallisellen location are working on implementing the company's signalling strategy for heavy and light rail and for metro trains. Stadler has already seen some successes: the European Train Control System (ETCS) GUARDIA, which it developed together with Mermec in the AngelStar joint venture obtained generic approval in 2019 and is installed in the new FLIRT trains for BLS, which will be presented to the public for the first time this summer.
There are other signalling projects underway in Poland, Hungary, Slovenia, Italy and Germany. By 2022 Stadler hopes to have country-specific approval for its GUARDIA system in 2022. Stadler Signalling became its own company at the beginning of 2020.
Stadler became listed on the Swiss stock exchange on 12 April 2019.
Also read: