Hs2's Old Oak Common station, which will sit in west London and provide rail links to Heathrow and connect passengers up to Crossrail services, has received planning approval from the Old Oak and Park Royal Development Corporation (OPDC).
This approval means HS2 Ltd can move forward with building what will be the largest railway station ever in the UK. In total, the station will have 14 platforms, of which six will be high-speed and eight will be conventional. There will be an 850m long station box.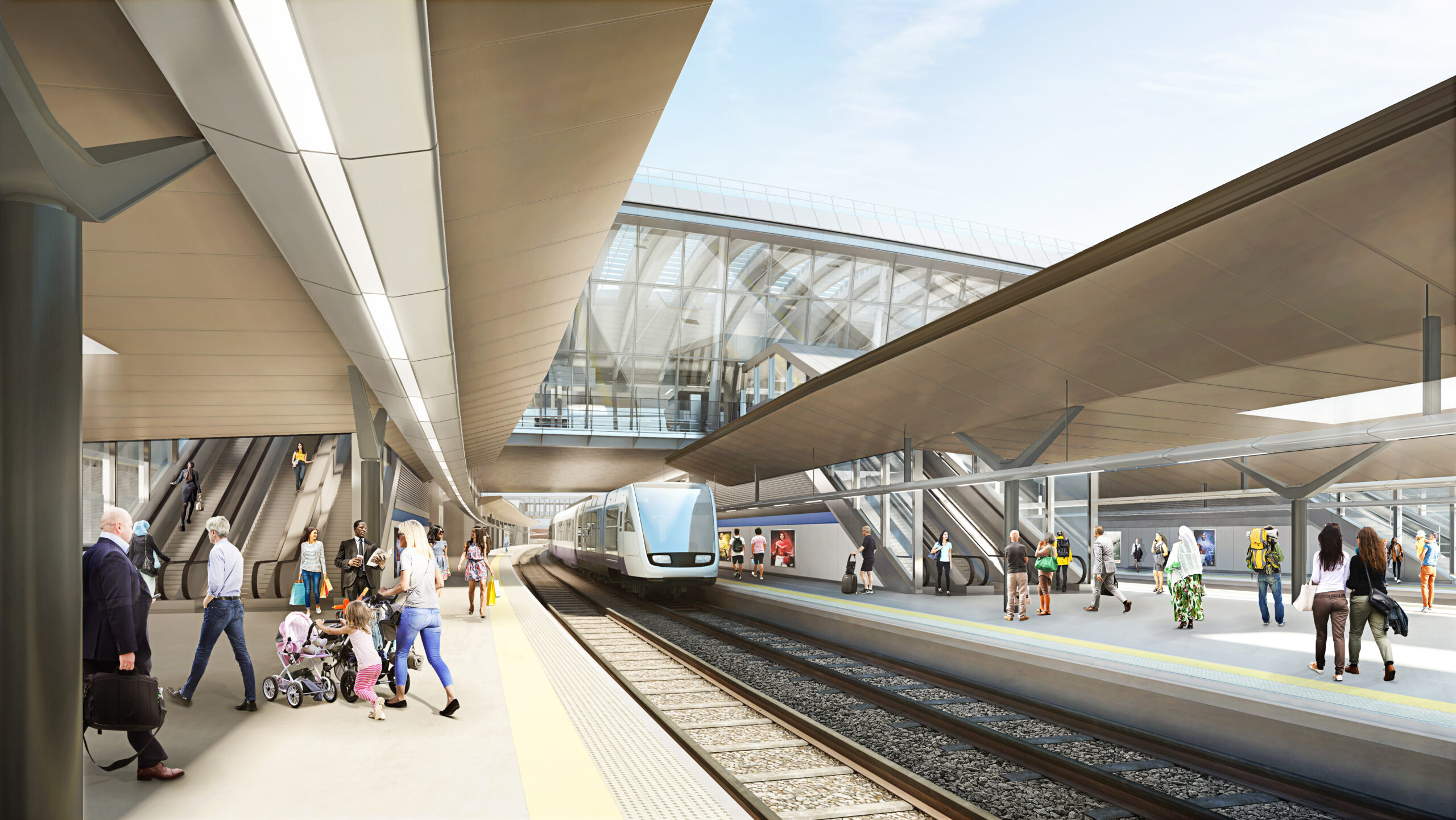 Old Oak Common Design Features
The station design will feature a sequence of interlocking curved roof forms. They are to emphasise the station's open feel and provide natural ventilation, which will cut down on energy consumption. The arch design also reduces the structural need for columns. This will give passengers clear lines of sight, facilitating orientation.
WSP has led the station design development with WilkinsonEye providing architectural support.
To maximise connectivity the station will feature a taxi rank, dedicated bus facilities, drop-off and pick-up areas, pedestrian and cycle links and upgraded road infrastructure.
Outside the station there will be a new public square that will include public seating.
The Old Oak and Park Royal site is one of the largest regeneration sites in the country. The redevelopment of the surrounding area, a former railway and industrial site, is being led by OPDC.
"The approval of HS2's Old Oak Common Station design marks a significant milestone in the delivery of this nationally important project. [...]
"Now, more so than ever, the delivery of new and affordable homes and jobs at Old Oak and Park Royal is needed to capitalise on the unrivalled connectivity that HS2 will bring. By working closely with key stakeholders and partners, including HS2, the local London Boroughs and Network Rail, while listening to and collaborating with local people, we can make sure these public benefits are realised."
Old Oak Common in Operation
Once operational, estimates suggest there will be 250,000 passengers using the station every day. It will be one of the busiest stations in the country.
The conventional platforms will be served by the Elizabeth Line (Crossrail), the Heathrow Express and trains departing to Wales and the West of England.
The concourse has been designed with growth in mind so that it can accommodate passenger growth to 2041 and beyond.
"The planning approval for the Old Oak Common super-hub station is an important milestone in the delivery of Britain's new world-class low-carbon railway. Building a new railway station for the UK on this scale and size will be an incredible achievement for British engineering.
"HS2 is set to be a catalyst to transform this area of West London, making it one of the best-connected development sites in the UK. We will continue to work with OPDC and other local partners to ensure that this opportunity is maximised."
A joint venture consisting of Balfour Beatty, Vinci and Systra (BBVS) won the contract to build the new HS2 station in September 2019. BBVS will begin work on the site in June.
Also read: