HS2 has unveiled the final designs for the Thame Valley Viaduct, which will cross the River Thame's flood plain near Aylesbury, Buckinghamshire.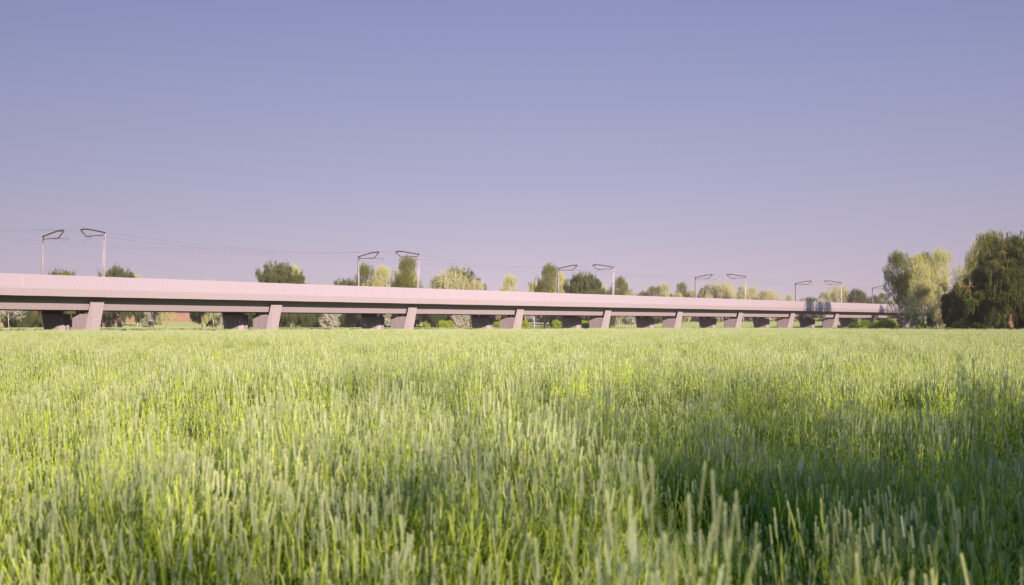 The viaduct's design has been simplified to cut the amount of embedded carbon needed by 19,000 tonnes and enable the majority of components to be made off site – including the 35 concrete support piers.
All components will later be slotted together on site to complete the 880-metre-long structure.
As well as cutting embedded carbon in terms of materials, this approach requires fewer lorries to deliver material to site, cuts waste and reduces disruption.
In total it's expected that this method will cut the viaduct's carbon footprint by an impressive 66%.
Set low into the landscape, the viaduct's underside will be just 3m above the ground, with 36 25m-long spans crossing the river and surrounding wetlands.
To simplify and speed up assembly, the design team chose to use two wide box girder beams per span rather than eight smaller beams.
Traditionally, viaduct beams are secured together above each of the piers with a concrete diaphragm which is cast in situ. Instead, at Thame Valley, the larger pre-cast beams can secured directly to one another.
Removing this diaphragm will improve durability and reliability, save time, cut costs and improve safety by reducing the need for people to work at height.
Thame Valley is one of 15 viaducts designed by HS2 Ltd's main works contractor, EKFB. This is a team made up of Eiffage, Kier, Ferrovial Construction and BAM Nuttall, which works with design partner ASC – an Arcadis Setec and COWI joint venture – and architect firm Moxon.
Similar carbon-cutting designs have been used by the team across other HS2 infrastructure projects, including the Wendover Dean Viaduct.
Preparatory works for the Thame Valley Viaduct have already begun on site.
"Working alongside our design partners, we have tackled the carbon challenge from two angles.
"The structurally efficient solution means we minimise the embedded carbon in the viaduct materials and we have also been able to reduce emissions during construction by maximising off-site pre-fabrication to achieve an efficient build, as well as reducing the number of HGVs on local roads.
"The techniques used in the Thame Valley Viaduct are also being used in other structures along our line of routte."