HS2 has begun construction of the first of five 'green tunnels' that have been designed to blend into the landscape.
The first tunnel is being built at Chipping Warden, Northamptonshire and will be 2.5 kilometres in length.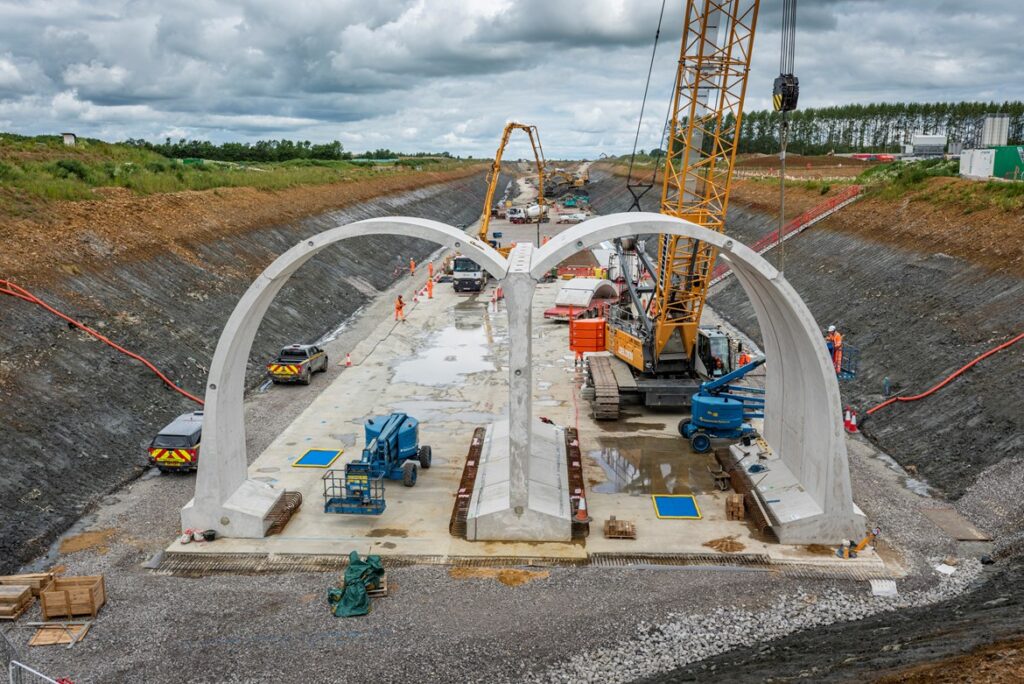 Instead of a traditional underground approach to tunnel building, this structure will be built on the surface using an off-site manufacturing approach that will speed up construction.
This was developed by HS2's main works contractor EKFB – a team made up of Eiffage, Kier, Ferrovial Construction and BAM Nuttall – taking on board approaches used in the construction of France's latest high-speed lines.
Designed as an m-shaped double arch, the tunnel will have separate halves for southbound and northbound trains, each the height of two double-decker buses.
Instead of casting the whole tunnel on site, over 5,000 concrete segments will be made by Stanton Precast at its Derbyshire factory and then assembled in situ.
Five different concrete precast segments will be slotted together to achieve the double arch – one central pier, two side walls and two roof slabs.
All 5,020 segments will be steel-reinforced, with the largest weighing up to 43 tonnes.
Once complete the tunnel will then be covered with earth, trees, shrubs and hedgerows to blend into the surrounding countryside.
"The Chipping Warden green tunnel is a great example of what we're doing to reduce disruption for people living close to the railway and it's fantastic to see the first arches in position.
"Our trains will be powered by zero carbon electricity but it's also important to reduce the amount of carbon embedded in construction.
"The off-site manufacturing techniques being used will help cutting the overall amount of carbon-intensive concrete and steel in the tunnel and make the whole process faster, more efficient and therefore less disruptive for the community."
The tunnel will be built in sections, with construction to be completed in 2024.
Similar green tunnels will be built at Greatworth, Northamptonshire, Wendover, Buckinghamshire and Burton Green, Warwickshire.
These will stretch for a combined total of more than four miles, with tailored landscaping plans for each tunnel to factor in the planning of trees and shrubs native to the local area.