The first five-metre-tall V-shaped pier for the Curzon No. 3 Viaduct has been installed in Birmingham.
The 300-metre-long viaduct is part of the Curzon Street Station approach area, which is made up of five connected viaducts between Duddeston Junction Viaduct and Curzon Street Station. This area was designed through a Joint Venture of Mott MacDonald, Systra and Weston Williamson + Partners.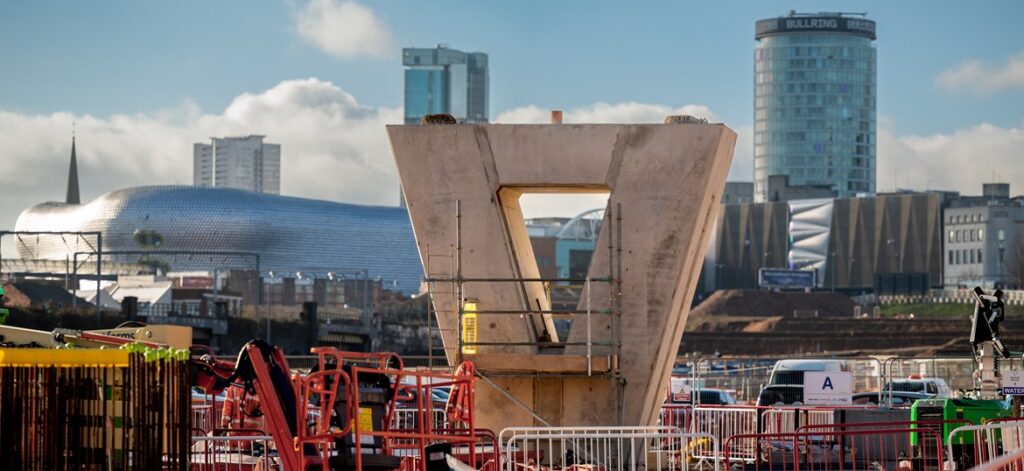 No. 3 will be the final approach to HS2's new seven-platform central Birmingham station.
The viaduct will widen from one to four separate decks as it approaches the station, reaching 65 metres at its widest point.
This first pier was built in two segments, starting with a stem pour linking the viaduct foundation with the V-shaped part of the pier.
The prefabricated steel cage was then lifted above the stem and steel panels installed around it.
Concrete was poured into the formwork and cured for seven days before the panels were removed, forming the pier's V shape.
Ground granulated blast-furnace slag (GGBS) has been incorporated into the pier's manufacturing as an eco-friendly alternative to concrete and will reduce the embedded carbon of the piers by more than 60%.
"It's fantastic to see this first viaduct pier complete on the Curzon Street site, which starts to bring the design vision for this iconic structure to life.
"Construction on this site is supporting hundreds of skilled jobs in the region, and once built, Curzon Street Station will put Birmingham at the heart of the new zero-carbon high speed network.
"We're also pleased to see eco-friendly materials being used in the construction method, supporting HS2's ambition to cut carbon across the project."
HS2 West Midlands' main works contractor Balfour Beatty VINCI (BBV) has been carrying out foundation works on site for the last 12 months, ready for the piers' installation.
A total of 30 will be needed to complete the viaduct, including four steel tripod piers over the Digbeth Branch Canal.
The piers will reach between five and six metres above ground level, with the deepest pile reaching 34 metres underground. Each will take approximately one month to be fully installed and once they're all in place, workers will begin to form the deck spans connecting the piers.
This will be achieved using system falsework and formwork, with the longest span between each pier stretching over 28 metres in length.
The structure is expected to remain operational for over 120 years.