The first images of HS2's Chesham Road 'barn design' rural headhouse, which will provide emergency access to the 10-mile-long Chiltern tunnel, has been unveiled.
This completes the set of five headhouse designs for the Chiltern tunnel.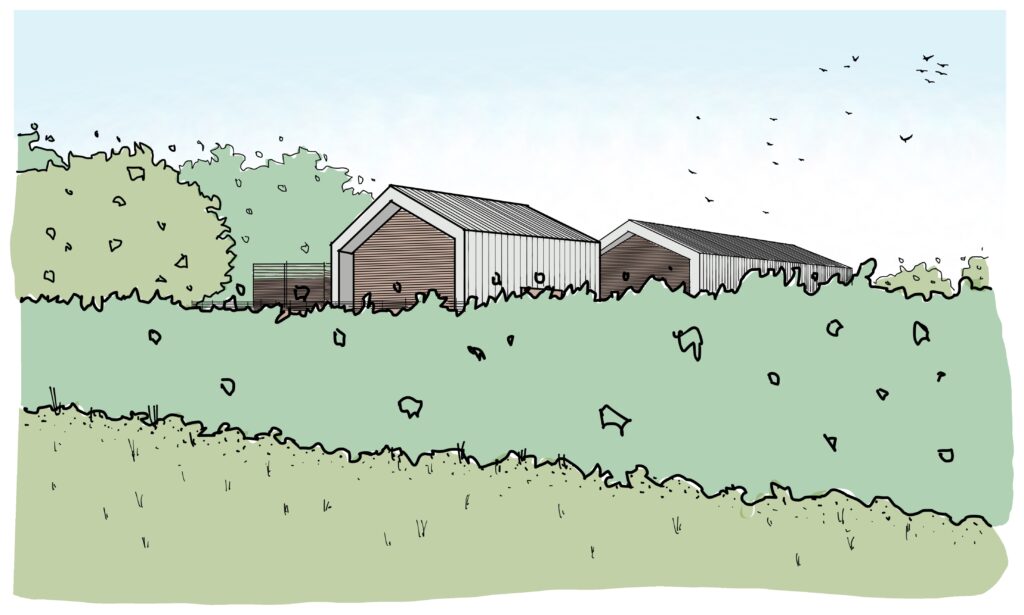 Largely hidden behind a hedge and line of mature oak trees next to the B485, the Chesham Road headhouse is designed to fit into the surrounding landscape and takes its inspiration from the style of nearby barns and other agricultural buildings.
The single-storey building will be wrapped in a simple pre-weathered grey zinc roof which will age naturally over time, without loss of robustness or quality, while the whole structure will sit on a simple dark blue brick base.
Below ground level, a 45-metre shaft will reach down to the twin tunnels below to provide access for the emergency services. Because of its proximity to the north portal of the tunnel, unlike the other four shafts, Chesham Road won't need to include ventilation equipment.
The plans were drawn up by HS2's main works contractor Align JV – a team made up of Bouygues Travaux Publics, Sir Robert McAlpine and VolkerFitzpatrick, working with design partners Jacobs and Ingerop-Rendel, architect Grimshaw and landscape designer LDA.
"I'm delighted with the progress we've made so far at all five shaft sites. We are working to a detailed schedule to ensure that each shaft is ready for the arrival of our two tunnel boring machines (TBMs), currently tunnelling north from the south portal.
"As is the case with all the shafts, it is important that the headhouse design at Chesham Road fits into the surrounding landscape, therefore we look forward receiving comments on the design from the local community."
Construction of the tunnel is now well underway. The two giant TBMs launched earlier this year to dig the parallel northbound and southbound tunnels have now passed under the M25 and are heading towards the first shaft site near Chalfont St Peter.
A team of engineers from Align have already excavated the shaft to a depth of 68m and are working to complete it before the arrival of the first TBM next year.
At the second shaft site, near Chalfont St Giles, the concrete diaphragm walls for the 46m deep shaft have been completed using specialised drilling equipment and material excavation will soon begin.
Work is also well underway at third shaft site, next to the A413 road junction outside Amersham, with engineers working on the concrete 'D-walls' for the 51m deep shaft.
Further north at the Little Missenden site, engineers are preparing for the start of wall construction, while at Chesham Road – the last shaft the TBMs will reach – site set up is now taking place.