HS2 Ltd's contractors have completed the construction of Streethay Overbridge to enable high-speed trains to travel underneath the South Staffordshire railway near Lichfield.
This project involved excavating 14,000 tonnes of earth, building a 140-metre retaining wall and moving a 2,600-tonne bridge deck into place.
The work was carried out by Balfour Beatty VINCI and designers Mott MacDonald as part of a Design Joint Venture with SYSTRA (MMSDJV). The contractors also collaborated with specialist teams from 18 supply chain companies.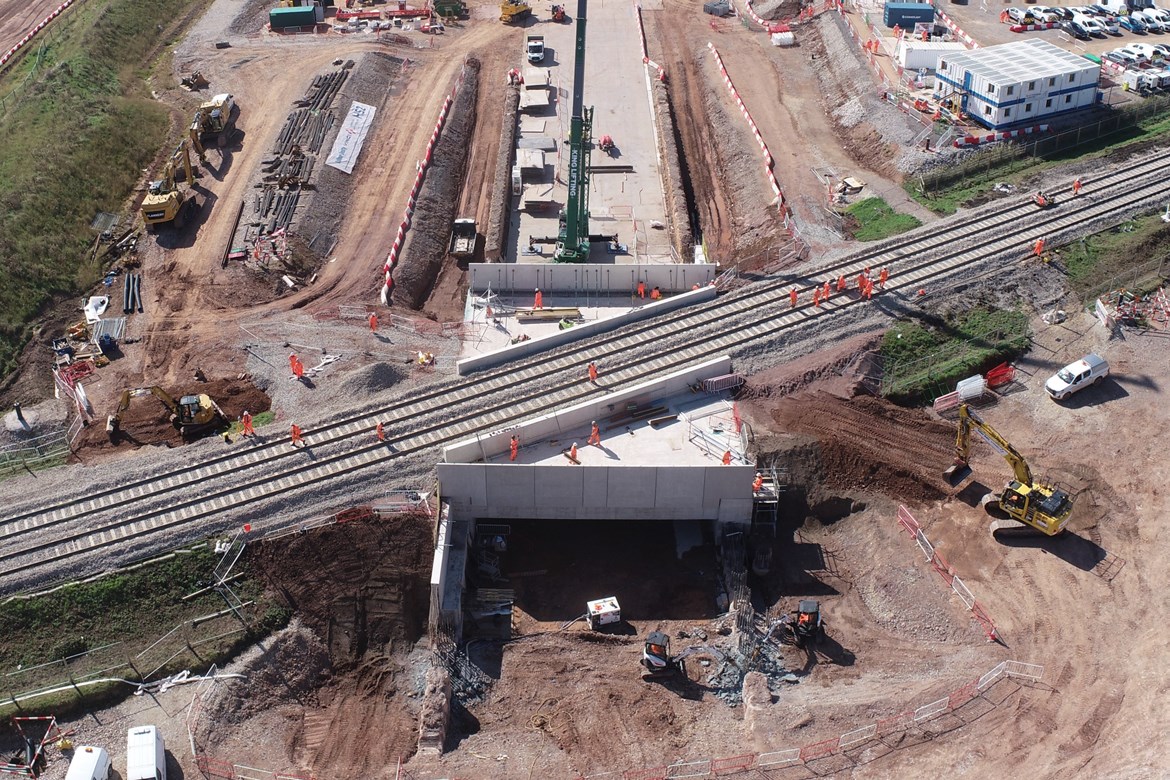 At the end of July, the 2,600-tonne bridge deck, which was constructed 130 metres from its final position, was moved into position using self-propelled modular transporters. Since then, each side of the bridge has been backfilled and the rail tracks have been reinstated, with the railway line handed back to Network Rail on 16 August.
The 25-metre-long and 18-metre-wide Streethay overbridge sits within HS2's Streethay cutting to enable HS2 trains to travel under the existing railway between Birmingham and Crewe.
"The successful delivery of this complex and challenging piece of engineering near Lichfield is another proud moment for Balfour Beatty VINCI on the HS2 project.
"It's only been possible thanks to the skill, dedication and support shown by the project team over the past few years, including our supply chain. Together, we've had to work around existing transport infrastructure, including the South Staffordshire freight railway and the A38, making this achievement even more rewarding."
To complete this project, the track and embankment were removed from the above railway and 76 secant piles were installed to create retaining walls for the bridge.
A concrete capping beam was then installed over the retaining walls and the bridge was moved into place. Concrete was poured to attach the deck to the capping beam and the embankment was backfilled using 2,500 tonnes of structural backfill on each side of the bridge.
Through design development, Mott MacDonald engineers were able to reduce the total length of wall structures from 1.6 kilometres to 420 metres, thus requiring 80% less concrete for this process and saving around 420,000 tonnes of carbon.
"We're immensely proud of the collaborative effort to get the design for this critical structure and operation ready for HS2. It's no small task to coordinate milestones like the Streethay bridge, with expertise from our geotechnical and structural engineering teams delivering design to meet the interfacing requirements of both HS2 and Network Rail, and innovation to enable off-site construction and transportation of the 2,600 tonne structure by Self Propelled Modular Transport."